Will Wolverine Be Back In 'X-Men: Apocalypse'?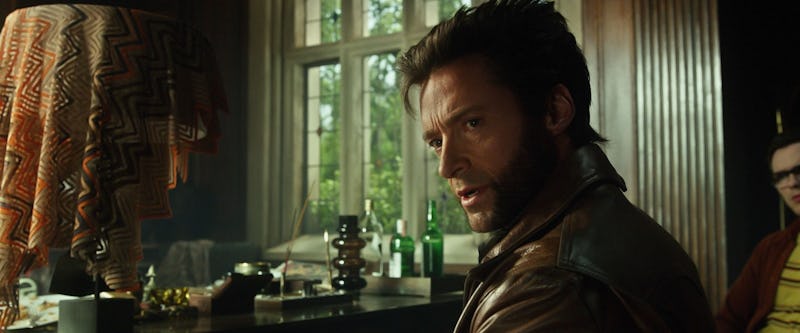 Hold your four horsemen. It's pretty cool that the X-Men "reboot" movies can exist in the same universe as the old movies, but I have one major question now that Sophie Turner will be playing a young Jean Grey in the next movie: Does this mean Hugh Jackman is playing Wolverine in X-Men: Apocalypse as well, since Jean Grey and Wolverine have a romantic story arc?
Here's the thing. As you may know, Wolverine doesn't age. In fact, that's the whole reason he was chosen to be the one to go back in time in Days of Future Past, when it was actually Kitty Pryde who did so in the comic books. But while Famke Janssen, who previously portrayed Jean Grey in the original X-Men films, looks to be around the same age as Hugh Jackman, the newly announced Turner does not. In fact, the actress turns 19 in February, while Jackman is actually 46. So, are they going to meet — and potentially have a romantic relationship — in Apocalypse?
Personally, I am one of those girls who will fiercely go to bat for Game of Thrones' Sansa Stark, so seeing Turner get this kind of high profile work is very exciting to me, and I'm interested to see her potentially work with Hugh Jackman to explore the early stages of that essential X-Men relationship.
Fan response could go a few different ways: Such a large age gap in their relationship would be, of course, legal in the real world, since both are of age. An audience still struggling to accept real couples with huge age gaps could find this storyline uncomfortable — although it wouldn't be right to judge it since they're two consenting adults.
Let's not forget though, while the movies have yet to give us this plot line, Wolverine and Storm also have a thing in the comics from time to time. We're used to the angsty Cyclops/Jean/Wolverine love triangle, so could it become a square? There's are a ton of possibilities — all of which hinge on whether or not Hugh Jackman will be in Apocalypse in the first place.
Unfortunately, we don't know much about X-Men: Apocalypse , so we'll have to wait and see.
According to IMDb, Hugh Jackman is "rumored" to make an appearance in the film. Now, that same IMDb page for X-Men: Apocalypse lists Alexandra Shipp's character as "Storn," so take that for what it's worth.
Collider reported back in March 2014 that it seemed to be common knowledge amongst the cast and crew that Wolverine would return, and that Jackman would film Apocalypse simultaneously with Wolverine 3 . Screenrant has also speculated that X-Men: Apocalypse will bridge the gap all the way to the first X-Men Origins: Wolverine film in terms of the timeline. However, there has been no official word yet. There has also been no official word on Channing Tatum as Gambit. Priorities, Fox!
In the X-Men comics, the Age of Apocalypse arc centers around the villain Nur, who will be played by Oscar Isaac, and does prominently feature Wolverine, though he goes by "Weapon X". In fact, Wolverine and Jean Grey are lovers in this particular comic and they work closely together — so I think it's likely, and could be really sweet if X-Men: Apocalypse showed the two of them working as a platonic team that's obviously going to blossom into something more down the road.
Granted, the filmmakers can make whatever changes they want to the source material. Wolverine doesn't have to appear in scenes with Jean or Storm in order to be in the film. After all, it's just as likely that the young Cyclops, played by Tye Sheriden, teams up with Jean instead of Wolverine!
All of this is speculation at this point, and I, for one, can't wait to learn more about Apocalypse.
Images: Twentieth Century Fox (screengrab); Giphy (2)