Lady-Friendships Are Complex, Like 10 These Books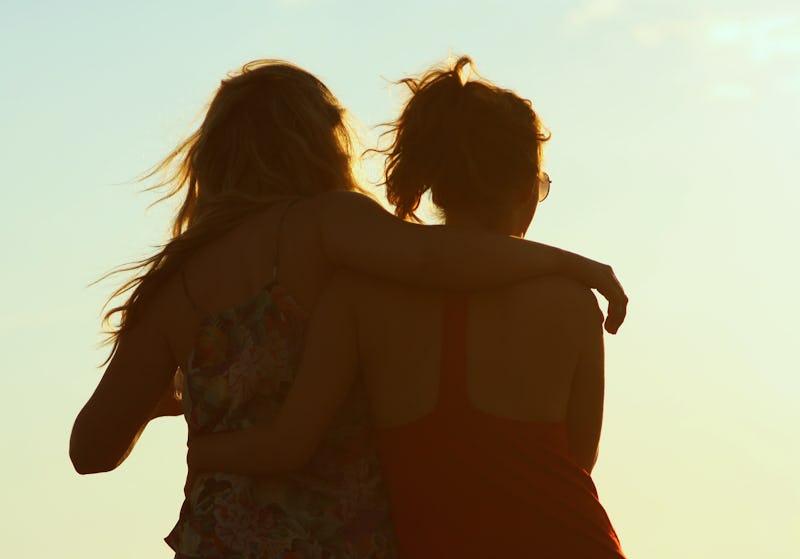 When you're young, friendships are sometimes just handed to you. Your parents set up play dates with your same-age neighbor, you make intricate plans for your first sleepover with two girls you meet at swim practice, and you go to your first boy-girl party with some friends you met a camp. And no matter where you fit in in high school and college, most of us are able to find a niche of friends through classes, the paper, intramural frisbee — whatever floats your boat.
As we get older, though, friendships change. Some of us simply fall out of touch, some grow apart as we change and grow in different ways, and sometimes things get more complicated than that.
A few weeks ago, on the drive home from a weekend at a cottage with my best friends from high school (a friendship that's hardly changed over the past eight years in the best way possible), my friend asked if any of us had ever been "friend broken-up with." As in, having a best friend who decided that your relationship was too toxic or complicated for it to continue in a healthy and positive way.
For the rest of the ride back to Chicago, we shared stories about the complicated female friendships in our lives, as well as the stories of relationships we've seen in movies and read in books — which is the exact inspiration for this list. Here are 10 books that explore the evolutions of female friendships.
In many ways, Sheila Heti is the thirtysomething version of Lena Dunham. That being said, that doesn't mean that How Should a Person Be isn't still relevant to women across age groups. As Sheila questions herself and how a person should be in the world, she's constantly both inspired and challenged by her friend Margaux, a painter who appears to has nothing standing in her way of living and creating art.
NW by Zadie Smith
Zadie Smith's NW is far from an easy read. Structured in a way that shifts between stream-of-consciousness, first and third person, screenplay-style and other experimental narrative techniques, it follows four characters in northwest London as they begin their adult lives. Two of these characters — Leah and Natalie are total opposites of each other (think popular party girl and low-key bookworm), and we get to see all of the nitty gritty involved in their long friendship, including the distance that grows between them.
Lindsay Hunter's latest book follows two high school best friends, Perry and Baby Girl, whose relationship seems to thrives off of the bad-girl activities they do together — like stealing cars and talking to a strange boy, Jamey, on Facebook. When Perry and Baby Girl finally agree to meet Jamey face-to-face and realize he's not the charming teenage boy they thought he was, their friendships is challenged in a new way — by doing whatever is necessary to protect themselves.
Emily Gould's novel Friendship received mixed reviews after its release this summer. No matter if you loved it or hated it, there are still a lot of things you can learn from longtime best friends Bev and Amy as they hit various speed bumps in their relationship — especially when it comes to the difference between getting older and growing up.
Mary McCarthy's classic novel (written in 1963) is a staple when it comes to books that deal with the complexity of female friendships. It tells the story of "the group," made up of eight very different Vassar graduates from the class of '33. Shortly after graduation, they meet up in New York City for a wedding of one of their own and go on to begin their adult lives. Some grow apart, others become closer, and they only all come back together seven years later to mourn the loss of their own. Decades later, Candance Bushnell would base Sex and the City on the relationships in The Group.
Is there any female relationship more beautiful and complex than the one that exists between sisters? Little Women is a classic Victorian novel that tells the story of four very different sisters whose father is away at war and whose mother is always working to support the family while he's gone, leaving the sisters on their own to figure out the challenges of young adult and childhood.
A challenge that often arises in friendships is competition. Lucinda Rosenfeld's I'm So Happy For You addresses this directly through the relationship between Wendy and her best friend Daphne, who has always been a bit dramatic and very dependable on Wendy to pick her up when she falls. When those roles reverse, though, their friendship is challenged in a very new way — and Wendy reacts in an extreme and destructive way.
Judy Blume can do no wrong. A bit of a diversion from her classic young adult novels (i.e. Are You There God, It's Me Margaret , Iggie's House , among others), Summer Sisters still has many of the same Blume elements. Set in the summer of 1977, the eccentric Caitlin Somers befriends Vix and whisks her to fabulous vacations at her family's home on Martha's Vineyard. The two become very fast friends, but things change drastically once their summer of sisterhood is over.
Some friendships can be destructive. Valley of the Dolls (one of the bestselling books of all time) is like the fictional version of Real Housewives.In it we follow three women (Anne, Neely, and Jennifer) who became friends when they were young adults and struggling to make it in New York City. Now they've "made it" in the entertainment industry and are left to deal with the self-doubt and self-destruction that often comes from the lifestyle of the rich and the famous.
Dare Me by Megan Abbott
There's nothing more dramatic than high school friendships (well, at least when you're a teenager). Now imagine combining that drama with an insanely competitive cheerleading squad. That's exactly what Megan Abbott does in Dare Me, a novel that follows two best friends and high school seniors on the cheer squad whose reign is thrown for a loop with the arrival of a new cool and composed young coach.
Image: Blondinrikard/Flickr