Travel Back to High School With These 11 Books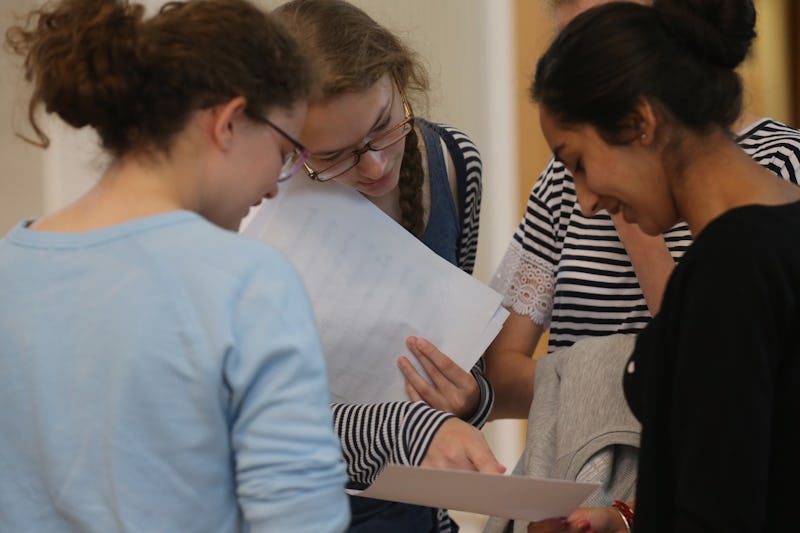 Christopher Furlong/Getty Images News/Getty Images
September is approaching. For students, this means back-to-school fashion, new teachers, new friends, and likely some new enemies. (It's cool, we all had 'em.) For those of us who are over 18, September is a time for gratitude that we made it out of high school (relatively) unscathed. You know, it was intense. Between navigating the cliques, keeping up our GPAs (or, um, not), excelling at sports (or avoiding them), dating, and rebelling against our parents, it's easy to see why high school is something we talk about surviving rather than experiencing.
Now that we have gotten through it, though, September is prime time to read some novels that will bring us back to the classrooms, hallways, and playing fields where some of the juiciest drama unfolds. The 11 books listed here may be about high school, but they aren't just for teens. The characters — the jocks, the bullies, the nerds, the misfits, the teachers (both awesome and horrible) — are familiar yet surprising, with distinct voices and definite attitude. You might think you know these stories, and you may even remember living through a few of them. But reading these novels now that high school is but a fond memory will conjure up some feelings that might actually surprise you . . . in a good way. Trust me.
Narrated in alternating chapters by veteran physics teacher Jack Song and first-year rowing coach Taylor Alta, Carry the Sky, which will be released next month by indie publisher Forest Avenue Press (hooray for indies!), offers a gut-wrenching look at life at a prestigious Delaware boarding school from the teachers' perspectives. At the start of the school year, Song and Alta are both reeling from tragedy: Song's sister Kim has died of a rare blood disease while Alta's best friend and fellow rower has recently drowned in the Schuylkill River. But there are more tragedies for them to face from the students they care for, and subsequently let down. The beauty of the language as the novel grapples with layers of grief is one of the best parts of this book — not surprising from an award-winning author of three collections of poetry. Many books about high school deal with bullying, but few explore the ramifications as deeply as Carry the Sky.
Prep by Curtis Sittenfeld
Boarding school is a common backdrop for high school dramas, perhaps because of their insular communities and paucity of responsible adults. Set in the prestigious Ault School in Massachusetts, Prep follows scholarship student and Midwestern outsider Lee Fiora through her time at the school. Despite its privileged setting, Prep explores universal themes of friendship, love, and the gradual alienation of Lee from her parents that will feel familiar to many readers. Prep will give you an inside look at four years of boarding school — without the hefty tuition costs.
Set in a posh private school in North Carolina, Calamity Physics adheres to many of the tropes of high school narratives: a narrator, Blue van Meer, who is a precocious outsider at her new school; a privileged clique of popular students known as the Bluebloods; and a magnetic teacher who draws the Bluebloods, and Blue, toward her. If the characters and setting of the book don't bring you back to high school, the structure certainly will. The book is organized as a course syllabus, with each chapter titled after a great work of literature. The novel is also a murder mystery, which means that you need to pay attention as you read; as you'd expect from a book that takes you back to high school, there is a quiz at the end.
Dare Me by Megan Abbott
Megan Abbott, who is well-known for her crime fiction, brings her talent for building suspense to this drama about a high school cheerleading squad, the girls who run it, and the new coach who changes everything. Addy and Beth, seniors who run the intensely competitive cheer squad, are best friends; Beth calls the shots, and Addy follows orders. Coach Collette French changes the dynamic, though, and only Beth remains aloof to the pull the coach has over the rest of the squad as she works fiercely to retain her position at the top of the squad. A suicide that brings police attention to the coach and the cheer squad leaves Addy searching for the truth. Maybe your cheerleading squad didn't have a suicide investigation to contend with, but wasn't the drama this suspenseful, anyway?
Speaking of suicide, Jeffrey Eugenides' debut novel The Virgin Suicides is narrated by a high school boy, reflecting his own and his friends' recollections of the year that all five Lisbon sisters committed suicide. The novel is at once about the girls and their deaths, the boys who watched and pined for them from afar, and the rest of the quiet Detroit suburb dealing with the aftermath of one suicide after another. Although the plot of the novel may not seem realistic, its take on adolescent love and death certainly are.
In books narrated by high schoolers, voice is an important component — you want to feel that their narrators speak authentically for teenagers. Chbosky achieves this authentic voice in his debut novel turned classic and controversial novel. Our narrator is Charlie, an introverted and intelligent student navigating the high school world of first crushes and relationships, drug use, and the quest to make friends. Beyond these typical challenges, though, Charlie must also deal with his friend's suicide. Written as a series of letters from Charlie that take on the feel of a journal, the novel brings readers deep inside the angsty teenaged mind — a nice place to visit now that you've (hopefully) escaped from your own.
This graphic novel by Andrew Rae, which will be released in December from indie press NoBrow, offers a surreal twist on a familiar high school theme. Joey Moonhead, whose head really is a moon that tends to drift away whenever he gets distracted, is a social outcast in his high school, teased and tormented by the popular kids. Working with his new friend Ghost Boy — a boy who goes unnoticed at school beneath a white sheet — Joey has a plan to build the ultimate musical instrument and perform at the school talent show. While the plot may seem expected, the illustrations by Andrew Rae are anything but.
This deeply affecting novel tells the story of 15-year-old Laurel and the aftermath of Hurricane Katrina. Laurel lost both her mother and grandmother in the storm, but after a move to Mississippi finds herself on the path toward a new life. Until her boyfriend introduces her to meth, which he calls "the moon." The narrative of this book moves between Laurel's life on the street as a meth addict and flashbacks to Hurricane Katrina. Not exactly uplifting subject matter, OK, but the book nonetheless ends with a message of hope and takes an unflinching look at the real problem of drug addiction.
Speak by Laurie Halse Anderson
Like Woodson's novel, Halse Anderson's powerful story is another on this list that takes an in-depth look at a difficult subject. In the novel we meet Melinda, a high school freshman who has been completely ostracized for calling the police to a party just before the start of school. Melinda's classmates won't talk to her, and she returns their silence, unable to speak up about the real reason she called the police: the upperclassman who raped her at the party and who continues to threaten her at school. The second time he attacks her, though, Melinda finds her voice. Read this one for the first time, or the tenth: It's a classic for a reason.
Carrie by Stephen King
For many of us (and many of the characters in the books on this list), high school was horrifying. No book brings that horror to life better than Stephen King's debut, Carrie . Like many of the other books on this list, the novel features a shy and tormented protagonist. Carrie has telekinetic powers, though, and uses them to extract revenge on the bullies who tormented her. This one might not exactly bring you back to your own high school days (unless you also destroyed your entire home town), but there's nothing wrong with a little revenge fantasy, is there?
It can't be all horrifying, right? For those of you interested in a good laugh as you reminisce about high school, there's Acceptance, a satire about applying to college. Because now that we are finally done with endless SAT prep, AP exams, and college essays, we can all admit that it was a hilarious process, right? Told from the point of view of three high school juniors vying for spots at their dream schools and one college admissions counselor, the novel perfectly captures the humor and angst tied up in the quest to finally get out of high school.