Here's One Big Reason Ryan Reynolds Is A Great Dad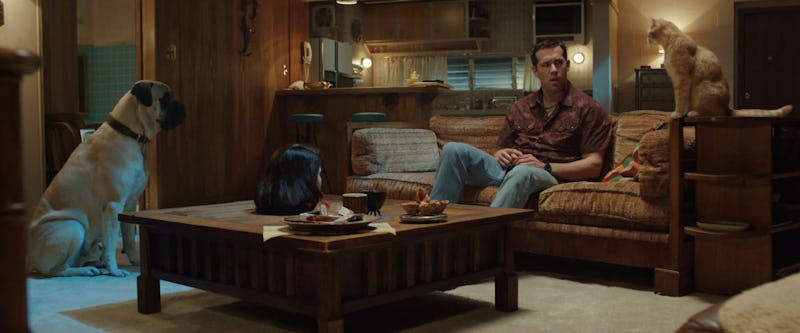 In Ryan Reynolds' new horror-comedy The Voices , he takes crazy cat lover to a new level. His character, Jerry, has a sadistic, evil cat and a mellow, benevolent dog who tell him how to live his life — and whether he should kill others. In reality, it's just the voices in his head from being off his meds talking to him, but nevertheless, we hear his pup and kitty chatting with Jer every day. But does Reynolds voice his cat and dog in The Voices? Yep, which means he's basically talking to himself the entire movie. It's pretty impressive and is done through movie magic, a.k.a. him sitting in a sound booth to be his cat, Mr. Whiskers, and his dog, Bosco, before filming actually began. He's going to be a great dad to his and Blake Lively's daughter, making storytime much more animated and exciting.
To give you an idea of what to expect in the dark comedy-horror hybrid, Mr. Whiskers is foul-mouthed and thinks killing is great, whereas Bosco is a lovable, kind-hearted voice of reason who just wants to love and be loved. He's a little dopey, actually, but in a cute canine way. Mr. Whiskers has a Scottish accent and sounds a lot like Craig Ferguson if you close your eyes, where as Bosco talks low and slow, kind of like a Southern grandpa. Check out the cat and dog voices in The Voices trailer below, and make sure to stay for the epic song and dance in the end credits if you see it in theaters, opening in limited theaters on Friday, Feb. 6.
Image: Lionsgate