5 Vegan V-Day Recipes To Fall In Love With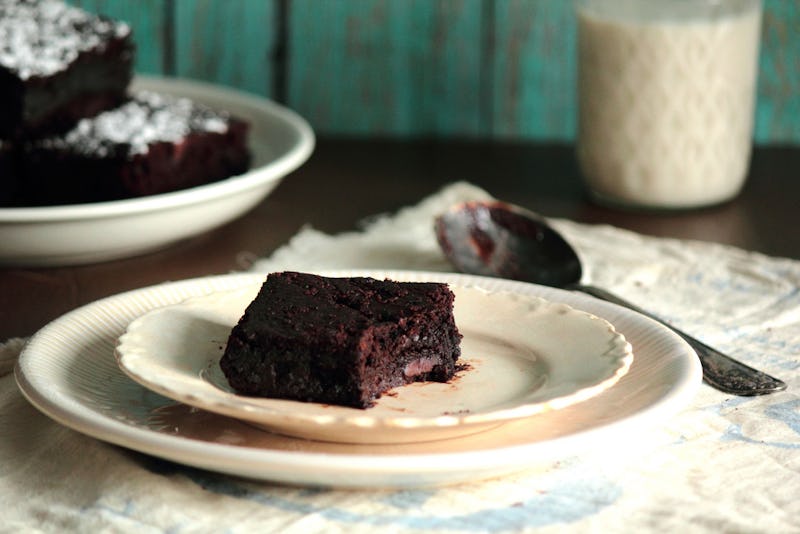 We've got some bad news for any lovestruck procrastinators. Valentine's Day is this week, and unless you have friends in very high places, your odds of a night out are next to nothing. This means you'll be responsible for prepping a romantic Valentine's Day dinner for two on February 14.
Not that this is a bad thing. Cooking is not only a sweet way to show someone you care, but it's a guaranteed way to score points with your significant other. Think about it: if the food tastes great, they will appreciate your culinary skills, and if the food tastes bad, they will appreciate your effort. It's a win-win.
But if you've fallen for a vegan (a very wise decision, I might add), then planning and preparing a meal may prove to be a bit difficult. Meat is obviously not an option, and you can forget about serving any cream-based creations. Even chocolate confections may be off the rose-covered table.
Now, before the panic attack ensues, take a deep breath. Because although it's a challenge, cooking a delicious vegan Valentine's Day dinner is not impossible. In fact, it can be done without using any specialty ingredients or items that non-vegans may deem "gross." From a tantalizing first bite to a super sweet ending, this vegan menu will have your significant other saying I love you all night long.
1. A Tart to Start
The traditional cheese and cracker tray won't please your vegan lover (or anyone for that matter). But Oh She Glows' savory mushroom and walnut pesto tart will. A hearty and savory first bite, this dish doesn't require much effort or skill.
2. Red, Red Soup
It wouldn't be a Valentine's Day dinner without something red, right? This roasted red pepper and tomato soup from Cookie and Kate is the perfect way to throw in the holiday's hue and warm up your significant other.
3. A "Hearty" Salad
OK, there's nothing terribly wrong with tossing together some veggies and vinaigrette. But why not take it to the next level with Cookie and Kate's themed "heart" of romaine salad? Simply omit the black beans so your loved one will have room for the rest of the meal.
4. A Fake Steak
Skip the pasta and serve your lover Naturally Ella's cauliflower steak. A delicious main dish, it packs all the flavors of its meatier counterparts. Pair it with some shredded Brussels sprouts or roasted vegetables.
5. Sweet Finish
You know you'll want dessert, but your stomach may not have the space for something super decadent. To end the night on a sweet but light note, whip up a batch of Pastry Affair's vegan brownies. Chewy and chocolatey, these treats are an easy way to show your partner that you love them and their dietary restrictions.
Images: Oh She Glows; Cookie and Kate (2); Naturally Ella; Pastry Affair