The New Scarlett & Jo Collection Is So Perfect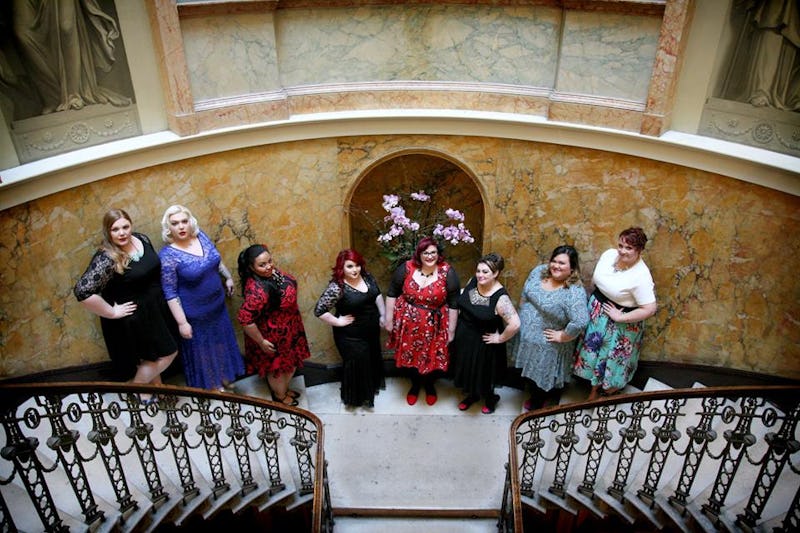 It should come as no surprise that retailers and designers this day in age garner a lot of inspiration from fashion bloggers. Whether manifested in blogger collections, bloggers as models or bloggers as brand ambassadors, the popularity of self-made fashion icons is undeniable. Even though some argue that fashion blogs are dying due to a lack of novelty, Instagram and the perceived narcissism involved in shooting personal outfit photos, it's difficult to believe that they're going anywhere, anytime soon. And one brand that's always recognized the importance in the customer-retailer relationship is Scarlett & Jo, sold exclusively at plus-size retailer Evans. Last year, Scarlett & Jo released their "Summer Romance" collection featuring bloggers like Georgina Horne and Callie Thorpe as the campaign's models. And this year, they're at it again — with a new SS15 collection featuring eight UK-based plus fashion bloggers: Gloria Nava, Betty Pamper, Nancy Whittington, Mayah Thomas, Hollie Burgess, Becky Barnes, Elena Davis and She Might Be Loved's Georgina Grogan as the face of the new campaign.
Scarlett & Jo never fails to impress when it comes to an ethereal sort of femininity. Their designs draw on everything from the pinup to the Victorian to the Jackie Kennedy-esque mod-beauty of the 60s. And this collection is no different. Lace and florals make several appearances, ultimately resulting in a classic [but not remotely boring] girly girl vibe. Perfect for spring picnics or summer dances, every single dress is sure to be a wardrobe staple for plus-size women who fall on the more femme side of the style spectrum.
What draws me to blogger campaigns more than your standard glam-supermodel-shot is the "real woman" feel you get from these photographs. The reality is that the standard model is still an "impossible" kind of beauty — whilst gorgeous and drool-worthy, the relateability factor usually remains low with such a woman. But when you're dealing with bloggers, you tend to get the feeling that these girls are not unlike yourself. Be it aesthetically or emotionally, you can actually imagine being in their shoes. You can picture yourself wearing their garments. And you can find comfort in knowing that the dress you might purchase will fit you in a similar way.
In choosing a variety of plus bloggers — whose sizes range just as much as that of Scarlett & Jo's collection — you also get to see how these dresses fit different body types. Body diversity is such a needed change within the fashion industry, and it's ultimately collections and collaborations like these that make it seem like an attainable goal.
Also fascinating about this particular collaboration is the reliance it put upon social media. The bloggers were able to unveil the collection (and its stunning photos) on their own terms throughout the day of the actual shoot — with Tweets, Instagram shares, Pins and more. Ultimately, they reached over 100,000 likes and thousands of Tweets and re-Tweets. Whilst fashion blogs might be dwindling in the sense of the prototypical Google Blogger or Wordpress site, the importance of social media isn't wavering. And allowing the women to take to their profiles with the photographs shows that Scarlett & Jo is quite aware of the relationship between its consumers and their social media accounts. More people than ever before are taking to Twitter, Facebook and Instagram to address important issues — and the need for size inclusivity, plus-size visibility and size acceptance is a conversation that still needs to be had. And had again until the message truly sinks in.
In the meantime — because fulfilling true size-inclusivity in the fashion industry isn't going to happen overnight — we have these collaborative efforts to turn to. The message they spread is that all women deserve to have a place in fashion: All women deserve to use all things sartorial as a means to self-expression — and maybe even as a means to self-love.
Images: Scarlett & Jo