Who Are The 'Bachelor' Frontrunners Now?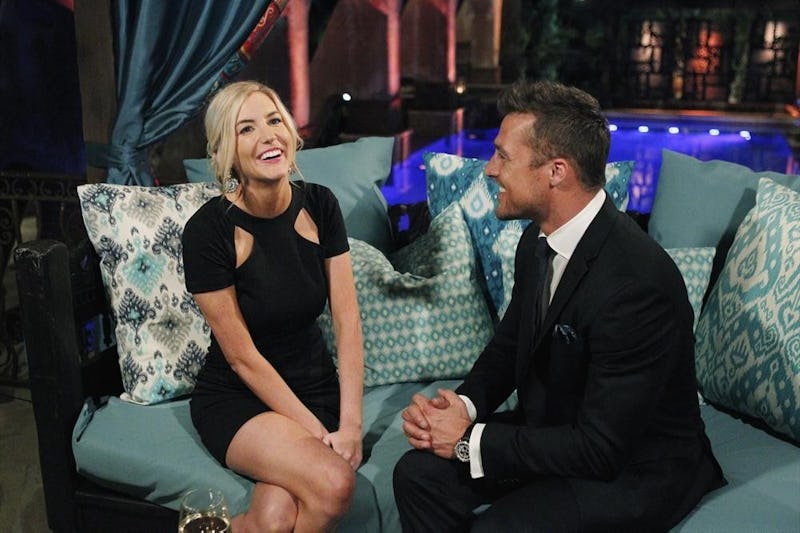 This entire season of The Bachelor has been one giant wild card, and Chris Soules has been changing the game since he the day took the throne. From the premiere episode, everything has been a little shaky and unpredictable. First, there were 30 women competing for his heart instead of the traditional 25, and then, when a contestant (Kimberly) pled her case for a second chance, Chris actually gave it to her — although her second chance didn't last long. Contestants who I totally haven't expected to stick around have stayed, and women I thought were clear front runners have been given the boot. I'm usually pretty good at making Bachelor predictions, but this season so far has me at a loss. Now that we're about halfway through Chris' season, it's time to try to make the final call. Who will be in the Top 3 Bachelor contestants at the end and have a solid chance at winning that final rose?
The way things have been going, it's almost easier to make a list of those who will not receive the final rose, but I'm going to try to be optimistic despite the headache this show has given me from rolling my eyes for two hours straight every Monday night. These are my top three picks, and I'm fairly certain we'll see them in the end.
Whitney
Here's something I can say about Whitney that I don't feel is necessarily true for most of the other women still in the competition: Whitney is an actual grownup. For that reason, I think she's a good match with Chris, who is (for the most part) also an actual grownup. I also happen to think she's one of the women who would fit in the best with Chris' lifestyle, and who could deny the chemistry that jumped off the screen when they "crashed" that wedding? Adorable.
Kaitlyn
Kaitlyn is the Bachelor contestant I'd most likely be friends with, and for that I like her a lot. She's sarcastic, she speaks her mind, and she does so with a good sense of humor, a quality I feel like Chris values. She's also cute as hell.
Britt
Britt and Chris have crazy chemistry. I'm not 100 percent convinced they're actually compatible, but The Bachelor is rarely about being level headed in choosing a partner for life. If this show ended with last week's episode, Britt would be the clear winner. It's not that I don't like her, I just have reservations that she's not cut out for Iowa or farm life, especially since she wants to be an actress. Does Chris want to be with (read: make out with) her? Absolutely.
Images: Rick Rowell, Craig Sjodin (3)/ABC