Black Milk Wants To Skip V-Day, Too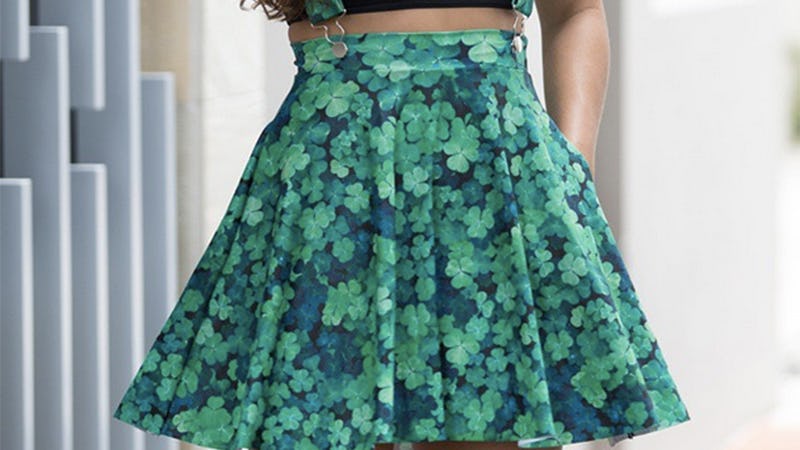 Forget about Valentine's Day — it's all about St. Patrick's Day! Eschew all of the red and pink for green, the hearts for shamrocks, and the chocolates for... well, booze. Anyway, what better way to celebrate then with an outfit or two from Black Milk Clothing? Lucky in Love launches online Tuesday, and it is fab. Let's be real, no one does themed holidays quite like Black Milk Clothing — their Christmas-inspired capsule collection incorporated every aspect of the holiday, from shiny bows to winter whites, their Halloween collection was just as awesome, with pieces to appease everyone from the goriest horror fans to the cutesiest Jack 'o Lantern carvers — and don't even get me started on the awesomeness that was their homage to Disney princesses (or their Westerosii duds that I covet with every fibre of my being).
Anyway, their St. Patty's Day collection is just as much fun, if a bit smaller (the collection only has five pieces). That said, it's more than enough whimsical-fabulousness to keep you pinch-free on the 17th, that's for sure — all articles of clothing in this collection are thoroughly leprechaun-approved. So, without further ado, let's take a look at some of the best pieces from the Lucky in Love collection!
Shamrocks Galore
Why not take out the signature graphically-printed leggings out for a spin in shamrocks?
Go Green in Tartan
Could anything be more perfect to celebrate the Irish holiday?
Somewhere Under the Rainbow
If you're going to have shamrocks and green tartan, you're going to need a rainbow (and some gold!) too. Plus, you'll still be safe from pinchers!
Images: blackmilkclothing/Instagram; blackmilkpins/Pinterest