Bryshere Gray Should Do A Lot More After 'Empire'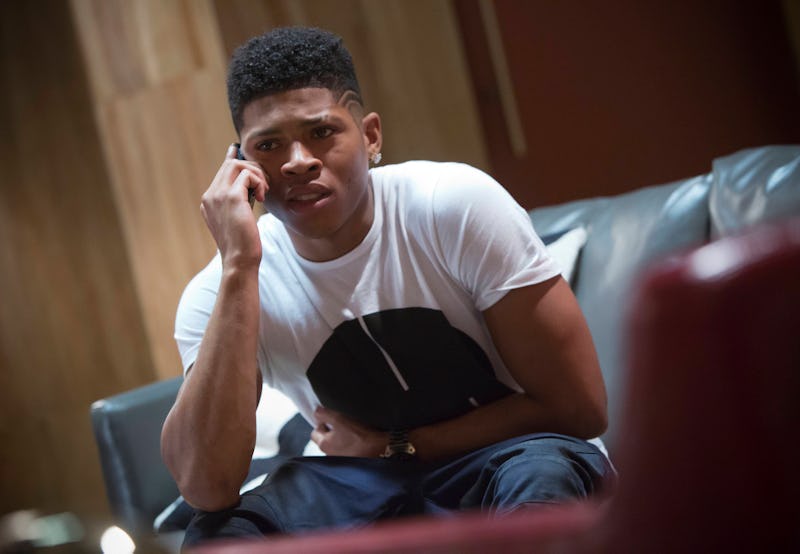 Empire is the biggest new hit show on TV, which means as soon as Season 1 ends, we'll see the entire cast go off for their summer vacation and do their extra credit projects. One of the breakout stars of Empire is Bryshere Gray, who makes Hakeem Lyon, an extremely bratty and entitled second generation rapper, someone you can actually root for. But what will Bryshere Gray do after Empire Season 1?
He's already planning to finally release a full album and keeps hinting on Twitter that he's going on tour (with or without the rest of the Empire cast). Gray could be topping the charts as both of his alter egos, Hakeem Lyon and Yazz the Greatest. And he certainly has a lot of fans who would have preferred that he had the Super Bowl Halftime Show over Katy Perry.
But I think Gray might be thinking too small. Like Tracy Jordan, Mel Brooks, and Frozen songwriter Robert Lopez before him, I think with the right choice of projects, Gray could navigate his way to an EGOT — winning an Emmy, Grammy, Oscar, and Tony. It's the ultimate achievement for double and triple threats, and if he chooses his projects wisely, he could totally end up with four statues.
Emmy: From Empire, Of Course
The drama series Emmy categories are always pretty competitive, but Empire will clean up in the Creative Arts Emmys, especially in the musical section, and if Gray helps to write any of Hakeem's verses, he'll be eligible. And there's no reason why that shouldn't count towards the "E" in his EGOT.
Grammy: He's Already A Musical Success
Once Gray's album and tour come out, he'll be in demand for his musical skills. Maybe he won't win Album of the Year, but surely a win for Best Rap Song or Collaboration won't be out of his grasp. Maybe the cast of Empire will even qualify and he'll win for "Drip Drop" or "Right There."
Oscar: Biopics Will Crack The Code
If you want to win an Oscar, you need to undergo a dramatic physical transformation and/or play someone in a biopic. You can even play yourself, if your life is crazy enough. It was enough to get Eminem a nomination for Original Song ("Lose Yourself"), so maybe a good 20 years later, the Academy will finally get around to considering Gray if he convincingly played a now-famous rapper as a youngster. Of course, he could take a shot at playing an original character, but that's not the easiest way into the Academy's hearts.
Tony: That's The Tough One
This one's a challenge. Gray's stayed pretty close to the hip hop genre so far, but this could be his chance to do something totally different and shock everyone. Maybe a revival of How to Succeed in Business Without Really Trying or Guys and Dolls? We don't know if he's got musical theater chops, but he's definitely popular enough to sell out a theater night after night — whatever Gray does after Empire, he'll definitely have plenty of fans excited to see it.
Images: Chuck Hodes/FOX; Giphy (4)