What if Julia Louis-Dreyfus Misses 'SNL 40'?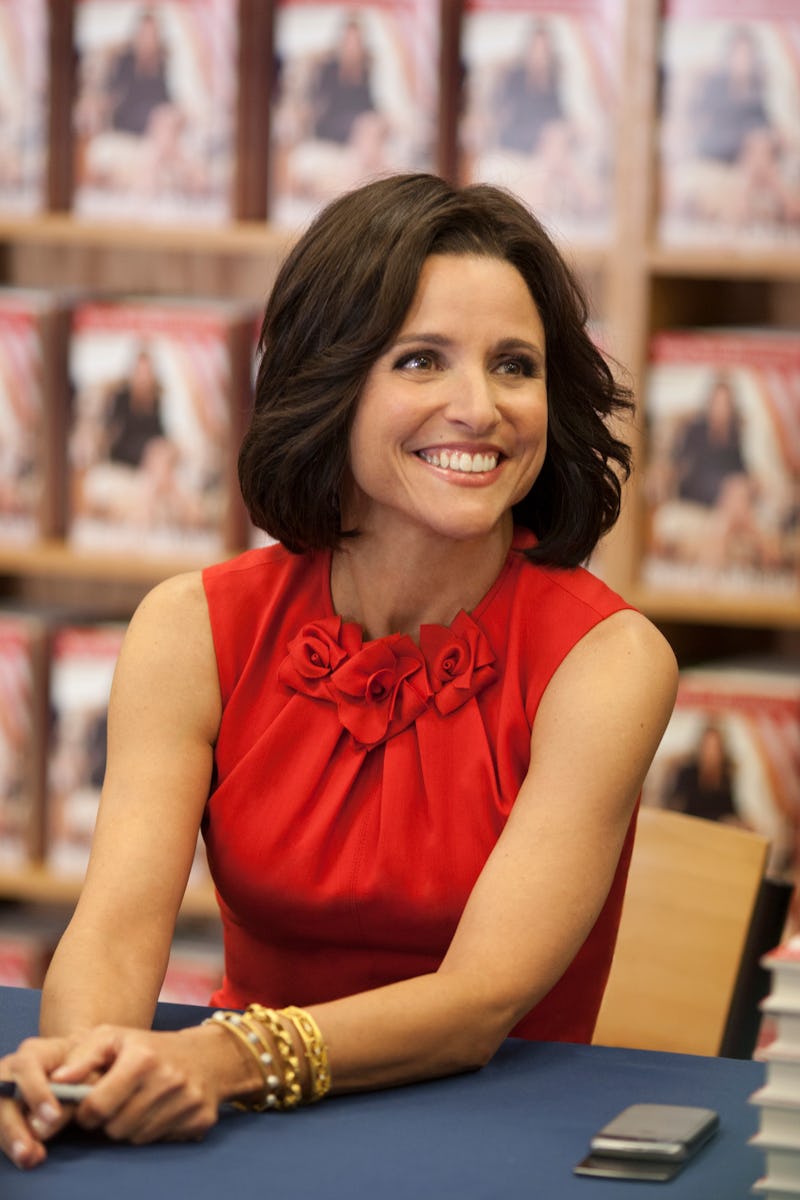 Saturday Night Live has hired pretty much every popular comedian in the past 40 years, and that includes (spoiler alert) our newest TV President, Selina Meyer. Even though she only appeared on SNL for a few seasons, from 1982-1985, will Julia Louis-Dreyfus be at SNL 40 ? In a shocking mistake, she's not on the NBC official guest list. I don't know who is responsible for this mistake, but let's hope that it doesn't mean we'll totally miss out on the chance to see JLD participate. Unfortunately, she hasn't been in New York for a while now.
After filming Veep in Maryland, she was just back on the West Coast to attend San Francisco's Sketchfest, a comedy festival where the cast and crew of Veep gave a panel on how they make their show so hilarious (I'm guessing hiring a dozen of the best writers and actors in TV history helps). Their panel was on Feb. 9, so it's only been a few days, but since then, JLD's stayed pretty quiet on social media... maybe she's back in New York, rehearsing her sketches for the big anniversary special? Or, she could be planning to beam in from across the country in a taped segment. She helped promo the 2014 Emmys with Aaron Paul and Bryan Cranston, after all.
Back in 2010, when SNL did a Mother's Day special celebrating the female cast, she appeared via video conference in the opening sketch, broadcasting from Los Angeles.
And while this special is way bigger, flying in everyone from Steve Martin to Jack Nicholson, I'd be shocked if there wasn't some form of digital short component. And the guest list is surprisingly light on alumni, given that I can't believe every living cast member wouldn't be thrilled to show up, if only for a second. Maybe an enterprising SNL director will round up a whole bunch of unannounced LA cameos among people like JLD who are too far flung to show up in NYC.
It would be super disappointing to miss out on a chance to see JLD alongside Amy Poehler, Kristen Wiig, Tina Fey, and Melissa McCarthy — that's basically last year's Comedy Actress Emmy category — but we will be getting a lot more of her soon. Season 4 of Veep is on its way early in April (April 12 to be exact), so we'll be seeing a lot of her on the promotional tour, visiting every site, show, and magazine. So even if she doesn't make it to SNL, we won't be going through Julia Louis-Dreyfus withdrawal.
Image: Paul Schiraldi/HBO