Will 'About A Boy' Get Another Season?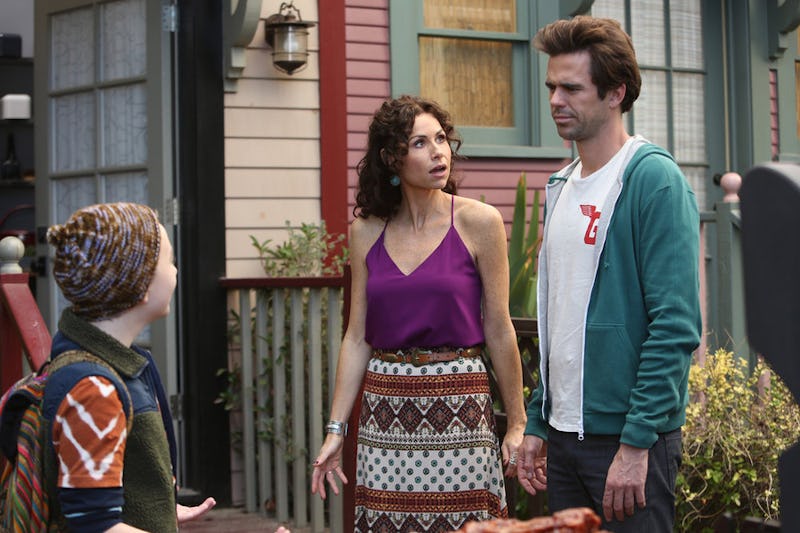 February is known in the television industry as Pilot Season, which means all the networks are busy ordering what new shows to produce for the upcoming fall season. Not all of the pilots that are shot will end up making it to air, of course, but with the networks already looking ahead to September, it's time to start worrying about which of our favorite existing shows will get axed to make room for the bright and shiny new ones. One show that has many viewers worried is the delightful NBC comedy About A Boy , based on the 1998 Nick Hornby novel that inspired the 2002 Hugh Grant film. Adapted for television by Friday Night Lights and Parenthood creator Jason Katims, the sitcom has struggled unjustly for two years under less-than-stellar ratings. So before you get too excited for the prospect of a third season for About A Boy, know that it may be one of the first casualties of NBC's culling of the herd.
On the surface, About A Boy seemed like it had all the specifications to become a big hit: a creator with a proven track record of great shows, well-liked source material, and a terrific cast (led by Oscar nominee Minnie Driver and relatable everyman David Walton). But for some reason, NBC didn't throw much advertising weight behind the comedy, premiering it during 2014 Midseason with little-to-no fanfare. Although the pilot premiered in February of that year to a respectable 8.26 million viewers, by the end of its first season, that audience had dwindled to 5.68 million viewers.
While Season 2 premiered to almost identical numbers as the Season 1 finale, that audience didn't stick around for long. The most recent episode of the show only played to a scant 2.7 million viewers . Sadly, those numbers put About A Boy in the dreaded "Certain To Be Cancelled" category of TVByTheNumbers' reliable Renew/Cancel Index, well below other struggling NBC series like State Of Affairs and The Mysteries Of Laura.
With NBC's beloved Parks And Recreation ending this year, freshman comedies A To Z and Bad Judge already cancelled (and Marry Me certain to join them soon), and About A Boy headed inevitably for the television graveyard, the peacock network is looking to start its Fall 2015 season without a single returning half-hour comedy. And the world will be losing not just one, but two stellar Jason Katims shows within a few months of each other. It's a sad, sad state of affairs.
It was great while it lasted, About A Boy. Thanks for the memories.
Images: Jordin Althaus/NBC; s-mokeclouds/tumblr