Lucious & Cookie Deserve An 'Empire' Duet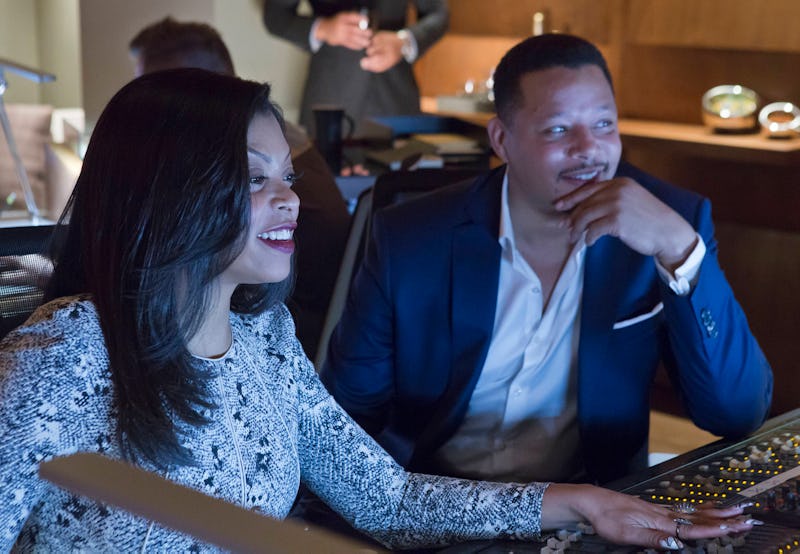 One of the things that's most exciting about FOX's new hip hop drama Empire — apart from the logic-defying ratings, that is — has been watching the re-teaming of Oscar nominees Terrence Howard and Taraji P. Henson. So when will we hear them sing together? Their onscreen chemistry now is as sizzling as it was back in 2004, when the actors first teamed up for the John Singleton-produced rap film Hustle & Flow . (Fun fact: Singleton, the Oscar-nominated director of Boyz N The Hood, actually directed the most recent episode of Empire, "Dangerous Bonds.") Howard's role as DJay earned him a nod from the Academy for Best Actor, and Henson's performance as pregnant sex worker Shug virtually launched her career. (Henson would get her own Oscar nom three years later for David Fincher's The Curious Case Of Benjamin Button.)
But what Hustle & Flow is perhaps most notorious for is the song "It's Hard Out Here For A Pimp," which won hip hop group Three 6 Mafia an Academy Award for Best Original Song, over Dolly Parton (for "Travelin' Thru" from Transamerica) and the year's Best Picture-winning entry (Crash's "In The Deep"). "It's Hard Out Here For A Pimp" was sung in the film by Howard and Henson, which makes me wonder how we've gotten six episodes into Empire without hearing the actors team up in the studio. We have briefly gotten to hear Howard sing on the show, although not yet with his co-star.
Granted, Empire isn't a musical in the traditional sense, so there aren't any Glee-esque scenes of characters bursting into song while they walk down the hallway with wind blowing in their hair. And Cookie isn't a recording artist, so it makes sense that she hasn't sung yet... but it's still kind of a bummer given how good we know she is. Check out "It's Hard Out Here For A Pimp" again if you need a refresher.
So is there any hope of hearing Henson sing on Empire anytime soon, preferably with Howard? Let's take a look at what's coming up on the show. What we know about this week's episode, "Our Dancing Days," doesn't give any indication that Cookie might be singing — just having more catfights with Anika. But the press release for next week's episode, "The Lyon's Roar," offers some hope.
It's time for the Lyon family to come together and record a legacy album with Lucious, Hakeem and Jamal. Cookie and Camilla (guest star Campbell) finally come face-to-face, Andre struggles with some inner demons and Jamal steps into the spotlight with news that surprises everyone.
That news about the Lyon family legacy album is more promising, although the press release only makes mention of Lucious and his two musician sons. What about Cookie, you ask? This promotional photo from "The Lyon's Roar" has some good news for you:
Looks like Cookie is finally getting in on the creative side of the family business!
While it doesn't look like we'll be getting a Lucious/Cookie duet just yet, at least we'll finally hear Henson sing — and the fact that the writers are acknowledging Henson's vocal talent means we can hold out hope that they'll find a way to get Howard and Henson singing together sometime before the season is over.
Images: Chuck Hodes/FOX (2)