The 'Parks & Rec' Gang Watched The Finale Together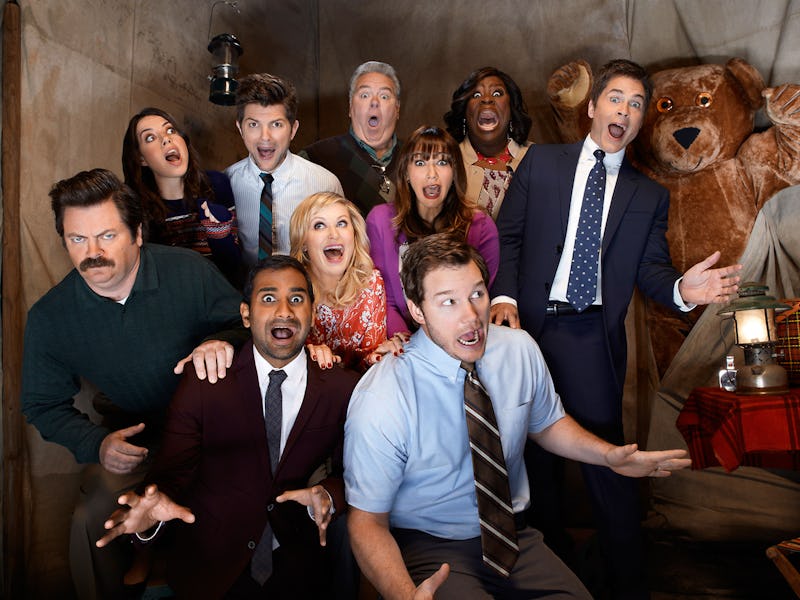 I know everyone reading this is probably nursing a pretty rough feelings hangover after the the Parks and Recreation series finale aired last night, on February 24. From Ann being there, to all of the meaningful hugs, to the loving tribute to Harris Wittels, the whole thing was a festival of sentiment that I needed to marinate in for while before drifting off to sleep last night (TV really effects me, guys). But get ready, because the feelings fest isn't over. The Parks and Recreation cast shared behind the scenes photos from the finale viewing-party, and looking at them will either help you with closure, of bring all of the tears.
As we can tell from social media, the whole gang gathered together to watch each one of their story lines be wrapped up in the final episode of Season 7. Looking at the photographic evidence made it feel like I was watching the hour-long special with all of my best friends, and NOT alone on my couch in my pizza onesie. Amy Poehler took some adorable creep shots of Aubrey Plaza and Chris Pratt craning their necks toward a projector. Plaza snapped a photo of her and Aziz Ansari on the way to the viewing party. Jim O'Heir took a slew of endearing selfies that made me a little misty (Damnit, Jerry! Get it together, you sloppy sap!!!)
Here are all of the pictures that you need to see of the Parks cast watching the Parks finale. I will miss ALL of this in the saddest fashion.
Aubrey Plaza and Aziz Ansari took a pre-party mirror selfie
April and Tom will always be thick as thieves.
Amy Poehler snapped a sneaky shot in the middle of the episode
O'Heir, Adam Scott, and Pratt are too engrossed to see that a photo is being taken, but Plaza turned and smiled just in the nick of time.
It's Retta being sweet with O'Heir, or as she calls him, her "set husband."
Jim O'Heir took a selfie with Amy Poehler
The governor of Indiana snaps a selfie with the mayor of Pawnee.
Amy Poehler took a picture with Jon Glaser— AKA, Councilman Jamm
Arch city council enemies, burying the hatchet.
Amy Poehler & Nick Offerman crowded in for a cell phone pic
Leslie & Ron: workplace proximity associates forever.
Everyone took one last blurry group shot, for old time's sake
Y'all are 5,000 candles in the wind. <3
Image: NBC