Kim K Speaks Out About Bruce's Interview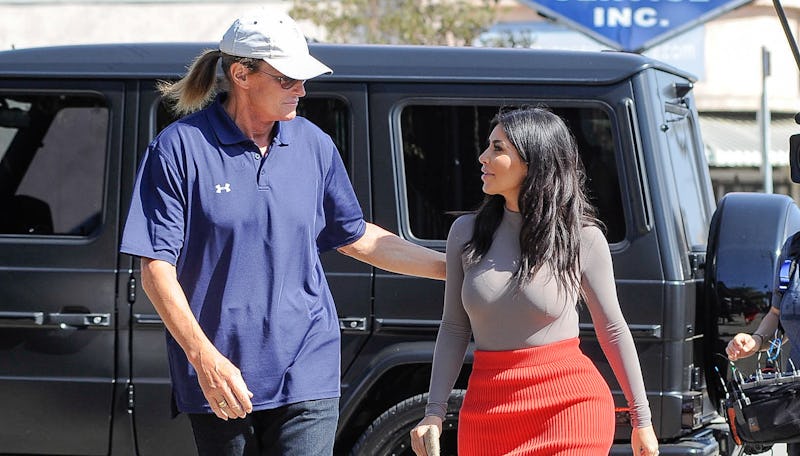 On Friday, April 24, Bruce Jenner sat down for a highly anticipated interview with Diane Sawyer on 20/20. It's been rumored for months that Jenner would use the opportunity to open up to the public that he identifies as a woman, and that ended up being the case. As the nation watched, the Olympic gold medalist told Sawyer, "For all intents and purposes, I am a woman." Some viewers may be wondering what Jenner's family has to say about the interview. One relative who has spoken out is Kim Kardashian, who said of Jenner, "Your honesty has opened the doors for others to be courageous and live an authentic life!"
It's no surprise that Kardashian is so supportive of Jenner's choice. Over ten seasons of Keeping Up With the Kardashians, we've seen how close of a bond the two have, and have watched them support each other over the years. Outside of the show, in January, Kardashian spoke to Entertainment Tonight and made it clear that she'll stay on Jenner's side no matter what and that she believes he should be able to speak for himself. The reality star told ET, "I'll say that I think that Bruce should tell his story his way. I think that when the time is right, he'll talk about whatever he wants to talk about."
Now, it seems that that time has come, and Kardashian still has Jenner's back. Her tweets certainly suggest so.
Kim's husband, Kanye West was evidently instrumental in helping Kim get to a place of such great support for her step-father that Jenner describes her as the "most accepting" of his transition out all of his children. As for other members of Jenner's family, everyone from Kendall and Kylie to Khloe, to Brandon and Brody, Jenner's mom, and even Jenner's ex-wife, Kris, made it clear that they stand behind Jenner, and took to social media to let the world know they do.
Editors Note: Per Jenner's stated preference, Bustle will continue referring to Jenner using he/his pronouns for the time being. We will follow his lead and make any changes to this policy as needed in the future.
Image: GONZALO/Bauer-Griffin/GC Images