These Music Videos Left Us Completely Confounded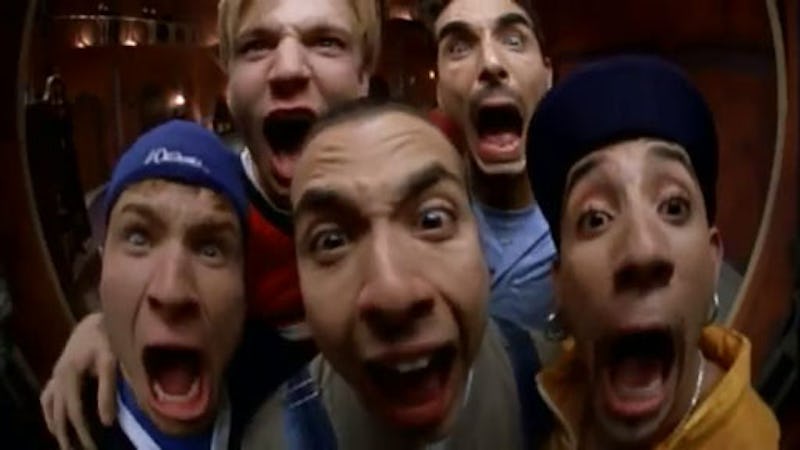 There's nothing like a catchy song from the '90s and early 2000s to inspire some nostalgic dance moves, pump up a workout, or rock out to during your next karaoke endeavor. I remember every time a delectable new tune would catch my ear, I would anxiously await the accompanying music video. All the music videos were bound to enhance the lyrics' message and make complete and total sense, right? Wrong! While the '90s and early 2000s delivered some unforgettable tracks that we still find ourselves humming — or belting — today, there were also several music videos to go along with said songs that were completely confounding.
Why were our favorite boy bands turning into monsters or breaking into bowling alleys? Why is Britney Spears — along with pretty much everyone else — traveling to outer space in order to show off some new dance moves? Why is Joey Lawrence singing to me about how his love is going to "fix" everything while performing acrobatics at a random playground? Why, why, WHY?!
Are you ready to be properly confounded? If so, join me on a nostalgic trajectory as we take a look at 13 music videos from the '90s and early 2000s that made us all exclaim: "What the heck did I just watch?"
Backstreet Boys, "Everybody (Backstreet's Back)"
Backstreet is back, you guys! And apparently that means that each member of the quintet...turns into monsters and dance around a haunted house? Was anyone else confused by this?
TLC, "No Scrubs"
I did not see a single "scrub" in this entire video...not one.
New Radicals, "You Get What You Give"
Is this video an ode to Mall Rats, or releasing caged animals, or food fights, or what? I'm failing to understand exactly what is going on here.
Five, "When The Lights Go Out"
When the boys of Five said they wanted to show us "what it's all about" after the lights go out, I didn't realize they meant breaking into a bowling alley after hours. Also, there's not a lot of bowling going on, just plenty of popping and locking around the lanes. What?!
Fatboy Slim, "Weapon Of Choice"
I never thought a dancing and levitating Christopher Walken would be considered anyone's "weapon of choice," but I honestly can't complain. This video makes about zero sense, but four minutes of Walken isn't something I'd ever turn down.
Britney Spears, "Oops!...I Did It Again"
Is Britney supposed to be a martian in this, or did she just literally want to make her next dance party out of this world? Between the astronauts and the random Titanic references, we're completely confounded.
Joey Lawrence, "Nothing My Love Can't Fix"
WHOA, Joey! Between the playground acrobatics, random game of football on the beach, and the consistent shrugging off of jackets and vest, we never actually learn much about love or fixing of said love through the course of this video. Also, how was that one girl on roller skates able to keep spinning around the entire time? Didn't she get dizzy? This video is basically a three-minute question mark.
The Darkness, "I Believe In A Thing Called Love"
I won't even try to deny it: this music video is spectacular. As much as I love it, it is also spectacularly confusing. Why was everybody traveling to outer space in their music videos during the early 2000s? The song doesn't even have anything to do with that!
*NSYNC, "Thinking Of You (I Drive Myself Crazy)"
Wasn't this song supposed to be a ballad? It's hard to take anything seriously with all the mayhem occurring throughout the course of this video — not to mention all the cringe-worthy facial expressions made by Justin Timberlake.
Will Smith, "Gettin' Jiggy Wit It"
This is a musical trip around the globe if I've ever seen one, and I've never been so confused.
Eddie Murphy & Michael Jackson, "Whatzupwitu"
Honestly, what is up with this music video? Eddie Murphy and Michael Jackson spend nearly seven minutes dancing and singing in the clouds amongst cartoon music notes, flying hearts (what?!), and other oddities with absolutely no explanation.
Ace of Base, "The Sign"
There's a ton of mugging, cheesy graphics, and random make-out sessions in this music video. I'm glad you "saw the sign" Ace of Base, but I'm not seeing anything here that makes a sliver of sense.
Eiffel 65, "Blue"
As addictive as this song is, I don't think many of us could decipher what the lyrics actually meant. The music video didn't do much to shed light on the lyrics' meaning either. Oh, look, they're in outer space because of course they are.
Image: YouTube