Jane & Michael Are "Just Friends" On 'JTV'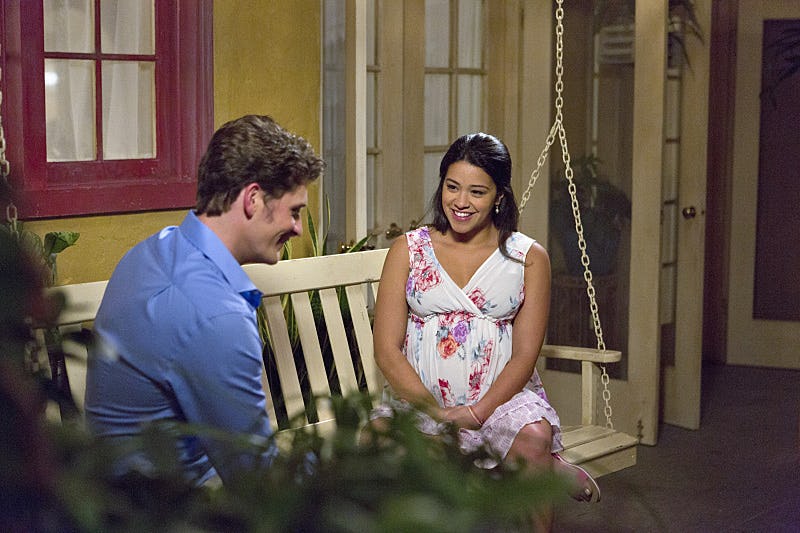 Jane Villanueva on Jane the Virgin is my number one TV homegirl and since I just want her to be happy, all of this #TeamRafael and #TeamMichael talk makes me super conflicted. Both men are madly in love with her, but Michael took the lead in "Chapter Twenty-One" on May 4, so could Michael and Jane get back together? Even as she's almost nine months pregnant with another man's baby, Michael is still so in love with Jane and she finally let him in a bit as a "friend." But Michael, her mom Xo, and even a little piece of Jane want more than just friendship for the pair.
With Jane wanting to have sole custody of her baby, Rafael pleaded with Jane to change her mind. She cited the fact that Luisa, Petra, and Petra's mom being at the hotel makes her worried about having the baby at the Marbella. Despite Rafael's feelings toward Michael, he encouraged Jane to call her ex-fiancé to prove that Luisa hadn't been in contact with Sin Rostro recently. Once Jane opened that door though, Michael took a flying leap in and asked Jane to be his date (but as a friend!) at his commendation ceremony. Michael was being awarded by his police department for helping to bring down Sin Rostro's network (with the exception of his ex-partner Nadine, whom he let escape).
Xo overheard Jane on the phone with Michael and you could tell her mom, who has always preferred Michael over Rafael, was getting excited. (Although I get Xo's suspicions toward Rafael and Jane's relationship, I find her choice for her daughter ironic since I feel like Xo would choose Rafael if she were in the same position.) Jane went to the ceremony with Michael and played it cool, declining his offer for dinner since she had her five-year high school reunion.
After the reunion though, the former most-likely-to-succeed Jane was feeling pretty vulnerable, and Michael was there for her. And I'm not going to lie, Michael and Jane's internet, text, and phone conversations brought tears to my eyes. By their convos, it was so obvious that Michael is still completely in love with Jane — remembering all the details of what she said and giving her valuable life advice. It made my heart hurt for him, and it filled Jane's heart with love. (In the words of the narrator, "Uh-oh.")
When Jane successfully got Petra's mom in jail for pushing Alba down the stairs after the Paloma Awards, Michael came by her house to celebrate. As Jane and Michael were bonding on the porch swing, Rafael called Jane because Luisa had been encouraging him to tell Jane that he really does still love her. Unfortunately, Xo saw the call and sent it straight to voicemail! (Not OK, Xo!) While Michael told Jane he'd ideally want more from their relationship, she continued to tell him she only wants to be friends. But the narrator made it clear that she was trying to convince herself by saying this.
With the season finale on May 11 and it promising Jane to go into labor, I don't think that Jane will end up with Michael or Rafael before Season 1 ends. She clearly has enough on her plate with giving birth that she shouldn't have to decide between two men right now. But Michael and Jane 'shippers were definitely given some hope in "Chapter Twenty-One."
While I do think that Jane does love Michael on some level, there is still the factor of Rafael, whom she also loves. When Rafael was talking to Petra in the episode, the narrator said, "Looks like Jane isn't the only one guilty of leading on someone familiar" implying that Jane is leading on Michael. Then there's that itty-bitty thing the narrator said back in "Chapter 10" that could mean that Michael will die on the show. (Gah! I really hope not, although that could help Jane make her decision . . . ?? Naw, that's just messed up.)
But even without a death, it's important to remember that she ended things with Michael, while Rafael ended things with her. Although I think she'd be reluctant to take back Rafael after he hurt her, the two are about to be parents together. And that will definitely put Michael at a disadvantage when it comes to Jane's heart once more — despite what her mother wants.
Images: Aaron Epstein/The CW; janethevirgingifs, janethevirgin-gifs, teamlockwood, janegifs/Tumblr