A Brief History Of The Hair Scrunchie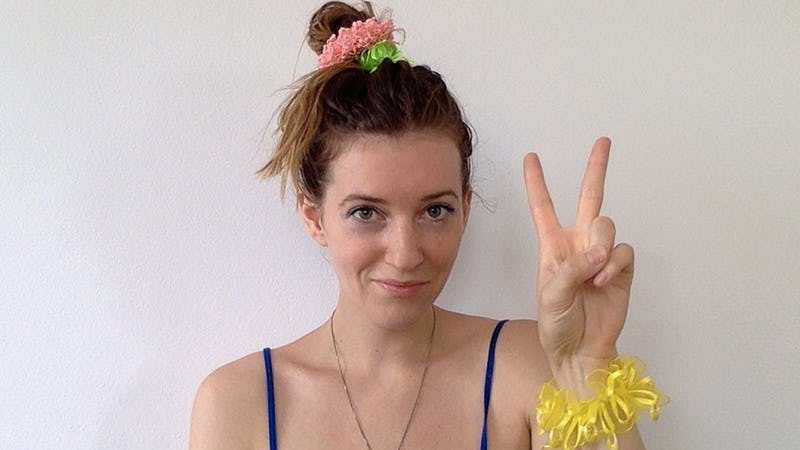 Ever heard of the Bunch Bangle? Probably not, but you've definitely worn one, as have '80s aerobics models, multiple Tanner daughters, Hillary Clinton, and a stylish slew of celebs—from on-stage outfits to off-duty lounging. The history of the scrunchie is a long, complicated story of cyclical fashion statements: Though the accessory's original roots can be traced back to the '60s, you probably crossed its path in the late '80s or early '90s, sometime after the accessory's misguided attempt to bring a little more spice to one's arm party (aka The Bunch Bangle Phase).
But things took a turn for the better toward the end of the '80s, when the bound-for-greatness look swiftly snapped its way into popular culture as one of our most beloved hair accessories: The Scrunchie. Patented by Rommy Revson in 1987, the fabric-covered fashion beautifully bridged the gap between ages, cultures, social scenes, and pretty much life as we know it.
A mainstay in the pages of hair history, who can deny the excellence of its elasticity when highlights like Madonna, Paula Abdul, and The Heathers make up the stylish scrunchie short list? Not for the beauty faint of heart, we just can't seem to quit this often-velour-coated accessory for good.
So what exactly brought the scrunchie's return to the spotlight?One look around fashion stores today will tell you the '90s are back, so naturally, their hair-cinching constituents are in tow. However, though crop tops, mom jeans, and brown lipstick are mainstream again in 2015, scrunchies are still enjoying a perch on the periphery — you know, that sweet spot between generally-accepted edgy coolness and becoming totally ubiquitous.
Its modern story picks back up with its sneaky introduction into recent runway shows. Chanel and Rag and Bone showed the look for last year's Fall collections, and Marie Claire UK recently featured the look in a multipage athleisure spread.
Cool celebs heralded for their style-spreading influence were next to hop on the bandwagon, including Cara Delevingne, Diane Kruger, Katy Perry, Selena Gomez, and Kate Beckinsale. Fast fashion retailers and online shops with a quick trend turn-around (Topshop above) were next to bestow their blessing on the Bunch Bangle. So now that you understand the full style story behind the scrunchie, what's the next research topic to dive into? Where to pick up your own, of course! You can now shop the scrunchie at crowd faves like Topshop, American Apparel, Forever 21, and Marc by Marc Jacobs.
Images: Tori Telfer; Giphy (2); Topshop