5 Reasons You Wish You Were at Dior Cruise 2016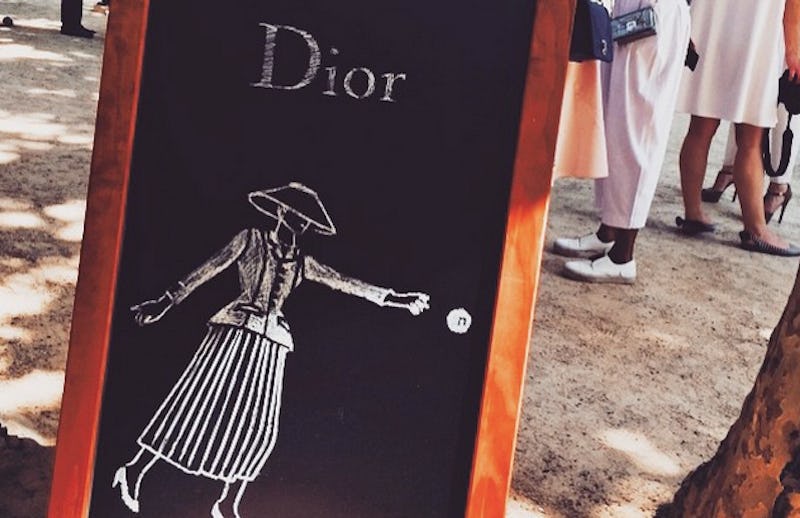 Fashion shows are infamous for being luxurious, and it's no surprise that the Dior 2016 Cruise show is shaping up to be no different. Remember that time Mulberry sent pressed flowers and leather-bound blank notebooks out as their invitations? Or, that time Topshop served sweets of every color of the rainbow between shows? Oh, and let's not forget that time Anya Hindmarch ended her Fall 2014 show with honest-to-god dancing men. Yep, beautiful clothes aside, there are a lot of perks to your average runway show, and Christian Dior is known for having some of the best.
Take, for example, last year's Cruise show — it was set on an actual cruise ship in Brooklyn (which gave a lot of New York-based celebrities a chance to attend). Most recently, there was also their ultra-floral Fall 2015 Couture show, their Blade Runner- inspired Pre-Fall 2015 show, and their crazily-scaffolded Spring 2016 Couture show. Suffice it to say, Dior knows how to bring the fashion show drama, and Dior Cruise 2016 will be just as picturesque as the best of them.
First off, it's set in the South of France on the French Riviera, which probably couldn't possibly get any more photogenic — add in a seriously cool set and some of the classiest invitations ever, and you've got yourself quite the envy-inducing event... so, here are five reasons Dior Cruise 2016 is the place to be.
1. The Locale
I mean, seriously.
2. The Set
The show was set at the Pierre Cardin Bubble Palace. Does it get cooler than that? I don't think so.
3. The Art
As if the Bubble House wasn't enough, the show also happens to be near the Fondation Maeght, a beautiful modern art museum in the South of France..
4. The Goodies
Look what Dior gifted fashion blogger Aimee Song and cry real tears of jealousy.
5. The Pétanque
Full disclosure: I had no idea what Pétanque is. According to Dior's Instagram account, it's "a traditionally French bowling game."
Looks like an utter dream, right? And that's not even including Raf Simons' gorgeous designs!