6 Ways To Celebrate National Masturbation Month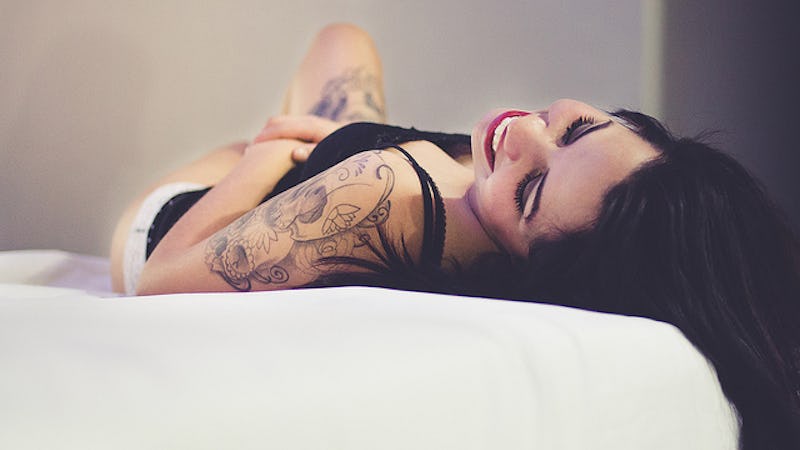 May is National Masturbation Month, ladies, climaxing on May 28 for National Masturbation Day. If you've been neglecting the self-loving for a while now, it's a great way to get back in touch with your lady parts. Seriously — if you're even half as lazy as I am, you probably don't treat yo' self nearly as often as you should and you're actually doing yourself a serious disservice. Masturbation is good for your health, relieves stress, and it lowers your risk of getting an infection on cervix.
Oh yeah, and it feels great too.
The holiday was founded by the sex-positive sex toy shop Good Vibrations in 1995 in honor of Surgeon General Joycelyn Elders, who was fired the previous December after publicly stating that masturbation be taught to children as a way to slow the spread of HIV/AIDS. Bill Clinton put his hypocritical ass on display with this one, canning Dr. Elders for taking such a radical position as the idea that children could be taught that — gasp! — sex is pleasurable and solo sex is the safest kind. Maybe Clinton should have listen to Dr. Elders. Could've saved him a lot of trouble in the long run.
There are plenty of ways to celebrate National Masturbation Month and prep your vagina for the big O on Masturbation Day. Check out these six for a good way to start.
1. Buy yourself a toy
Every body is different and, luckily, there are lots of options for sex toys out there. If you're in a major city, there's probably a sex positive, female-friendly sex toy shop in your town. The two most famous ones are definitely Babeland in New York and Good Vibrations in the Bay Area and Massachusetts but do a little googling and you can probably find one near you if you're not in one of those big cities.
Also, both of those stores have websites where you can browse online, although I personally like going in and checking out the toys IRL, 'cause you never really know until you hold it.
2. Make a masturbation challenge
Set yourself a goal for buttering your muffin, jilling off, or whackin' it — whichever you prefer. Commit to a certain number of orgasms per day, for a set amount of time. Or decide that you're going to switch up your style. For example, if you normally come quickly, draw it out for awhile or if you're normally a fingers-only kind of gal, turn to that new toy you bought. The idea is to give your lady parts a little loving and learn more about your body while you do so.
3. Support a sex positive organization
There are organizations all over the country (although my completely unsubstantiated guess is that they're mostly on the coasts) who need your help! One that immediately comes to mind is the Center for Sex and Culture in San Francisco, which was founded by Good Vibrations' sexologist and BUST sex advice columnist Carol Queen. They're currently facing eviction from their home in San Francisco and are raising money to help with the transition. You can find contact information for them here.
"To celebrate, I recommend that people choose a day and spend as much time masturbating as possible, musing on the significance of solo sex in your own life," recommends Ms. Queen. As Good Vibrations has long said, 'If you want it done right, do it yourself!'"
4. Masturbate with a partner!
Masturbation isn't just a solo act! I mean, it obviously is the majority of the time but it can also be a great way to connect with a partner. Masturbating together can be super hot foreplay and also educational — nothing shows your boo how to get you off than watching you do it yourself, and vice versa. Get some soft lighting on and get going!
5. Get out the mirror
When's the last time you took a look at your parts? Do you know what your vulva looks like, where your urethra is, and what it looks like under that clitoral hood? Most women probably haven't ever seen their vulva and vagina and while it may sound super Our Bodies, Ourselves, getting to know what your genitals look like can not only help you spot illnesses early on but also make masturbation and sex that much better. After all, knowing where all the parts are is key.
6. Get some new fantasy material
50 Shades is so over. (And for plenty of us, it never began.) Do yourself a favor and dive deep into some new erotica. A great site to check out is Literotica, which has everything. Kindle also has some great titles and a little googling never hurt anyone.
And if you're more into visual porn, check out this list from the Feminist Porn Awards for stuff that celebrates a variety of genders, bodies, and races.
Images: Mateus Lunardi Dutra/Flickr; GIFwrapped (6)