'Billy On The Street' Clips To Brighten Your Day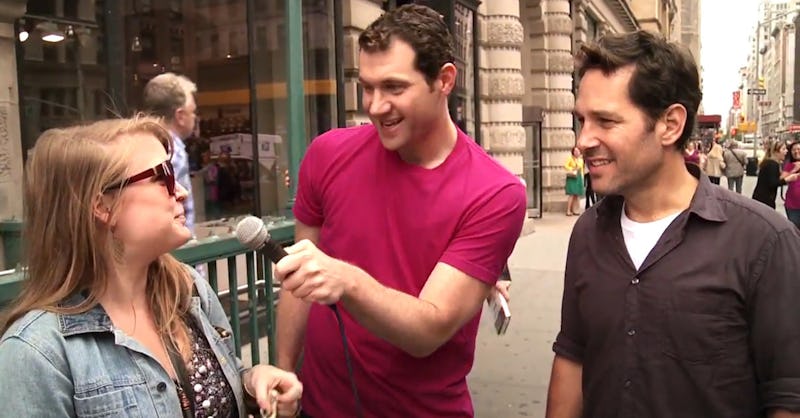 Billy Eichner is a formidable force when it comes to delivering laughs. You may remember him from his hilarious turn as Crazy Craig on Parks and Recreation or as the host of the wildly popular comedy series Billy on the Street. Even on the gloomiest of days, it's nice to know that there are a Rolodex of hilarious Billy on the Street clips at my disposal to brighten my mood. Since debuting on Fuse in 2011 — and since being renewed for a fourth season on TruTV — Eichner has delighted fans with his delightfully irreverent brand of humor. Whether it's frenetically ambushing New Yorkers with questions about pop culture or ambushing New Yorkers with surprise celebrity guests (hi, Paul Rudd!), there isn't a single episode of Billy on the Street that fails in garnering guffaws, IMHO. As vexed as Eichner can appear when shouting in the faces of strangers about topics ranging from whether or not Lea Michele can play the flute, to feelings about the series finale of How I Met Your Mother, fans know it's always in good fun and for the love of comedy.
Although it is difficult to choose the best Billy on the Street clips (they're all pretty epic, amiright?), I've compiled a list of 15 of my favorites that are guaranteed to brighten your day. Enjoy!
"Amateur Speed Sketching"
Guest contestant Barry may have not been too successful with his drawing of Dr. Phil, but I have a feeling he enjoyed the experience all the same.
"Billy On The Street With David Letterman"
This hilarious clip is actually peppered with some truly heart-warming moments.
"Miley Cyrus"
This uproarious clip involves a surprisingly diplomatic discussion about "Miley Cyrus then and now."
"It's Not Pitbull — It's Amy Poehler!"
Not only does this clip feature Amy Poehler — otherwise known as one my favorite celebrities ever — the elated reactions of New Yorkers after they discover "it's not Pitbull — it's Amy Poehler" makes you feel all the best feels.
"Billy Rants About Ratatouille"
Who needs to vent when a vexed Billy Eichner can do it for us? As riled as Eichner is in this clip where he speaks on how underrated the movie Ratatouille was, his rant is guaranteed to keep you laughing all the way through.
"Who's The Most Famous Person Sean Hayes Can Get On His Phone?"
Billy Eichner, Sean Hayes, and Kristen Bell pretty much make for a trifecta of awesomeness.
"Neil Patrick Harris and Billy Eichner Ambush New Yorkers!"
If you're like me, you're still not over saying goodbye to How I Met Your Mother, otherwise known as one of the best shows of all time. Seeing Eichner and Neil Patrick Harris ambush New Yorkers before the series finale definitely alleviated some of the upset and is a clip I frequently revisit when I need a pick-me-up.
"Would You Have Sex With Paul Rudd?"
Spoiler alert: a majority of ambushed New Yorkers answered "yes" to this question. Duh.
"She Clucks or She Sucks?"
Keep an eye out for some surprise celebrity sightings in the video, including Andy Samberg (probably) on his cell phone!
"A letter from our favorite contestant, Elena!"
In this super sweet clip, Eichner reads a letter he received from a previous contestant. Elena returned to Billy on the Street for subsequent segments and has never been one to disappoint.
"Would Drew Barrymore Like That?"
Would Drew Barrymore like a spoon of peanut butter? Apparently she would, according to Billy on the Street.
"Season 3 Premiere Lightning Round"
What other show can you win a dollar for shaking your fists and shouting the name "Carol"?
"Billy on the Street with Martin Short"
While Eichner usually spends his segments giving dollars away, he teamed up with Martin Short for Red Nose Day in order to raise money for charity. The clip was extremely funny (obviously) and also showcased the charitable nature of several New Yorkers.
"Billy On The Street with First Lady Michelle Obama, Big Bird, And Elena!!!"
I didn't realize so much awesomeness could be packed into one clip, but Eichner is a man of many talents.
"Meryl F***king Streep!"
Never deny the awesomeness of Meryl F***king Streep, guys.
Images: Screengrab/YouTube