How Long Do We Have To Wait For More 'OITNB'?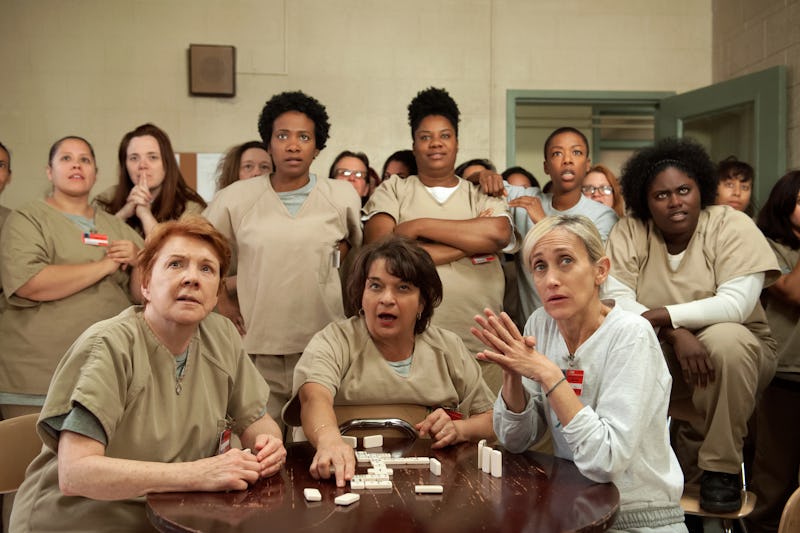 First things first: the good news about Season 3 of Netflix's Orange Is The New Black is that it has 14 episodes instead of the typical 13. The bad news is, it's going to take you an hour longer to complete the inevitable marathon watching session you're about to embark on. If you're truly dedicated, this means you can have all of the new episodes watched in about 11 hours if you don't stop for any meals or bathroom breaks, of course. If you're one of those people, then sometime tomorrow afternoon, you'll likely be found glued to your coach, eyes blurry, wondering how long you're going to have to wait for more. So when does Season 4 premiere?
Of course it's not too soon to ask that question, don't be silly. It's only natural to wonder how long you're going to have to suffer through these horrible withdrawal symptoms. And hey — at least it's not a matter of if, but when: Netflix already renewed OITNB for Season 4 back in April of this year, well before the current season was even unveiled. This should give the streaming service plenty of time to get the next batch of episodes ready for this time next year.
If past season premieres are any indication, we should be getting Season 4 sometime in June 2016. Season 3's June 12 premiere is neither the earliest nor the latest Netflix has ever dropped the show. Last year, Season 2 premiered one week earlier, on June 6; and two years ago, Season 1 premiered a month later, on July 11. So mid-June seems like a safe bet. (Unless the swift Season 4 renewal means we get the episodes even earlier than usual. Eh? How 'bout it, Netflix?)
While it's good to have a concrete answer that Season 4 is definitely happening come hell or high water, June 2016 feels soooooo far away right now, doesn't it? I'm pretty sure I'd rather spend a month in the SHU than a solid year without any more new OITNB in my life.
Then again, maybe not. SHU does seem pretty awful... and it doesn't have cable, so how would I watch the new season of True Detective later this month? Excuse me while I go reevaluate my priorities and prepare for my second TV marathon of June.
Images: JoJo Whilden, Screengrab/Netflix; Giphy