3 Rainbow Cocktails To Celebrate With Tonight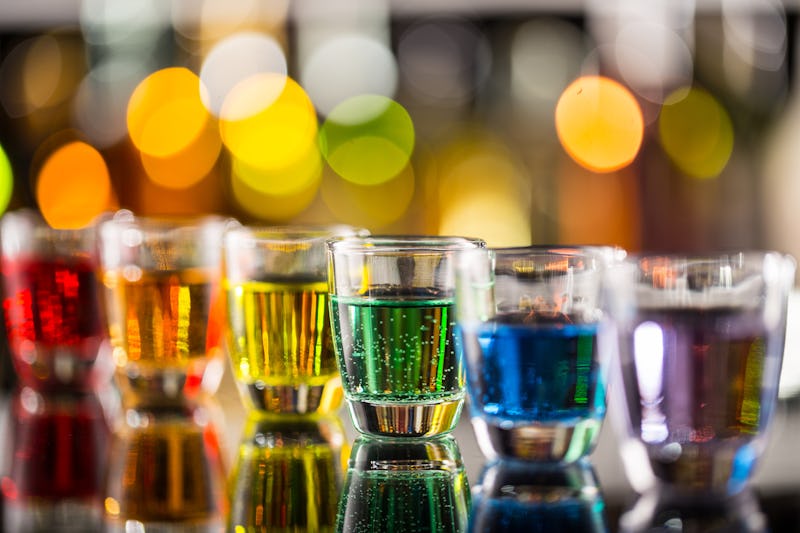 June is Pride Month, and I can think of no better way to celebrate LGBTQ pride than with a few refreshing rainbow cocktails. Thanks to the drink mixing prowess of YouTube's Tipsy Bartender, I've compiled three videos instructing you on how to create the perfect rainbow cocktail so you can celebrate progress, equality, and pride all month long — layer by colorful, boozy layer.
And boy has 2015 given us ample reason to celebrate some LGBTQ pride. Let's revisit the highlights, yes? In January, President Obama made history as the first president to mention transgender people in the State of the Union Address. In early May, Smith College followed several other leading women's colleges by changing their admissions policy to accept applications of transgender people who identify as female. In late May, an overwhelming 62 percent of Irish citizens said "yes" to marriage equality, making Ireland the first country to legalize same-sex marriage by popular vote. In June, Caitlyn Jenner's inspiring Vanity Fair cover received a warm welcome. And, by the end of the month, the Supreme Court will decide, once and for all, whether gay marriage will be deemed a constitutional right in the U.S. When it comes to the ongoing debate on marriage equality, and heck, the question of human equality, I can't help but invoke some John Oliver spirit as I desperately ask, "HOW IS THIS STILL A THING?"
In the spirit of love, I just ask one simple thing this Pride Month: Pick a day, any day, to raise a glass full of progress and pride for a much deserved toast to love, equality, and humanity. Because we're all in this together. Now let's go make some drinks.
Rainbow Shots
Ingredients:
1 ounce grenadine
1 ounce sweet and sour mix
1 ounce orange juice
1 ounce vodka (I recommend Ménage à Trois Vodka)
1 ounce Blue Curaçao
Ice
The Stoplight Margarita
Ingredients:
4 1/2 ounces tequila (I recommend Partida Blanco)
1 ounce kiwi-strawberry Kool-Aid
1 lime ounce margarita mix
Green food coloring
2 ounces mango margarita mix
2 ounces strawberry margarita mix
Fresh lime wedge to garnish
Rainbow Sangria
Ingredients:
1 bottle white wine (I recommend Black Box Pinot Grigio)
2 ounces Brandy
3 tablespoons honey
10 ounces soda water
Blueberries
Diced cantaloupe
Diced pineapple
Diced kiwi
Diced strawberries
Looking for more cool rainbow ideas? Learn how to make a rainbow gummy bear piñata cake.
Image: Fotolia