Rihanna Launches Sexy New Temporary Tattoo Line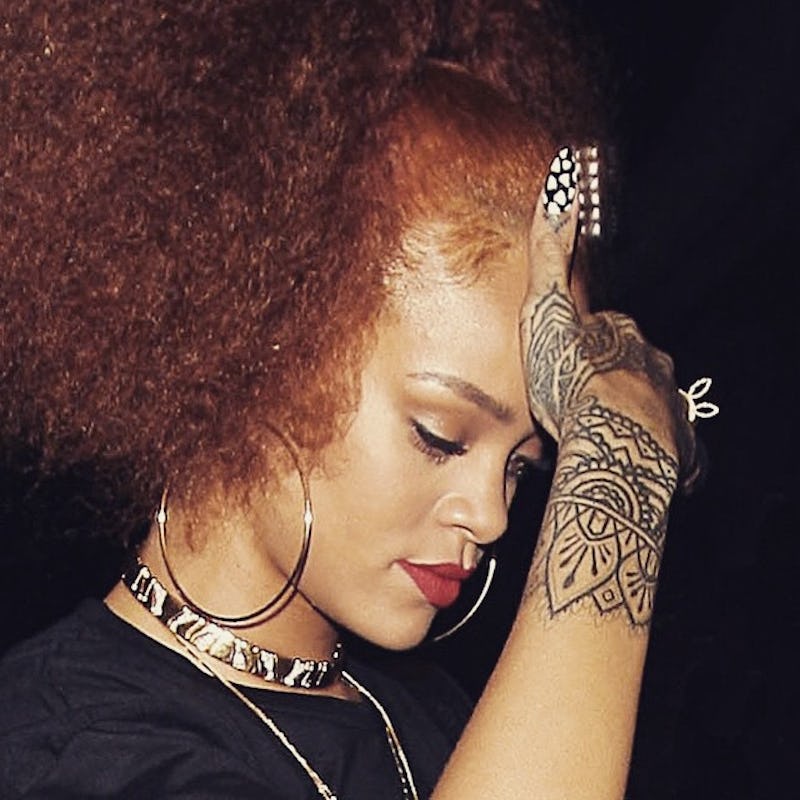 Do you love the look of tattoos but scared of marking your body for, well, life? No worries, bad girl RiRi understands your ink commitment struggle is real. Rihanna recently teamed up with jewelry designer Jacquie Aiche to create a gorgeous set of edgy, sexy temporary tattoos, according to Refinery29. Warning: One peek at the line will likely convince you to click buy.
Though Rihanna's tattoo count clearly proves she has no reservations about ink, that didn't stop her and Aiche from developing an absolutely stunning collaborative line. You can feel confident you're channeling Rihanna's fierce style, as Aiche told R29, "Creating the tattoos was a really collaborative process between Rihanna and myself." As far as the designs are concerned, Aiche shared, "There are gothic tattoos, but then we mixed in lots of daintier pieces for layering that are reminiscent of the way we stack our jewelry." Want. Want right now.
The collection of temporary tattoos include a wide variety of options from knuckle tats to arm bands to chokers. Basically RiRi and Aiche have you covered for whatever you could want! The line is currently available on Aiche's website. And if you're desiring even more temporary tattoo inspo, be sure to scan 13 temporary tattoos that are just as cool as the real thing, and how to make stunning temporary tattoos out of dried flowers!
Image Credit: Jacquie Aiche/Instagram