11 Audiobooks For A Girls Road Trip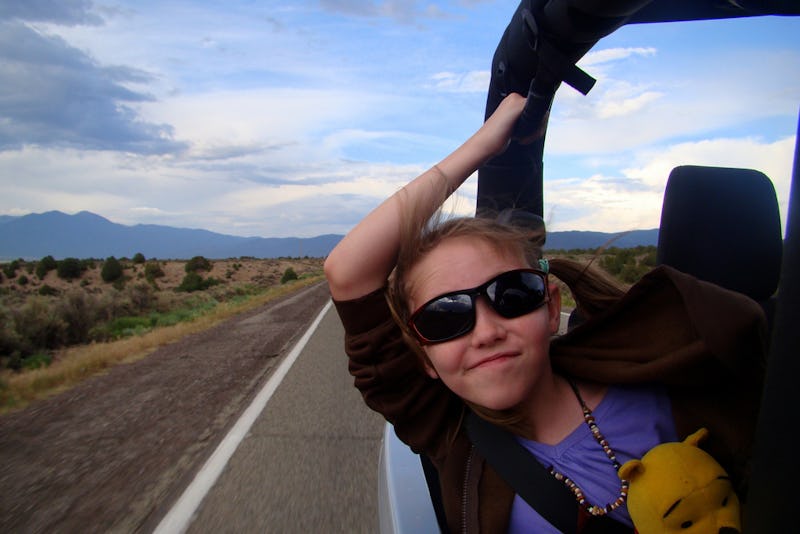 Nothing says "friendship" like driving hours in a car with the windows rolled down, passing around M&Ms and Trail Mix, ignoring the GPS as it constantly squaws "recalculating," and fighting over who gets to choose the next song. That's why these audiobooks for driving on a girls road trip will be your savior.
Because when you've sung all the Disney princess tunes, revisited the best of Britney Spears, and belted out "Popular" from Wicked for the hundredth time, sometimes it can be nice to take a break and listen to an audiobook. Not only does an audiobook help pass the time so your friend in the backseat doesn't keep asking how many hours are left until you're there, it can also spark conversation once you've finished the book.
After all, there are so many options for great places to read, so why not take advantage of reading while on the road? Think about it: you've got all your friends in one place, so it's the perfect opportunity to have a mini book club! From classics to bestsellers to breezy YA books, there are plenty of choices for every type of friend group, because nothing says "best road trip EVER" like bonding over a new book.
Austenland by Shannon Hale, Read By Katherine Kellgren
Length: 6 hours and 23 minutes
Listen with friends who love Jane Austen. Jane Hayes, a young woman obsessed with Mr. Darcy, travels to Austenland, where it's always the Regency era and everyone gets a happy ending.
We Were Liars by E. Lockhart, Read By Ariadne Meyers
Length: 6 hours and 27 minutes
Listen with friends who prefer a bit of mystery. Cadence can't remember what happened one summer on her family's island, and the book will keep you guessing until you find out the truth. It's perfect for pausing to relay predictions, and it'll make your drive fly by.
Length: 6 hours and 39 minutes
Listen with friends who are feeling nostalgic. The story of Lena, Tibby, Bridget, and Carmen and their summers spent together (and apart) will transport you back to the past, and in the process, help you bond with your BFFs all over again.
Bridget Jones's Diary by Helen Fielding, Read By Barbara Rosenblat
Length: 8 hours and 19 minutes
Listen with friends who constantly drag you to rom-coms. Miss Rosa from OITNB narrates this hilarious modern-day Pride and Prejudice tale of a thirty-something British woman trying to navigate life.
Cinder by Marissa Meyer, Read By Rebecca Soler
Length: 10 hours and 6 minutes
Listen with friends who are obsessed with fairy tales, AND friends who like sci-fi. In this retelling of Cinderella, Cinder is a cyborg in New Beijing, but she has to face more than just an evil stepmother in order to save the day.
Length: 10 hours and 24 minutes
Listen with friends who stop to smell the roses. This classic tale of Anne (with an "e") is sweet, simple, and laugh-out-loud hilarious — great for a relaxing road trip with the windows rolled down.
Pride and Prejudice by Jane Austen, Read By Carolyn Seymour
Length: 11 hours and 30 minutes
Listen with friends who like romance (and wit). This classic love story about strong-willed Elizabeth Bennet and stubborn Mr. Darcy will spark conversation long after the story's through, and you can debate with your BFFs about which Austen heroine you're most like.
Red Queen by Victoria Aveyard, Read By Amanda Dolan
Length: 12 hours and 40 minutes
Listen with friends who prefer action. In this YA fantasy, Mare discovers that she has a hidden power, and suddenly finds herself living in the royal palace. But when she gets caught up in a political rebellion, her position in court feels more dangerous than advantageous. The ending will make you and your friends anxious for the next book.
The Night Circus by Erin Morgenstern, Read By Jim Dale
Length: 13 hours and 39 minutes
Listen with friends who won't stop talking about Harry Potter. Jim Dale, the narrator, read the U.S. version of the Harry Potter audiobooks, and he's pretty much flawless. His deep voice is perfect for this whimsical fairy tale about a circus that appears out of nowhere.
Length: 14 hours and 52 minutes
Listen with friends who: love classics. Thomas Hardy's tale of Bathsheba Everdene (precursor to Katniss Everdeen) details the journey of an independent woman and her suitors. Plus, the movie just came out, so after you finish it you should check out the soundtrack — it's seriously beautiful and perfect for listening to as you drive alongside lush nature.
The Silkworm by Robert Galbraith, Read By Robert Gelnister
Length: 17 hours and 22 minutes
Listen with friends who are addicted to crime shows. This whodunit, written by Robert Galbraith (aka J.K. Rowling), is the sequel to The Cuckoo's Calling , but you don't have to read the first in the series to appreciate the mystery in the second. PI Cormoran Strike investigates the disappearance of author Owen Quine in a story that's sure to keep everyone in the car guessing.
Little Women by Louisa May Alcott, Read By Kate Reading
Length: 18 hours and 44 minutes
Listen with friends who: are like your sisters. This iconic coming-of-age story about Meg, Jo, Beth, and Amy is the perfect pick to listen to with friends who feel like family.
Image: littlemoresunshine/flickr