Colbert Responds To Dissenting SCOTUS Judges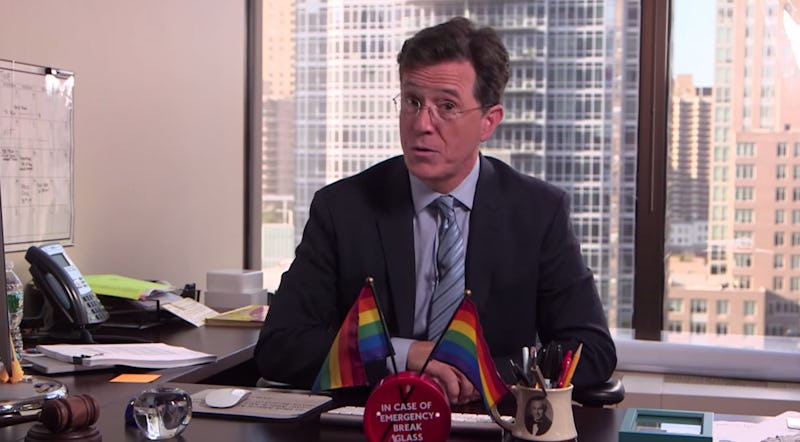 Stephen Colbert has been very kind to those who didn't think they could make it without him on television during the gap between The Colbert Report ending and The Late Show With Stephen Colbert premiering. Colbert's been posting videos to promote his new show, with topics ranging from shaving the Colbeard (may it rest in peace) to Donald Trump's announcement that he'll be running for president. On Friday night, Colbert posted another video — this one responding to the Supreme Court of the United States' historic, long due decision to legalize gay marriage across all 50 states in the country. Specifically, Colbert singled out the judges who dissented the monumental decision, slamming Judge Scalia in particular for being closed-minded. The video is great, and serves two purposes: Not only does it supply a much-needed dissent to Judge Scalia's gross dissent of the SCOTUS decision, but it prepares us for the new Colbert personality who will overtake late night television this coming fall.
Unlike his Colbert Report character, Colbert won't be playing a conservative news pundit when he takes David Letterman's spot on The Late Show. We already knew this for the most part — in previous interviews, Colbert has revealed that he'd be bringing something much closer to his real personality and beliefs to his Late Show personality — but it's still interesting to actually see it in a clip. "I won't be doing the new show in character, so we'll all get to find out how much of him was me. I'm looking forward to it," he said in a statement through his publicist in 2014. From these new Late Show clips, especially this most recent one, it's fairly clear that his Report character was true to Colbert's comedic essence.
His perspective on same-sex marriage is, of course, wildly different than how the conservative Colbert character on the Colbert Report would react — Colbert Report's Colbert might have made a few more ignorant comments about pride, for instance, as part of the character. However, the comedic aspect of Colbert's personality is still there: There's still Daily Show-esque jokes about serious news, and he hilariously mocked the conservative justices who voted against same-sex marriage.
There was also a bit of Colbert's good friend Jon Stewart's humble playfulness, best evidenced when Colbert noted that dissenting judge Justice Scalia looked like he "was already hiding in a flesh toned-cinch sack" — and then dared him to be a guest on The Late Show in the same breath.
One of the best jokes of the clip was when Colbert accused dissenting judge Justice Roberts of hypocrisy, equating Roberts' statement that gay marriage should be celebrated but never legal to writing on someone's wedding card, "You guys are perfect for each other, and a cancer on our society." It's a great joke, and one that highlights conservative hypocrisy in a more straightforward way than Colbert's Report character would have been able to.
This video, in addition to being hilarious, gives us a great look at what to expect from Colbert's new gig at The Late Show Sept. 8. Check it out below.