6 Makeup Tutorials To Rock This Pride Month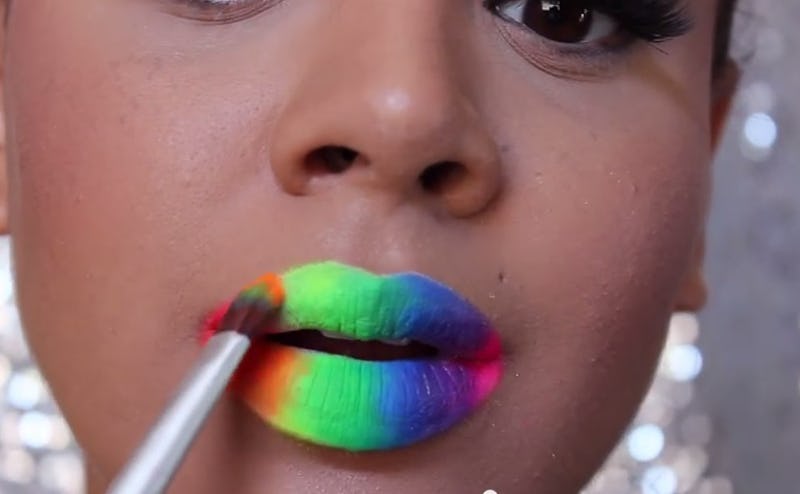 This weekend has already been a historical one, and it's only Saturday. On Friday, SCOTUS declared same-sex marriage bans unconstitutional (cue cheering, dancing, and crying), which makes this year's Pride Month that much, well, prideful. And after the decision was made, celebrations ensued across the country, and the party definitely won't stop for a while because there's a lot to celebrate.
Not only was the country filled with pride this week, but it also got a little bit more colorful. National monuments, such as the White House, got a Pride makeover, with lights making a rainbow across the front of the Obama residence. Feeling inspired by the SCOTUS decision? Don't let the First Family have all the rainbow-colored fun! Whether you want to rock a simple gay pride button like the one Miley Cyrus wore, or go all-out by sporting some badass rainbow hair, changing your look for Pride is a great way to show your support for the LGBTQ community while you're having a blast this weekend.
But if a permanent dye job isn't for you, these YouTube vloggers can teach you some fabulous ways to rock rainbow makeup that's just as fun but requires way less commitment. So, while you're waiting for a rainbow emoji to appear on your iPhone, try some rainbow lips or eyes while you're heading off to a parade, rally, or "way to go SCOTUS" party.
Check out these awesome rainbow makeup tutorials below.
1. Rainbow Glitter Eyes
This look uses soft colors on the lid, and a flashy, glitter liner on the bottom lash line that would make any outfit pop with pride.
2. Rainbow Liner
If an all-over rainbow look isn't your thing, try a more subtle, metallic eyeliner that definitely pops with ROYGBIV, but with some added sparkle.
3. Avant-Garde Pride Look
Going to a Pride event and want to go all-out (no pun intended)? Try this look from beauty vlogger Gigi Gorman MUA that lets you sport the pride flag as an avant-garde, superhero mask-style look. Simply fierce.
4. Rainbow Lips
Bold lip colors are always fun to rock, and this neon rainbow look is no exception. Vlogger Monique Matos shows you how you can achieve this colorful lip look using eyeshadow and a white base.
5. Transgender Pride Eyeliner
It's always important to recognize that Pride month is not just about one type of identity, and the LGBTQ community boasts a variety of flags and colors to reflect that. Vlogger MsUndead Rainbow gives you a sparkly liner look to rock Transgender pride with blue, pink, and white liners. Check out her channel for Bisexual, Pansexual, Nonbinary, and Asexual-focused looks as well!
6. Rainbow Brows
If you want to rep the Pride flag in a pretty unique way, try sporting the rainbow on your eyebrows. Move over Cara Delevingne, this tutorial will show you how to rock the latest in bold brows.
Image: Screenshot via Monique Matos/YouTube