What Will 'The O.C.' Musical Be About?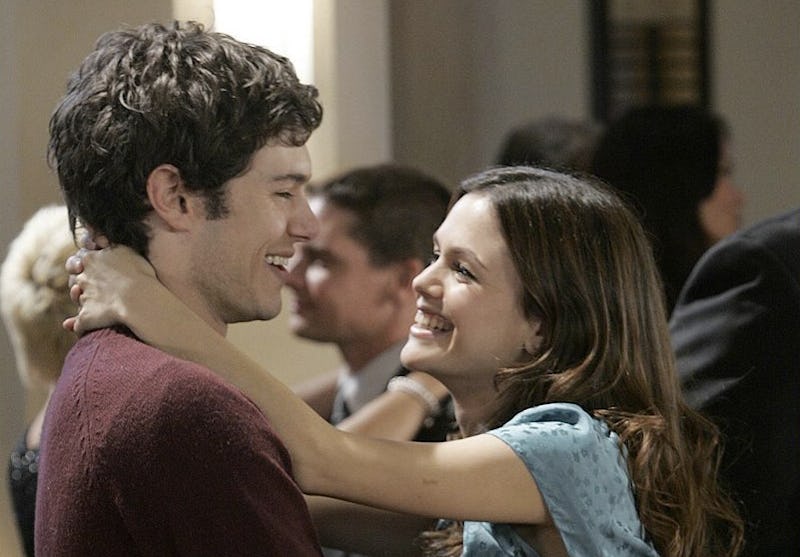 California, here we come: It's been announced that your favorite 2004 CW show, The O.C. , is becoming a musical as a one-night-only special event in L.A. At first, I wasn't totally sure this is real, but now, it is and I have to say I'm decidedly... confused? We all know that music has always been a selling point of The O.C., but to imagine Summer belting an ingenue song or Ryan tap-dancing his heart out... well, those images are a little jarring. But with a little brain power and a lifetime getting dragged to Broadway by my parents, I thought up some other musicals that might mesh well with some of the characters' story arcs.
Now granted, I would assume that something as campy-sounding as The O.C.: The Musical can't be taken super seriously. It's coming from the creators of the Cruel Intentions musical previous investigations suggest it's an unauthorized parody of the show's early years and events. But earnest or ironic, simulating these iconic musicals can't not be a good idea... right? I mean, so long as we're attempting a parody, why don't we mix in some parodies of the musical genre?
So in the event that we tackle some of the shows' most memorable dynamics and storylines, here are the musicals the series is primed and ready to emulate:
Ryan Atwood & Marissa Cooper: West Side Story
We actually know that Ryan has ties to the theater during his Chino days (he made a boss Snoopy in You're a Good Man Charlie Brown) but his romance with Marissa has more of a West Side Story vibe. There's star-crossed teenagers in love, both from clashing worlds, with a whole lot of violence and tragedy. Plus, I really just want to see Ryan doing honing his snap skills before he comes to blows with Luke.
Marissa, Julie, & Kaitlin Cooper: Gypsy
Originally, I was going to suggest A Streetcar Named Desire for Marissa before remembering that was only a musical on The Simpsons and not in, you know, real life. There are intriguing ties with Carmen, especially with that whole dying-at-the-end part, but that's... technically an opera.
But if we wanted to do something different and focus on the Cooper family dynamic, why don't we do something with Gypsy? Julie is the ultimate in overbearing red-headed mothers, and pushing Marissa to perform for the family is what drove her away. So who else would take her place? Meek little forgotten-for-three-seasons Kaitlin, blossoming into a hot rebel child. Burlesque performance optional.
Seth Cohen & Summer Roberts: The Phantom of the Opera
If we could even do a meta version of this, where Seth conceives a romanticized musical about his relationship with Summer and envisions himself as an outcast and tortured creative genius, enamored with both the beauty of music and the beauty of his brunette muse. Of course, Seth would fudge the ending so he triumphantly gets the girl, and so weird, there's no mention of Anna Stern. Ben Gibbard of Death Cab for Cutie would do the score.
Summer Roberts & Her Newfound Independence: Legally Blonde
OK, so it seems sacrilegious to compare Summer to a protagonist who's so decidedly golden-haired, but our girl has a lot more in common with Elle Woods than you'd think. In fact, Summer's college years (or, college semester, based on what we saw) really shows that similar transition of a California valley girl finding herself at an Ivy League institution on the East coast. Plus, a Legally Blonde as a musical is funny, cute, and outrageously stylish... just like Summer herself.
Truth be told, no matter which musicals this production follows, I'm going to be pretty interested. It's like Chrismukkah IRL.
Images: Warner Bros. Television; Giphy (4)