5 Reasons High Tops Are The Best Type Of Sneaker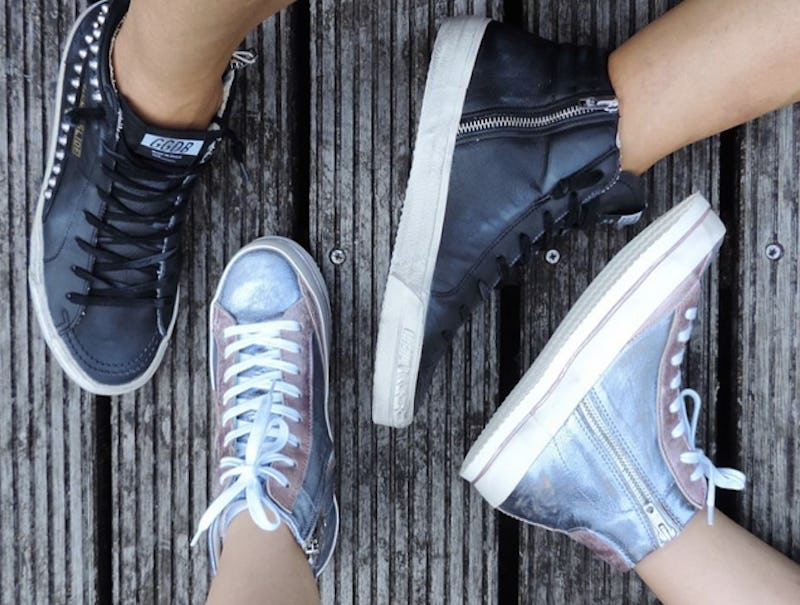 These days, sneakers come in plenty of different designs and varieties. But one style that seems to be making a major comeback is the high top sneaker. And I couldn't be happier. After years of being ignored and neglected while low top sneakers took the footwear lead, high tops are finally earning some prime spotlight time.
Maybe it's the '80s and '90s fashion revival, or perhaps people today want something more classic. But the high top sneaker is here, and it's staying for good. Because when compared to other trainers, there's arguably no sneaker that has as much style, history, and fan-people as the high top variety.
So... yeah. If you hadn't already guessed, I'm a huge fan of high top kicks. I wear these babies to any and every event, from weddings to shopping excursions, and even to formal dinners. I'm not shy about my adoration, as I learned to appreciate high tops at a young age when my only pair of sneakers was, you guessed it, a bright pink pair of high top Converse sneakers. But regardless of my wardrobe when I was six years old, high tops have lots to offer. They come in plenty of designs for every kind of style, they're well-loved for their comfort and practicality, and they're extremely easy to style. What more could you ask for from a pair of shoes?
In order to pay an homage to high top sneakers but also encourage everyone to invest in some, here are five really good reasons why high top sneakers should have never gone out of style. And I promise, all the sneaker heads in the world, myself included, can attest to these reasons.
1. Easy To Style
With the athleisure trend in full swing, it's interesting to see how bloggers, models, and celebrities combine their favorite wardrobe pieces with their athletic apparel. Whether through sporting some workout leggings, or even a sports bra as a crop top, I love getting creative and mixing pieces together. But arguably the easiest way to mix an athletic piece into your everyday wardrobe is with an accessory. And what other accessory is there than shoes?
Imagine you're wearing a black midi skirt with a black and white striped crop top. Then, you pair the duo with running sneakers. Totally unexpected, but amazingly cool and effortless. Sure, heels would have worked and sandals would have been fine. But high top sneakers can add extra oomph to an otherwise basic outfit. (I admit you can achieve that with low top sneakers, too. But then you'd be missing out on that retro vibe...)
2. They Pay Homage To Decades Past
High top sneakers are undeniably '80s, when fashion's mantra was "the bigger, the better." And like I said before, quintessential high top kicks (like Converse All Stars) were originally designed for athletes, the extra fabric intended to protect their ankles from potentially injury and, of course, to avoid any slipping off during the game. But high top sneakers — think the Converse from the '80s and '90s — became so popular that they really were the only way to go. Basketball players on the court were wearing the same sneakers Kurt Cobain was sporting on stage with Nirvana.
Since then, high tops got something of a punk reputation. But now that the '90s fashion revival is upon us, and you really don't want to have to break in a pair of jelly shoes, high top sneaks are the way to go. Even if your mom might think you're rebelling with that distressed denim jeans and high top combo, it's a foolproof way to being inspired of styles of the past and bring them back to life.
3. Designers, Editors, And Celebs Love Them
Lucky Magazine Editor-in-Chief Eva Chen loves her sneakers. So much so that she attempted to encourage herself to wear heels more often by starting Instagram hashtag campaign #HeelReimmersionProgram. But to no avail, she resorted back to her comfortable sneakers, which obviously include some high tops.
But Chen isn't the only fashion industry guru who loves and appreciates high top sneakers as some of the coolest kicks around. Brands like Gucci, Jimmy Choo, Michael Kors, and even Alexander McQueen all create wicked sneakers as a part of their collections. And celebrities like Sarah Jessica Parker and Olivia Palermo have all been spotted rocking chic sneaks on streets. Sounds like good company if you ask me.
4. There Are Tons Of Varieties
While I do admit I love Converse, my penchant for high tops doesn't stop there. There are tons of high top sneakers out there for everyone, from classic boxing styles with super high laces to a quilted pair with zippers in a silver hue.
Though these more unique looks might seem hard to find, you're probably just looking in the wrong places! I don't doubt your shopping skills, of course, but it helps to go into stores you might not be considering. Classic mall stores like Journeys or Finish Line have great selections, as well as department stores like Kohl's or Target. Each retailer and each brand has a high top sneaker to offer, so don't be afraid to look around and start building a collection. I might join you because I definitely want to add to mine. #noshame
5. They're Classic
And if this whole article hasn't convinced you already, it's obvious that high top sneakers are completely and utterly classic when it comes to footwear. When I think of sneakers, I think of high tops. Maybe I'm not educated, maybe there's something wrong with me. But high top sneakers were basically the original sneaker, and they're the style that famous basketball players have worn for years, punk rockers have worn for years, and even Millennials have worn for years. And with the decade-fashion revival and the interest in athletic wear, it's nice to see high top sneakers slowly come back from a lull in their popularity.
If you have yet to ever purchase or wear a pair of high tops, I totally recommend it. They may seem intimidating at first, but they're effortless, easy to wear, popular among the cool kids (that's you, Eva Chen), and super retro and cool. And if you're already on the high top train and have been nodding your head this entire time, then good for you.
Now, let's throw those heels out. Shall we?
Images: kiwik_de_bruxelles/Instagram; Giphy; evachen/Instagram