Alex Pettyfer Is Missing From 'Magic Mike XXL'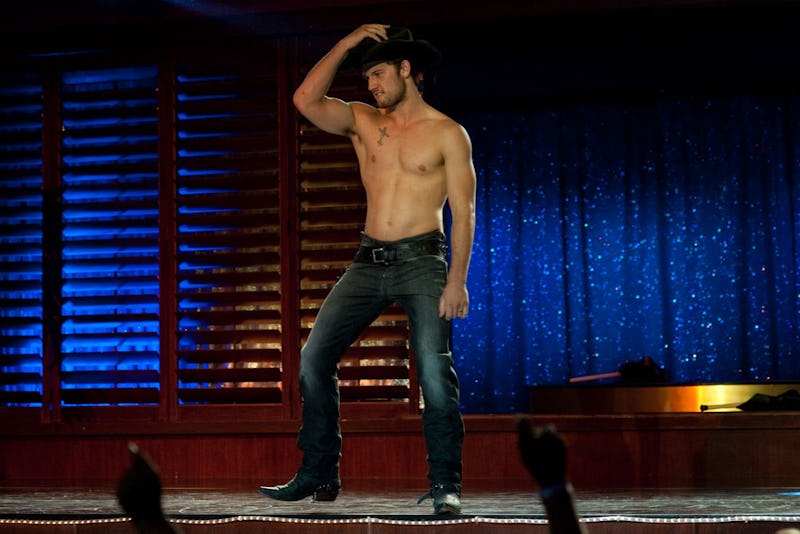 You can try to tell me that you're not looking forward to seeing Magic Mike XXL, but I won't believe you for a heartbeat. The sequel to the 2012 film is one of the most anticipated movies of the summer, and only partly because of Channing Tatum's abs (although, okay, that's a sizable part). There is a lot to look forward to in XXL, but fans of the first movie may notice some missing elements from the sequel — most notably, a few core cast members. Many viewers are already aware of Matthew McConaughey's absence from the second film, but he's not the only person from the first movie not to appear in the new one. Why isn't Alex Pettyfer in Magic Mike XXL ?
Allegedly, it's due to some on-set feuding that made filmmakers hesitant to invite Pettyfer (who played Adam in the first movie) back for another round of shooting (Bustle reached out for comment but did not hear back at the time of this story's publication). Reportedly, during the filming of the first movie, Pettyfer clashed with star Channing Tatum — even though the two men played close friends onscreen. According to The New York Post, Tatum felt that Pettyfer was "cocky" and "difficult" to work with, with US Weekly reporting that the younger actor behaved as if he was the star of the movie as opposed to Tatum or Matthew McConaughey. Both outlets allege that there were heated arguments on set, but no one would never have guessed there was any drama based on the film's portrayal of the rapport between the male dancers.
There were murmurs back in July 2014 that Pettyfer was hoping to be invited back for XXL, but in October it was revealed via his Instagram account that he was in San Francisco while the rest of the cast was filming in Georgia, implying that Pettyfer was not currently involved with the production. Those who drooled over the 25-year old Brit in Magic Mike may be disappointed by his absence in the sequel, but rest assured, you'll be too distracted by the stripping and singing to give it much thought when you see the film.
And who knows what really happened, anyhow. The feud was never confirmed on the record, and the studio never released a statement about the reasoning behind the casting decisions for the second film. When asked about both Pettyfer and McConaughey's absences from XXL, co-star Joe Manganiello said only, "Plot-wise, it wouldn't make sense for either one of them to be here." Besides, Pettyfer appears to be doing just fine without Magic Mike XXL; he starred in last year's romantic drama, Endless Love , and has a supporting role in next year's Elvis & Nixon, alongside Kevin Spacey.
Regardless of the reason for his absence, Pettyfer's sculpted features will certainly be missed by XXL viewers. That being said, there is still a LOT to look forward to in the movie, now playing in theaters. Particularly, this:
Images: Warner Bros; Getty Images; Giphy