Books About "Girls" Are So Hot Right Now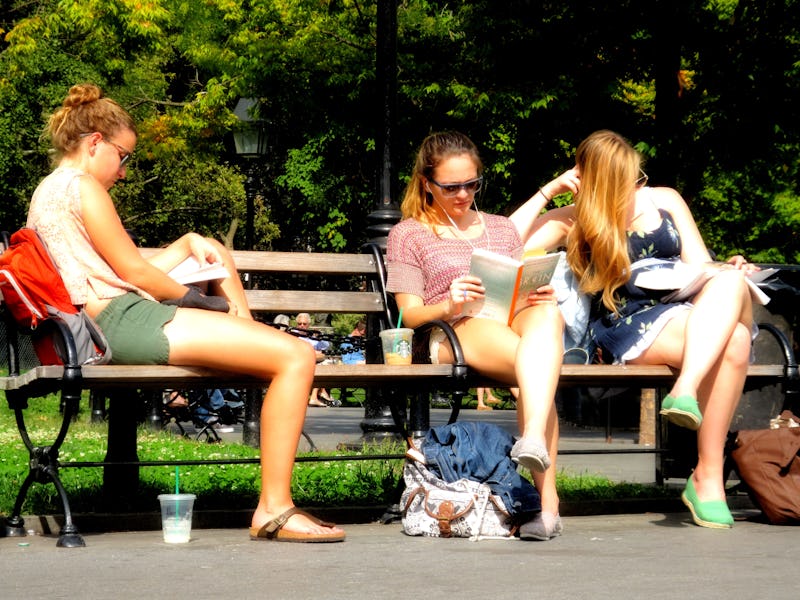 Books about girls are having a serious moment in the spotlight. Female-driven thrillers are flying off the bookshelves, and being adapted into blockbusters faster than Ryan Gosling can say, "Hey girl." I've barely caught my breath from the bloodbath that was Gone Girl, but already Gillian Flynn's other two novels are on their way to the big screen, each with a feisty (and sinister) leading lady to steal the show.
Novels centered on women are so in demand right now that the first and third most-searched books on Goodreads in June were about women: the already infamous The Girl on the Train, and the sensational Luckiest Girl Alive, both with their complex leading women ready to tear female apart stereotypes. While Goodreads does have a large female following, a third of its users are male — so obviously the men are loving these female-centric titles, too!
Over the last decade and a half, books about women haven't been winning many prizes, but it looks like this is all about to change. And it's not just thrillers that are capturing everyone's attention; Goodreads have released their 15 most popular books with the word "girl" in the title, and the diverse list ranges from romance to YA to historical fiction. These books are the most-read and highest-rated "girl" novels on Goodreads right now, and they seem to show that novels about traditionally "female" topics like love and jewelry might finally get the attention they deserve.
All together now: who run the world?
Lisbeth Salander took the world by storm when she burst onto bookshelves back in 2005. This action-packed thriller (along with its two equally well-acclaimed sequels) blows female stereotypes wide open, as well as tackling sexual harassment and rape.
Gillian Flynn's bestseller tears apart the unrealistic "cool girl" trope, and replaces it with an unlikeable, complicated, but powerful female alternative. If you've been living under a rock and have managed not to read this thriller yet, drop everything now.
The fact that a historical romance about a teenage girl (and written by a woman) is still so popular 16 years after its publication is fantastically exciting for female fiction. Chevalier's novel centres around the painting of the same name, and the mystery that surrounds it.
Philippa Gregory's novel may not be historically accurate, but its depiction of a sisterly relationship is rich and complex. Its exploration of the corruptive nature of power will stick in your mind.
The Girl on the Train is the page-turner of 2015. It follows the unreliable and alcoholic Rachel, who frequently suffers lapses in her memory, until one morning she wakes up covered in blood to find headlines reporting a woman is missing from the suburb Rachel was visiting.
Sophie Kinsella is beloved for her Shopaholic series, but this time she's dabbling in something a little more supernatural. Twenties Girl is about a female ghost with pretty strong ideas about fashion and dating, and a missing necklace that she just can't rest until she finds...
As if to prove there is no set model of a "girly" novel, Rae Carson has captured readers with a young adult science-fiction fairy tale, that takes a rather dark approach to the typical Disney princess storyline.
Princess Ani can talk to animals, but not so much to people. This novel is a fairy-tale, but its themes of self-identity and discovering your own gifts is pretty applicable to women (and men) in the real world as well.
Jojo Moyes can sure write a good love story, and this romance spanning two centuries is no exception. The two women in this novel put up a fight for their loves, proving that there's a lot more to love stories than the damsel-in-distress plot line.
This exciting instalment is part of the Gallagher Girls series: a young adult mystery series about an all-girls school for teenage spies. The books are a lot of fun, and their popularity shows that girls are a force to be reckoned with.
This novel's inclusion on Goodreads' most popular is a good sign of acknowledgement that the difference between privileged white women and oppressed black women is an important part of any feminist discussion. The eponymous girl in Tara Conklin's book is a slave, and today she's getting her voice heard.
In The Girl with All the Gifts, M. R. Carey shakes off any remaining clichés that might still surround female-centric fiction, by writing a zombie novel. Not only that, this book shakes off the thousands of clichés surrounding zombie novels, by weaving a powerful story of parental love under the guise of a horror story.
This is the third in Colleen Hoover's romantic Slammed series, and it's actually the first written from a male perspective. It's rare to find a pure love story from a man's point of view; while women are expected to enjoy endless romance, men's love interests are often only offered as a side-note to a more action-filled plot. This Girl follows a man as he deals with his emotions in a relationship, and I'd like to see many more like this, please!
The eponymous girl in this dystopian thriller is artificially engineered, and regarded by the rest of the world as soulless. Her rescue from a Thai brothel is more an investigation into the ethics of artificial intelligence than feminism, but the parallels between her sexual objectification and that faced by women today are still relevant.
To round off the list, a magical novel that captures all the elements female-driven novels have proved they can have in flying colors. The Girl Who Chased the Moon is a romance, it's a little bit supernatural, it has an underlying mystery, and not one but two female protagonists with more to them than meets the eye.
Image: Dave Overcash/Flickr