Good News, 'Walking Dead' Fans!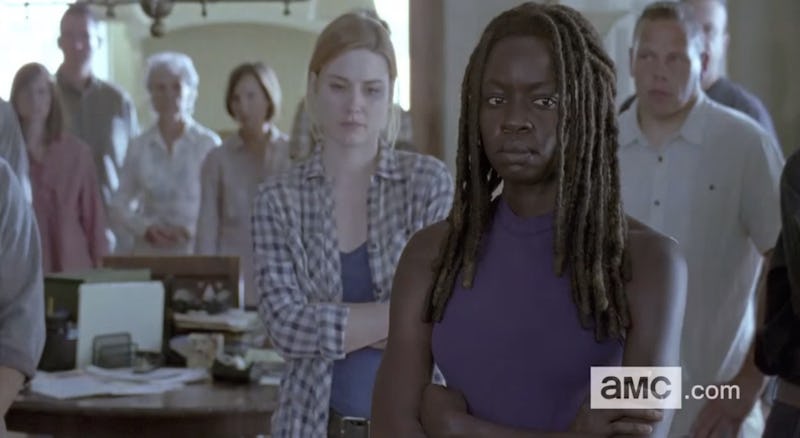 It's a big week for zombie lovers, thanks to San Diego Comic-Con, which is continuing to offer some of the most exciting trailers and sneak peeks sci-fi fans have seen in years. Case-in-point: Friday, AMC's The Walking Dead premiered its Season 6 trailer at the iconic festival, effectively bringing anticipation for this season to a fever pitch.
Luckily, it doesn't look like it's going to disappoint, either: Fans have a lot to look forward to this season, if this trailer is any indication, Not only is the premiere supposed to have 654 zombies, as io9 reported, but this season is expected to be the bloodiest, most dramatic, episodes yet. Fair warning: there are a few Season 5 spoilers ahead...
Last season, Rick and the gang settled into the fortified, peaceful community of Alexandria. The Alexandrians were, suffice it to say, soft; thanks to the defenses built around their town, they never really had to fight the zombies, and were subsequently no where near as hardened or war-torn as Rick, Glenn, or Daryl. The community grappled with the life-threatening consequences of remaining peaceful in a world at war throughout the season, and in the last episode we saw the epic and beguiling return of Morgan — who, only three seasons prior, was completely off his rocker.
Season 6 will be picking up right where Season 5 left off, and the road ahead looks rough for good ol' Rick Grimes and co. Here's some of the most insane, jaw-dropping moments from the trailer:
Seriously, There Are So Many Zombies
Have you ever seen so many zombies before? You have not, because it's a record-breaking amount of zombies.
And The Zombies Are More Insane Than Ever
Although, are there really degrees of insanity when you're a mindless piece of violent flesh? Nah.
We're Still In Alexandria
This community has been in a bubble for a very long time — and, like any bubble, it's got to burst sometime. Watching the zombie threat crumble this peaceful town is guaranteed to be a dynamic and terrifying ride.
This Trailer Teases A Big Focus On The Political And Interpersonal Turmoil Within Alexandria
Most of it is centered around whether or not they can trust Rick. Can they? Can any of us trust Rick? I don't even know anymore!
Daryl And Rick Are At Odds Again
Through most of last season, Daryl and Rick were united in their resentment of Alexandria's way of life. They don't seem to agree on much in this trailer, though.
For those who might not remember, Morgan was the first person Rick met when he found himself in a world of walkers. The two are old friends, but the apocalypse really did a number on Morgan's mental state. The last time we saw him in Season 3 he was having a breakdown — but in Season 5 he returned calm, focused, and in a state of zen.
And He's Not Happy With Rick...
Rick and Morgan's friendship seems to have taken a sour turn. In fact, Morgan is hell bent on turning the Alexandrians against Rick: "I know Rick. I can stop him... We have to."
Why is everyone trying to stop Rick Grimes? Don't they know he can't be stopped? Watch the trailer below.
Images: AMC/YouTube (8)