5 Important Love Lessons From Nick Viall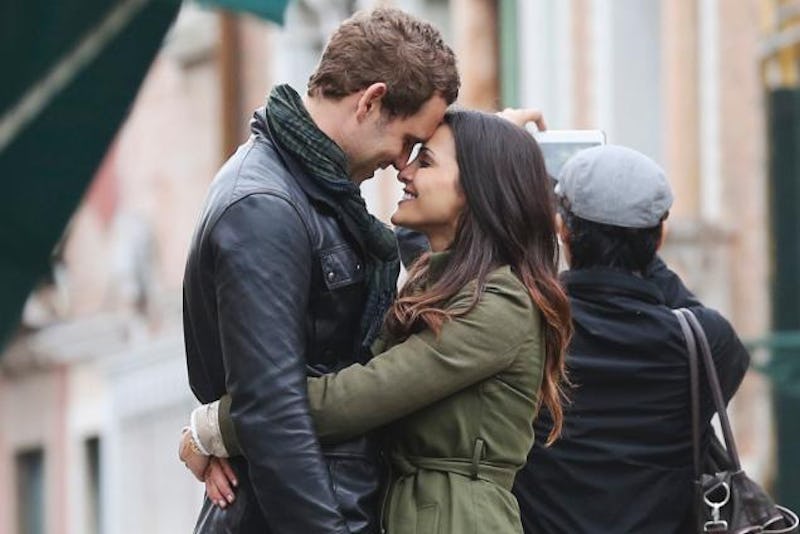 Nick Viall has certainly been pegged as the villain of this season of The Bachelorette. Why? He came in four weeks after the competition started, Kaitlyn took a liking to him right away (which makes the other guys, especially Shawn B., super jealous), and he doesn't care what anyone else has to say about him. Contrary to public opinion, I think that Nick would be a great guy to fall in love with, and — I can't believe I'm saying this — Nick would be the best guy to date out of any of the remaining guys on The Bachelorette. Why? Well, because Nick Viall has some pretty good lessons about love to teach Bachelor Nation.
Now, I wasn't exactly a Nick fan when he first got on the show. I thought that the way he blew up Andi Dorfman's spot on the last season of The Bachelorette was cheesy (on national television, Nick talked about how he and Andi had sex in the Fantasy Suite), and I thought that his timing in coming into the show four weeks in was super suspect. But, I was wrong. From his first footsteps into the camera frame, Nick has been nothing but his genuine himself. He is not playing any games, he is just completely focused on figuring out if Kaitlyn is the right girl for him. So, here I am, on the whole of the Internet, admitting that I was indeed wrong about Nick Viall. And here's what he can also teach you about falling in love.
1. Know What You Want
Nick and Kaitlyn go back…but only a little. The two chatted via social media and texting before actually meeting in person on the show. Nick wanted to meet Kaitlyn so badly that he arranged to be at the rap show date (which was a low for the season IMO) to sneak in an in-person introduction. I like a man that knows what he wants and isn't afraid or hesitant to go out and get it.
2. Be Passionate
Um, can you feel the heat radiating from your television when you see Nick and Kaitlyn together on screen? The pair may have gone a little too far too fast, but hasn't that happened to everyone? You just get swept up and do what you think is right in the moment. Nick wasn't afraid to physically show his feelings during his Dublin date with Kaitlyn, and that's a good thing.
3. Be Able To Take Disappointment
Whether you get dumped or your partner just does something really, really dumb, everyone gets disappointed while in a relationship. Nick thought that he was the one for former Bachelorette Andi, but she left him for Josh Murray. Nick was pretty crushed about the whole thing (here enters that awful After the Final Rose tell-all), but you know what? He bounced back. Nick is an example that people can come back from heartbreak better than ever. Sometimes getting up off the ground is as important as getting on the horse in the first place.
4. Be Secure In Yourself
Sure, the s**t hit the fan when the episode where Kaitlyn and Nick have sex aired. Kaitlyn and Nick were called all sorts of names, and judgment flew all over. And, you know what? Nick pretty much laughed in the face of it. He and Kaitlyn had a connection (and possibly have, if they're still together), and he was happy and secure in what they did that night. What's that statement about... if you don't stand for something you fall for everything? Yeah, that.
5. And, You Should Love Pizza Rolls
I think Nick and I are meant to be, because I also am consistently excited about pizza rolls. Sorry, Kaitlyn — the boy is mine.
Want more Bachelorette? Bustle's app provides 24/7 coverage on ALL of the rose-colored ABC franchises. So download the app from iTunes for more articles, GIFs, and memes about this season and beyond. You'll enjoy it for all the right reasons.
Images: Barbara Zanon/ABC; Giphy (3)