LeBron James Has Some Ideas For 'Trainwreck 2'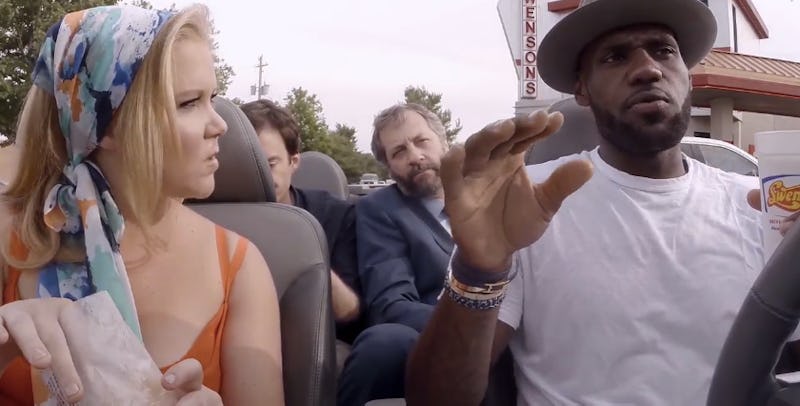 We still have a few days to wait before Amy Schumer's rom-com, Trainwreck, is released in theaters on July 17, but the internet has bestowed us with some beautiful comedy featuring the cast and director, Judd Apatow, to hold us over until Friday. On Monday, July 13, Funny or Die released a video titled, "Tranwreck: The Sequel Starring Amy Schumer And LeBron James, But Not Bill Hader." The video starts one hour before a premier where James is driving Schumer, Apatow, and Hader around his hometown of Akron, Ohio. We quickly learn that there is a hidden agenda to James' friendly tour, as he makes a stop at a fast food restaurant and begins pitching his idea for the Trainwreck sequel. His pitch begins with an idea that Hader's character, Aaron, should die basically less than a second into the movie after contracting some obscure illness. From there, the sequel would open with a scene at Aaron's funeral, where James would be "like, the shoulder [Amy] cries on." Noticeably concerned about his character's demise, Hader asks, "Can I be a ghost?" As far as James is concerned, NO, he can not. "Your first part happens and then it's, like, over for you."
From there, James' creative acumen continues to flourish when he notes that he wants to direct as well as star in the movie, and that he believes the sequel should be filmed in one continuous shot a la Birdman. Obviously, Hader isn't on board with the idea, and literally tumbles out of the car in a fit of frustration after talking about how "stupid" the whole pitch is. Is it that stupid, though? Although the entire sketch was done in jest, I, personally, wouldn't mind seeing this type of sequel happen. If you disagree, I've compiled a few reasons that such a bizarre sequel could actually work. Enjoy!
It Would Upend The Typical Idea Of A Sequel
While most sequels tend to build on the story arcs and character developments from their predecessors, James' Trainwreck sequel would dare to be different. How refreshing!
It Would Be Hilarious By Accident
Remember when Kristen Wiig and Will Ferrell played it straight for their Lifetime movie, A Deadly Adoption ? I don't know about you, but I found the film completely hilarious regardless of the melodrama. James' Trainwreck sequel could assuredly accomplish the same feat.
Birdman Was A Great Movie
A Birdman type sequel starring James and Schumer? Sign me up!
James Has Proven Himself To Be Multitalented
James has long been hailed for his athleticism, but judging by the Trainwreck trailers, it can safely be assumed that he's also mastered the art of comedic timing. Adding on-screen heartthrob and director to his resume seems par for the course.
The Soundtrack Would Be Ridiculous
Ridiculously awesome, that is!
It Would Give Schumer An Opportunity To Dabble In Drama
She's definitely got the talent for it.
Hader's Role Would Still Be Important
Just because James' pitch included Hader's character getting killed off quickly, it doesn't mean Aaron wouldn't still be important to the storyline. Remember how Anne Hathaway won a 2013 Oscar for her role as Fantine in Les Miserables? Her character got killed off pretty quickly, too!
There you have it. Wow, Trainwreck hasn't even been released yet, and I'm already anticipating the sequel.
Images: Funny or Die; Giphy (7)