'Wet Hot American Summer' Moments You Forgot About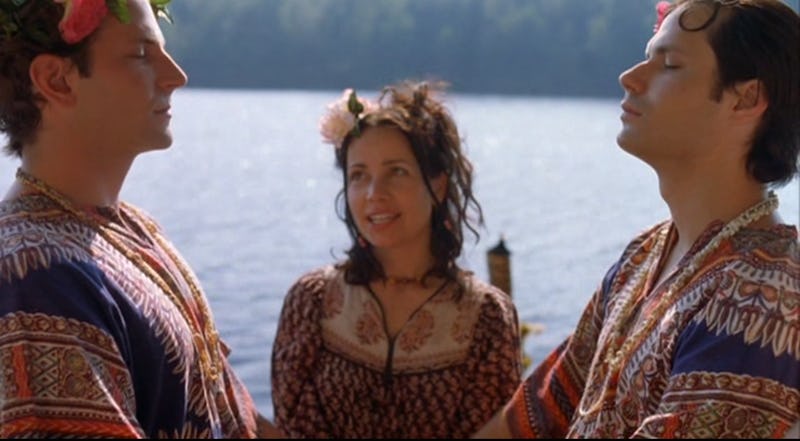 If you're like me, news of an upcoming Wet Hot American Summer prequel on Netflix catalyzed an immediate, "YAS!" It was over a decade that the cult classic debuted in theaters, initially gleaning little success between critics and box office sales. As one who first encountered the hidden gem back in my teen years, I couldn't be more thrilled that Summer's lackluster debut eventually garnered enough of a fanbase to warrant a reboot. From the delightfully irreverent humor, to the campy (pun very much intended) backdrop, and cafeteria worker Gene's (Christopher Meloni) frenetic conversations with a can of mixed vegetables, there is truly nothing to dislike about this wonderfully absurd film. While many of Summer's then-unknown/little-known actors (hi, Bradley Cooper and Amy Poehler) went on to monumental film and television success, no amount of acclaim or scheduling prevented any of the original cast from turning down the opportunity to reunite. As Summer director and producer, David Wain, put it during an interview with Today, "And so when Michael [Showalter] and I finally got serious about wanting to do it, we called them all up and said, 'Hey, we're really gonna do this. And we wanna do it as a Netflix show. Are you in?' And every single one said sure." Duh.
Netflix will launch the Summer reboot on Friday, July 31. As one who has found the wait positively arduous, I decided to take matters into my own hands last night and have my own personal Summer reunion by re-watching the original 2001 feature. It had been several years and I could still remember some of the film's staples, like the fact that Paul Rudd is sipping from some secret fountain of youth that has rendered him ageless, Susie's (Poehler) role as the most manic camp talent show producer imaginable, and the like. However, there were several things I had forgotten that were interesting to behold with a fresh set of viewing eyes. For the love of Netflix, Summer, and cult classics, let's take a look at some key moments from the film you may have completely forgotten about.
1. Andy Was The Worst Camp Counselor Ever
From foregoing lifeguard duty in order to cheat on Katie (Marguerite Moreau), to refusing to pick up a single plate and fork, Andy (Rudd) was the most abysmal camp counselor imaginable — and one of my favorite characters.
2. McKinley & Ben Were #RelationshipGoals
Played by Michael Ian Black and Cooper, McKinley and Ben's romance started off secretively. It doesn't take long into the film that we catch sight of the two officially uniting with help from officiator, Beth (Janeane Garofalo). These two literally lit up my screen with their cuteness and are going on my list of #RelationshipGoals with their various pets, smooches, and interlaced fingers.
3. "You Snooze, You Loose" Had Never Been More True
Victor's (Ken Marino) storyline basically revolved around him being on a quest to escape his counselor duties and relinquish his v-card to sultry Abby Bernstein (Marisa Ryan). When he finally returns to the camp site to find Abby making out with someone else, she explains her behavior with a verbal shrug of, "You snooze, you lose, bro." She also doesn't exactly remember Victor's name. Yikes.
4. There Were Some Tough Lessons On Unrequited Love
Even after offering Coop (Showalter) a temporary leave from the dreaded friend zone, Katie invariably decides that — at 16 years old — she's more invested in philandering Andy's immaculate jawline and hookup skills.
5. These Guys Were A Definitive Trifecta
I so desperately want to call shotgun the next time these three hang out.
6. This Dance Montage Was Rocky-Level Good
The only complaint I have is that this montage wasn't five to 15 minutes longer. I could seriously watch dance lessons on the "new way" all day long.
7. No One Knew How To Kiss
There was a ton of kissing in this movie and not one single instance was anything but awkward/the worst PDA imaginable. Hopefully the Netflix reboot will provide more of the same.
Can July 31 get here, already? I have some serious binge-watching to do.
Images: USA Films (4); Giphy (2)