Adele's 30 Tracklist Teases Guaranteed Tearjerkers & A Surprise Duet
"I Drink Wine" and "Can I Get It" are two of the songs fans will get to hear on Nov. 19.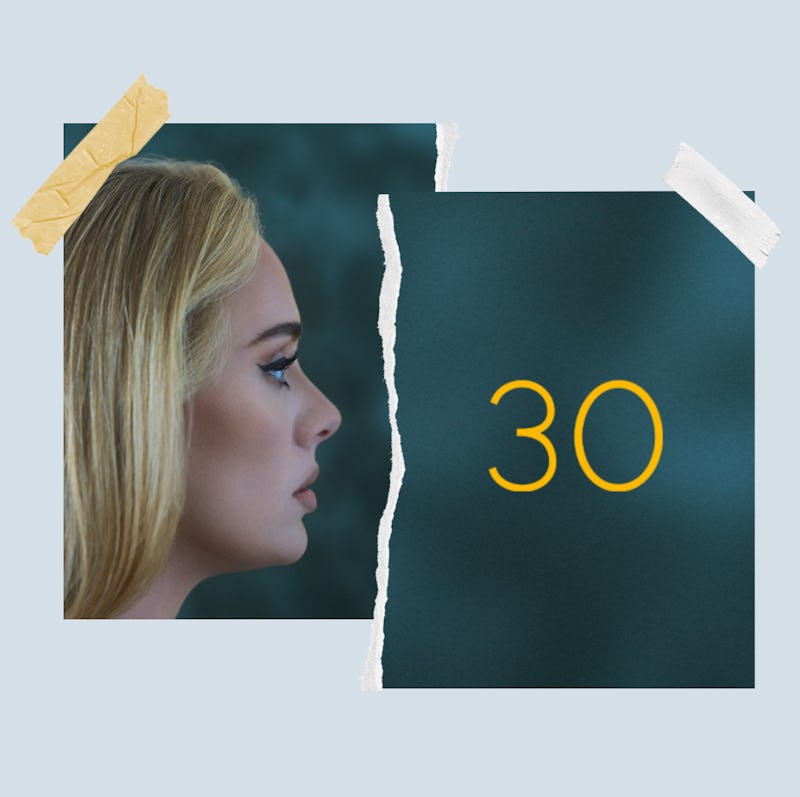 Adele/Sony Music Entertainment
Hello, it's Adele season again. The 15-time Grammy winner is finally about to release her long-awaited fourth studio album, marking her first set of new music in six years, and the world is more than ready for her comeback. Rumors started swirling that Adele was preparing to return after a Canadian radio DJ tweeted that a new track from the British singer would be arriving within the week, which would have been Oct. 1. Adele did not release anything by that date, but on the same day, billboards of her then-rumored album title (30) started appearing in cities around the world, including on notable global landmarks.
Fans' thirsts were quelled on Oct. 5 when Adele kicked off a new era, announcing that her new single "Easy On Me" would be released on Oct. 15 and sharing a snippet of the song on social media. A week later, Adele announced that her new album 30 would finally be released on Nov. 19, after months of teasing and speculation. And on Nov. 1, Adele unveiled the album's tracklist. Now, fans have just a few weeks to stock up on tissues and brace for the singer's heartbreak anthems.
Here's everything you need to know about Adele's new music era.
What Is Adele's New Album Called?
On Oct. 13, Adele announced that her new album would be called 30 in a letter posted on her social media, confirming fans' rampant speculation. In the emotional note, Adele explained that she was "finally ready to put this album out" after going through "the most turbulant period" of her life, namely her divorce from ex-husband Simon Konecki.
The "Someone Like You" singer is continuing her streak of naming her albums after the age that she wrote them, following 2009's 19, 2011's 21, and 2015's 25. Adele is currently 33, which means she would have written the songs on the upcoming album three years ago sometime in 2018 and before her May 5 birthday in 2019.
"I was certainly nowhere near where I'd hope to be when I first started it nearly 3 years ago," she wrote. "Quite the opposite actually." She called 30 her "ride-or-die" friend that helped her navigate this tumultuous moment and realize new aspects of herself. "I've learned a lot of blistering home truths about myself along the way," she said. "I've shed many layers but also wrapped myself in new ones. Discovered genuinely useful and wholesome mentalities to lead with, and I feel like I've finally found my feeling again." Now, she says she's "never felt more peaceful" in her life, thanks in part to the album-making process. "I've painstakingly rebuilt my house and my heart since then and this album narrates it," she wrote.
Before the title was confirmed, the number "30" was spotted on billboards in a number of cities around the world, including projections on landmarks like the Colosseum in Rome, the Louvre Museum in Paris, and the Empire State Building in New York City. Immediately, fans connected the mysterious sightings to Adele.
What Is Adele's 30 Tracklist?
On Nov. 1, Adele unveiled the 30 tracklist in an email to her newsletter subscribers. The standard edition of the album consists of 12 tracks, including "Easy On Me," the previously teased "My Little Love," which is directly sung to her son Angelo, and an interlude titled "All Night Parking" that features late jazz pianist and composer Erroll Garner. It's not known how Garner will be incorporated into the track, whether by a sample or a spoken word quote.
The singer also unveiled the titles of three bonus tracks apart of a deluxe edition that will be sold only at Target, one of which features a not-so-surprise collaborator. It turns out that Adele dropped a Taylor Swift-style easter egg when she named Chris Stapleton as her dream duet partner during Vogue's 73 Questions, as the country singer is featured on a duet version of "Easy On Me" on the deluxe version. Adele's 30 tracklist is as follows:
Strangers By Nature
Easy On Me
My Little Love
Cry Your Heart Out
Oh My God
Can I Get It
I Drink Wine
All Night Parking (with Erroll Garner) (Interlude)
Woman Like Me
Hold On
To Be Loved
Love Is A Game
Wild Wild West (Bonus Track)
Can't Be Together (Bonus Track)
Easy On Me (with Chris Stapleton) (Bonus Track)
What Is Adele's New Album About?
On Oct. 7, the U.S. and British editions of Vogue unveiled cover stories with Adele, marking the first time the outlets have shared a cover star. In separate interviews, Adele said 30 chronicles her split from Konecki, from her initial heartbreak to the healing stage. However, it was mainly inspired by her young son Angelo, who asked "innocent questions" about their divorce that she wanted to answer as he got older. "I wanted to explain to him, through this record, when he's in his twenties or thirties, who I am and why I voluntarily chose to dismantle his entire life in the pursuit of my own happiness," she told British Vogue. "It made him really unhappy sometimes. And that's a real wound for me that I don't know if I'll ever be able to heal."
The singer played new songs from 30 during both interviews, giving a preview of the emotional rollercoaster to come. According to British Vogue, the first single "Easy On Me" focuses on Adele's "fraught childhood, her lost marriage and the lessons learnt and unlearnt about family, love and abandonment along the way." As per American Vogue, she sings directly to Angelo on one song, mixing in recordings of their conversations, and tackles self-destruction on another, inspired by getting drunk at a bar.
There are songs about post-divorce joy and dating, including a "downright upbeat" tune. However, the final track, a seven-minute journey of self-reflection inspired by Breakfast at Tiffany's, seems to be the showstopper, with British Vogue describing it as a "string-swirling, Garland-invoking, jazzy, campy, swooning delight, packed with world-weary end-of-the-show reflection, and featuring a vocal for the ages."
When Is Adele's 30 Album Release Date?
As confirmed by the singer on Oct. 13, Adele's fourth studio album 30 will finally be released on Nov. 19, 2021. Before she announced the date, fans had already expected it to arrive that day thanks to an unexpected clue: Taylor Swift. On Sept. 28, Swift announced that she was moving the release date of Red (Taylor's Version), originally scheduled for the 19th, up one week to Nov. 12. Given insider information that Adele's comeback was imminent, this caused fans to speculate that Swift pushed up the re-recording of her 2012 album so they wouldn't compete against each other in the same week.
On Oct. 4, Adele's social media pages, including Twitter, Instagram, and YouTube, were updated with new headers and profile images of a simple teal background. She also returned to Twitter for the first time in months, tweeting "Hiya babes!" at Twitter's official account while other sites like Instagram and Facebook were down. Adele's official website also received a similar refresh, complete with a new logo and a sign-up portal for her newsletter. This is usually an indicator that a new era is about to begin, and fans' speculation was proven right the next day.
Taking to her social media pages on Oct. 5, Adele announced that her new single "Easy On Me" would arrive on Oct. 15. In a teaser video, the singer inserts a cassette into her car stereo and looks into the rear-view mirror before setting out on the open road, with a snippet of the new song playing in the background.
How Is Adele Promoting Her New Album?
Projecting the (rumored) album title at world landmarks and buildings that get visited by millions of locals and tourists every day is quite the promotional statement. But Adele is doing even more than that. On Oct. 3, her 2015 anthem "Hello" was used in an NFL ad to promote Tom Brady's return to the stadium of his former football team. It was a fitting and humorous choice for the occasion, but knowing Adele, it wasn't a mere coincidence.
Adele first started promoting her new album back in October 2020, when she hosted Saturday Night Live for the first time, At the time, she revealed that she was still working on the record. "My album is not yet finished," she admitted, revealing in a separate Instagram post that it would arrive the next year. Now that it's almost time, perhaps she'll return as the musical guest this season to perform her new music.
This article was originally published on