What Adele Told Oprah About Her Weight Loss
The singer revealed steps she took to stay "centered," including cutting out alcohol.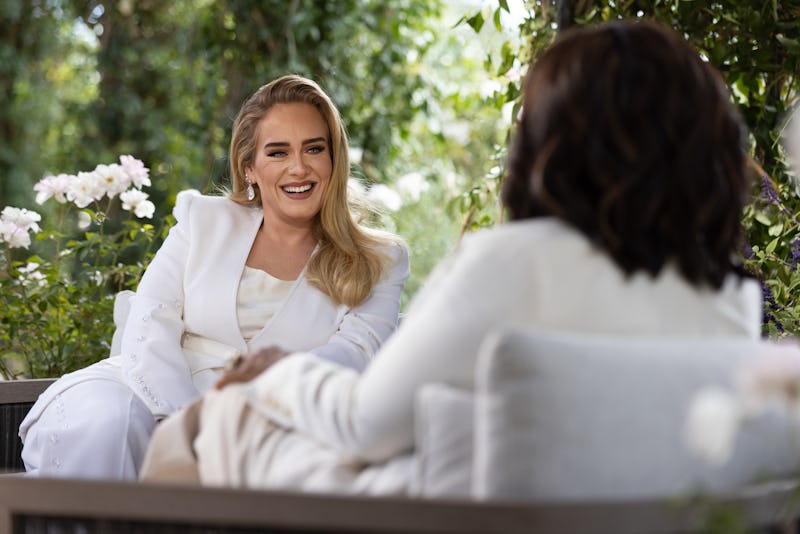 Joe Pugliese/Harpo Productions
The internet has had plenty to say about Adele's weight loss since she first sported a new look in 2019, but until recently, the "Easy on Me" singer hasn't joined the conversation too much. Now, while promoting her latest album, 30, Adele is opening up about her physical and emotional journey. As part of her Nov. 14 One Night Only TV special, the 15-time Grammy winner talked to Oprah about the factors that catalyzed her weight loss: "Once I realized that I had a lot of work to do on myself, I stopped drinking and I started working out a lot ... to keep me sort of centered."
Adele explained that some of that work included confronting the "terrifying anxiety attacks" that happened after her marriage ended. "They paralyzed me completely," she admitted. But Adele soon came to the realization that she "didn't have any anxiety" whenever she was at the gym with her trainer, so she ramped up her workout routine as a result. "It became my time," she said. "Me having a plan every day ... having these sort of pins in my day, helped me keep myself together."
"I was body positive then, and I'm body positive now, but it's not my job to validate how people feel about their bodies."
Adele said she "wasn't bothered about [weight] at all," but she acknowledged that her new exercise routine "contributed to getting [her] mind right." Though weight wasn't a concern for Adele, it was top-of-mind for many fans, which she said wasn't that surprising.
"I'm not shocked or even fazed by it," she said. "Because my body has been objectified my entire career." Looking back, Adele said, "I was body positive then, and I'm body positive now, but it's not my job to validate how people feel about their bodies ... I'm trying to sort my own life out."
Though Adele said she doesn't mind if her weight fluctuates, she wants to keep her muscle memory for lifting weights because that's her "favorite place to be" right now. She revealed she could deadlift 160 to 170 pounds at her peak last summer. "I'm also a very good boxer," she said. "I've got a left hook that could kill you."
During an October interview with Vogue, Adele voiced a similar outlook on weight loss and working out. "I thought, if I can make my body physically strong, and I can feel that and see that, then maybe one day I can make my emotions and my mind physically strong," she said. (Adele also burst into Rocky theme music during the interview, per writer Abby Aguirre, so that boxer comment to Oprah checks out and makes even more sense now.)
Just as she told Oprah, the "brutal" conversations about Adele's appearance didn't stop with the weight loss — the discourse just changed course. "I understand why it's a shock," she said. "I understand why some women especially were hurt. Visually I represented a lot of women. But I'm still the same person."