Austin Butler Recalls Lisa Marie Presley Showing Him Elvis' Bedroom
"[I] get goosebumps. His bedroom is a place that most people never get to see."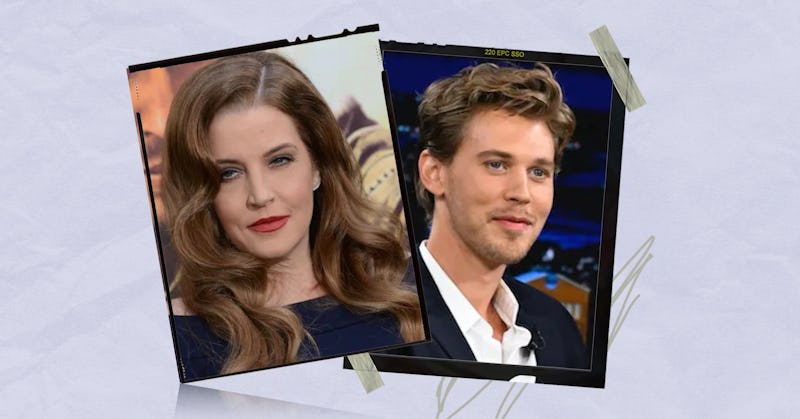 CHRIS DELMAS/AFP/Getty Images; NBC/NBCUniversal/Getty Images
Lisa Marie Presley's memory is continuing to live on during Austin Butler's Oscars campaign. During a Jan. 30 appearance on The Tonight Show Starring Jimmy Fallon, the Elvis star recalled meeting the late Presley for the first time and touring her father's Graceland estate, which included his rarely-seen bedroom. Presley died at 54 on Jan. 12 , just days after she supported Butler at the 2023 Golden Globes, where he won Best Actor in a Drama for portraying her music icon father.
Although Butler received full support from Elvis' family after his casting, he hadn't met Presley until after an Elvis screening was held at Graceland, but they had an instant connection. "I've never had an experience where I met somebody and felt an immediate depth of relationship to them," he said. "She was a person who didn't really have anything to prove and wouldn't open up to everybody, and she just opened up to me, and we got so close, so fast. So, yeah, it's just devastating."
The actor remembers seeing Elvis' bedroom during that visit, which is rarely open to people outside of the family. "[I] get goosebumps," he said. "His bedroom is a place that most people never get to see. And she said, 'I want to show you something.' And she took me up there, we just sat in his bedroom. And up there, he's not Elvis, he was just dad, you know? And so, to hear those stories, I truly will treasure that forever."
Elvis director Baz Luhrmann also got a look into the singer's bedroom while preparing to film the biopic. "The clothes have been removed, but nothing's been touched," he told Apple Music Country in July 2022. Some of the prized possessions that haven't been touched include a white organ, "a spiritual book open on a coffee table, sitting next to where the guitar was," and of course, Elvis' luxurious white fur bed.
Butler first paid tribute to Presley the day after her death in a statement to PEOPLE. "I am eternally grateful for the time I was lucky enough to be near her bright light and will forever cherish the quiet moments we shared," he said. "Her warmth, her love and her authenticity will always be remembered." He returned to Graceland on Jan. 22 to attend Presley's public memorial, where he was seated behind her mother Priscilla and daughter Riley Keough, whose husband revealed that they had secretly welcomed a daughter during a speech.
Just two days later, Butler received the Oscar nomination for Best Actor, which has become a very bittersweet moment for him in light of Presley's death. However, he continues to cherish the moments he did share with her. "I mean, so much great stuff is happening but it's really [sad]," he admitted to Fallon. "I'm just devastated for her family, and for her to not be here celebrating with us. Just to get to be with her at the Golden Globes, like, I'll never forget that for the rest of my life."