Austin Butler Confirms Vanessa Hudgens Pushed Him To Do Elvis
"I owe her a lot for believing in me."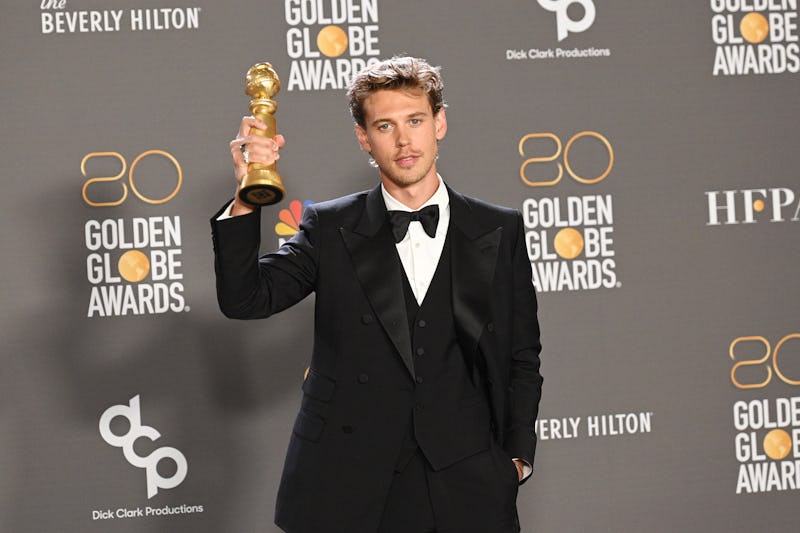 Gilbert Flores/Variety/Getty Images
From his slick-backed hair to his hip thrusts while performing "Hound Dog," Austin Butler completely morphed into Elvis Presley in the Baz Luhrmann-directed biopic. Not to mention the buzzy accent that he still has and may have "forever." It's the performance of a lifetime for the Nickelodeon and Disney alum, for which he already bagged a Golden Globe and an Oscar nomination. And apparently, the idea to play the King of Rock 'n' Roll came from a mystery "friend," whom many believe to be Butler's ex-girlfriend Vanessa Hudgens. Butler hasn't confirmed this theory — until now.
Butler first shared the genesis story of his Presley role on Jan. 10, during The Hollywood Reporter's Actors Roundtable. He recounted, "The month before I heard that Baz was making the movie ... there was an Elvis Christmas song on the radio and I was with a friend of mine." He added, "I was singing along and my friend looked over at me and said, 'You gotta play Elvis.' I said, 'Oh, that's such a long shot.'"
The said friend apparently repeated the idea weeks later. "I was playing the piano. I never really sang for any of my friends or anything," he continued. "That same friend was there and I was playing the piano. She said, 'I'm serious. You gotta figure out how you can get the rights to a script.' Then my agent called and said, 'So Baz Luhrmann is making an Elvis film.'"
Of course, shrewd fans recognized that the story seemed familiar. Apparently, Butler's ex-girlfriend of eight years had already told the exact same tale in 2019, in an appearance on Live with Kelly and Ryan. Sharing how they were "driving along" in December of 2018, she said, "An Elvis Presley Christmas song came on. He had just dyed his hair dark. He's a natural blond, and I was looking at him and he was singing along and I was like, 'Babe, you need to play Elvis.'" She even continued with the piano story and gushed about her man.
After making the connection, many fans took to Twitter to share their disappointment with Butler for downplaying The High School Musical star's role in his life.
Now, it seems like he's giving credit where credit is due. In an interview with The LA Times on Jan. 24, Butler was asked about that story he tells about his "friend." He admitted that it wasn't just a friend. "I was with my partner at the time," he said.
The Shannara Chronicles actor then confirmed it was Hudgens he was referring to when asked in a follow-up question. "That's right," he said. "We'd been together for so long and she had this sort of clairvoyant moment and so I really, I owe her a lot for believing in me."