Bad Bunny Shades Kendall Jenner's Ex Devin Booker In His "Coco Chanel" Lyrics
The English translation of Bad Bunny's verse on Eladio Carrión's new single fuels dating rumors.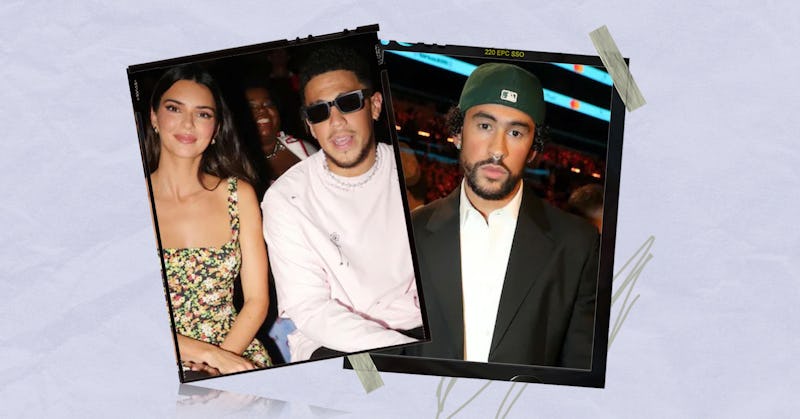 Fairchild Archive/WWD/Johnny Nunez/Getty Images Entertainment
Bad Bunny has only reportedly been dating Kendall Jenner for a few weeks, but he might already be taking things to another level in their rumored relationship by dissing her ex-boyfriend. In his verse on Eladio Carrión's new single "Coco Chanel," the three-time Grammy winner seemingly throws major shade at the model's ex Devin Booker without directly naming the basketball player.
Bad Bunny only has one verse on the song, but he truly made it count. On his verse, Bad Bunny throws a subtle dig at Booker, who plays basketball for the Phoenix Suns. "Yo no soy malo, nah, bebé, eso e' un gimmick / Pero el sol de PR calienta má' que el de Phoenix / Ella lo sabe," he raps, which translates to, "I'm not bad, baby that's a gimmick / But the sun in Puerto Rico is hotter than in Phoenix / She knows it."
In case you needed any more proof that Bad Bunny was referring to Jenner and Booker, he goes on to rap "las de escorpio son peligro," which translates to, "Scorpio women are dangerous." Yes, Jenner is indeed a Scorpio, with a birthday of Nov. 3.
Rumors emerged that Jenner was dating Bad Bunny in February after they were spotted together in various outings throughout Los Angeles. A source told PEOPLE on Feb. 20 that the two "are spending time together" and that the relationship was still new. "They were introduced by friends," the outlet reported. "He moved to L.A. a few weeks ago and bought a house. She likes him and is having fun. He is different from guys that she dated in the past. He is very charming." The pair has been seen on dinner dates with Jenner's close friends Justin and Hailey Bieber and Jenner's sister Kylie. Most recently, they were seen leaving Beyoncé and Jay-Z's Oscars afterparty together.
As for Jenner and Booker, the former couple dated on-and-off for more than two years before splitting for good in November. "Both have incredibly busy schedules right now with their careers and they've decided to make that a priority," a source told PEOPLE, adding that the two "have a lot of love and respect for each other and wish only the best."