The Traitors Is Officially Being Turned Into A Board Game
Which family member would you banish first?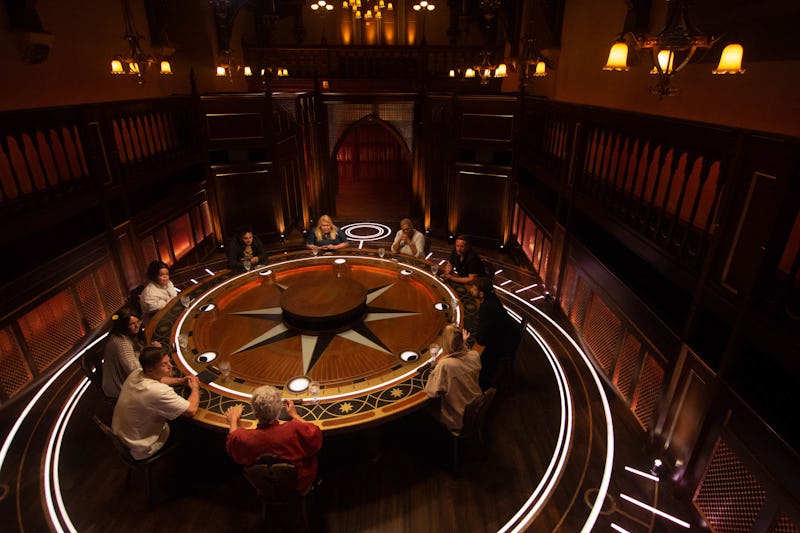 BBC
If you reckon that you would've slipped under the radar on telly's most famous roundtable and strolled to victory on The Traitors, it's *almost* time to prove it. Yes, there's a new official board game on the way, based on the hit BBC reality show. After previously airing in the Netherlands, The Traitors came to the UK late in 2022, pitting 22 contestants against each other in a game of banishment and deception. Guided by their benevolent, tweed-clad host Claudia Winkleman, a large band of Faithfuls were tasked with sniffing out the handful of secretly-appointed Traitors among their ranks, and had to attempt to vote them all out during tense roundtable meetings.
Meanwhile, the Traitors gathered in a mysterious turret every night and picked off their strongest Faithful rivals one by one, and their ultimate quest was to make it to the final, undetected. Upping the ante even further, any Traitors still in the mix when the game ended had the opportunity to steal the entire £120,000 prize pot. Cue a game filled with paranoia and second-guessing.
In other words, it's the perfect recipe for a tense evening of double-crossing your family and friends around the kitchen table, with scenes likely to resemble this hilarious viral clip of a group of people playing The Traitors to pass time at a bus stop.
Due to hit shops in Autumn 2023, the board game (which will cost £30) also has the backing of expert game player Wilfred Webster and his fellow The Traitors contestant, Hannah Byczkowski. Anybody who has already watched the show will know that Wilf in particular made for a completely ruthless Traitor, gleefully throwing his opponents under the bus at every opportunity. Prime inspiration for causing a minor rift around the kitchen table...
"Need!" commented Love Island alum Andrew Le Page, while Wilf's The Traitors co-stars Maddy Smedley called the game "so sick."
According to a synopsis, the game will stay true to the BBC show, allowing players to "fully immerse themselves in The Traitors experience as they either use their wits to unmask the Traitor, or remain undetected as the Traitor whilst competing alongside Faithfuls to win the prize pot."