All The Best Celebrity Reactions At The 2023 Grammys
Missy Elliott's performance made Adele "Lose Control."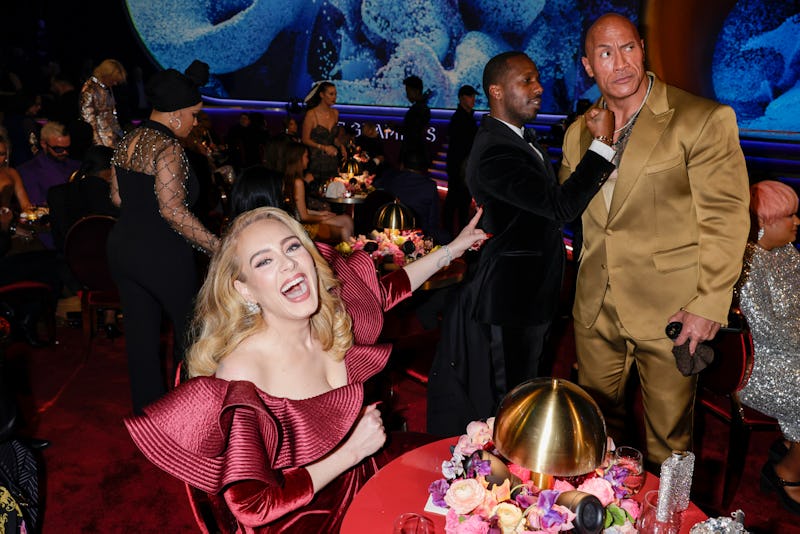 CBS Photo Archive/CBS/Getty Images
The high note of the 2023 Grammy Awards might just be the celebrity reactions to the buzziest moments of music's biggest night. From admiration for unforgettable performances to the shock of some surprising upsets, a wide range of emotions were clearly written all over the famous faces in the all-star crowd that convened at Los Angeles' Crypto.com Arena on Feb. 5. Arguably no other spectacle brought down the house as much as the Questlove-produced master class commemorating the 50th anniversary of hip-hop, though.
Covering decades of music history, the segment kicked off with Grandmaster Flash's "Flash to the Beat"/"The Message" and wrapped with Lil Uzi Vert's 2022 anthem "Just Wanna Rock." In between the two, some of the genre's most iconic heavy-hitters — including Queen Latifah, Method Man, Salt-N-Pepa, Public Enemy, Busta Rhymes, Run-D.M.C., Nelly, and Lil Baby — were featured, too. But by the time the opening bars of Missy Elliott's "Lose Control" dropped, everyone was on their feet — including Adele and Doja Cat, among others.
Missy Elliott Makes Adele "Lose Control"
Twitter was obsessed with Adele's dance moves. "Adele and Doja Cat losing it for Missy Elliott is something so intensely personal and relatable to me," one viewer tweeted, "That's a legend right there." Added another, "I love seeing Missy Elliott turn a award show up. Like she had Adele and Doja dancing like woah."
Adele's Dreams Come True Meeting The Rock
That was hardly the only Adele audience reaction shot that had viewers talking. Earlier in the awards show, she was filled with joy and shock when third-time host Trevor Noah made her dream come true by introducing her to Dwyane "The Rock" Johnson for the first time.
Trevor Noah's Marine Biology Joke Confuses Adele
Later, when Noah announced SZA as a presenter, he also mentioned that the "Kill Bill" singer is a "woman who almost became a marine biologist," prompting a hilariously perplexed look from Adele in the background.
Bad Bunny Didn't Expect That Closeup
Adele inspired some comical crowd responses herself, including the look on Bad Bunny's face when she won the 2023 Best Pop Solo Performance Grammy for "Easy On Me."
The Mention Of Beyoncé Leaves Grammy Nominees Overwhelmed
No one, from Lizzo to Taylor Swift, could contain their excitement after Beyoncé — now the single most-winning artist in Grammys history — arrived, even if the LA traffic made her late to the ceremony.
Lizzo Takes A Swig From A Flask After Losing One Nomination
Speaking of Lizzo, the 2023 nominee had one viewer "screaming" when she pulled a flask from her purse and took a big swig after losing Song of the Year — only to win the Record of the Year Grammy immediately afterward. She went on to praise Beyoncé in her acceptance speech.
Harry Styles Didn't Expect That Grammy Win
When Harry Styles took home the Album of the Year Grammy for 2022's Harry's House, his reaction was so pure — even if Twitter was rooting for Beyoncé.
And that's why they call it music's biggest night.
This article was originally published on