Lizzo Calls Beyoncé "The Artist Of Our Lives" During Her Grammys Speech
She fangirled hard over Bey, who broke the record for the most Grammy wins of all time earlier in the night.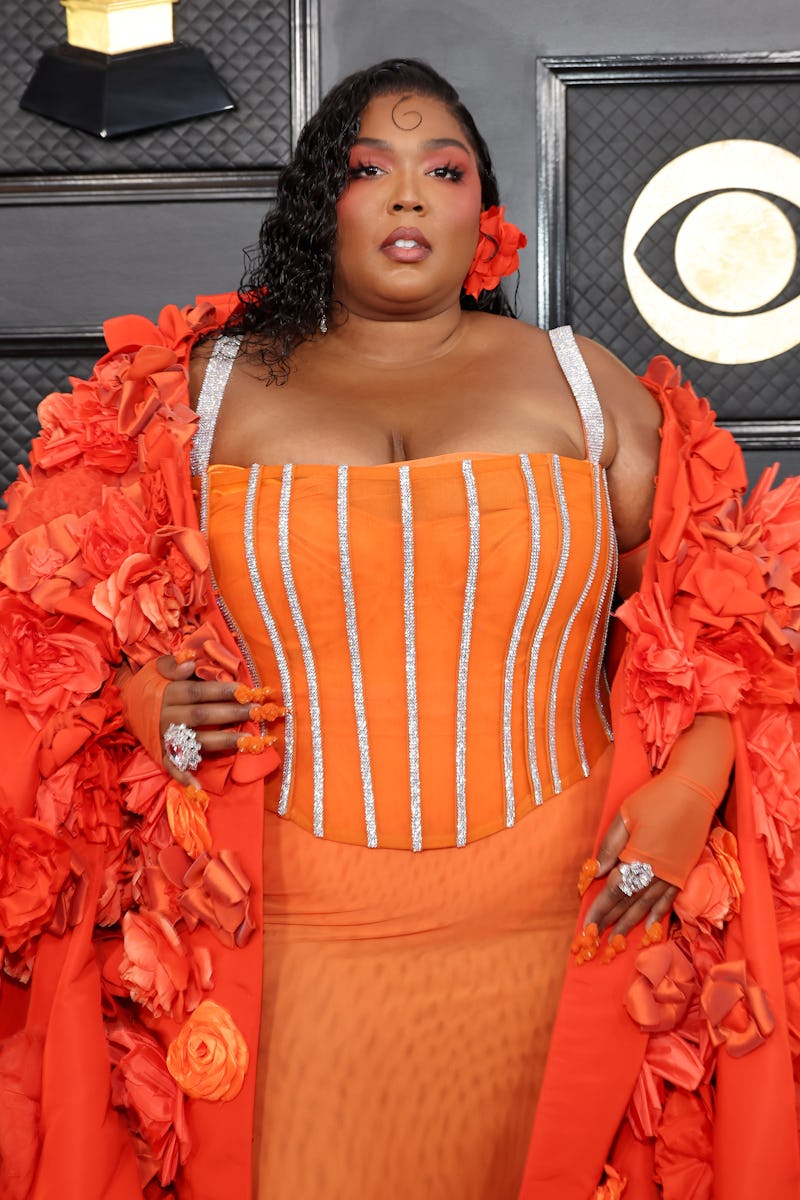 Amy Sussman/Getty Images Entertainment/Getty Images
After Lizzo won Record of the Year at the 65th Grammy Awards for her TikTok sensation "About Damn Time," she made touching tributes to the special people in her life: her producers Ricky Reed and Blake Slatkin, her man Myke Wright — and her role model Beyoncé. She even revealed she's been part of the Beyhive since the fifth grade.
The "2 Be Loved" singer was visibly stunned that she won at the Feb. 5 awards show — fans noticed she even took a big swig out of her flask right before Coldplay's Chris Martin announced the nominees. "Let me tell you something, me and Adele having a good time, just enjoying ourselves, just rooting for our friends, so this is an amazing night. It's so unexpected," the four-time Grammy winner said.
Later, she spoke to Beyoncé directly and confessed just how long she's been a fan of the "Break My Soul" singer. "Beyoncé, in the fifth grade I skipped school to see you perform. My sister, she got me out of school," she said. "You changed my life. You sang that gospel medley, and the way you made me feel, I was like, I want to make people feel this way with my music, so thank you so much. You clearly are the artist of our lives."
Beyoncé broke the record for the most Grammy wins of all time earlier that night when she won Best Dance/Electronic Album for Renaissance. With 32 Grammys, she beat the late composer Georg Solti's record of 31. Though, Beyoncé losing the night's other big awards is upsetting Twitter and is being contested by the Beyhive. Lizzo was right about one key thing: Beyoncé really is the artist of our lives.
During Lizzo's speech, the Yitty founder also dedicated her win to the late singer Prince. "When we lost Prince, I decided to dedicate my life to making positive music," she said. Unfortunately, feel-good music wasn't mainstream back then, and she shared that her choice of genre made her feel "misunderstood" and "on the outside." But she trudged on. "I wanted to make the world a better place, so I had to be that change, to make the world a better place," she said.
Now that there are songs about "loving our bodies," she said she's "proud to be a part of it." She also gave advice to people who felt just like her: "Stay true to yourself." The "Truth Hurts" singer also thanked all who believed in her. "My family, my mama, my sister, my brother, my daddy," she said, adding, "My man who holds me down."
This article was originally published on