Everything We Know About Big Mouth Season 5
Watch new creatures torment the teens in the Season 5 trailer.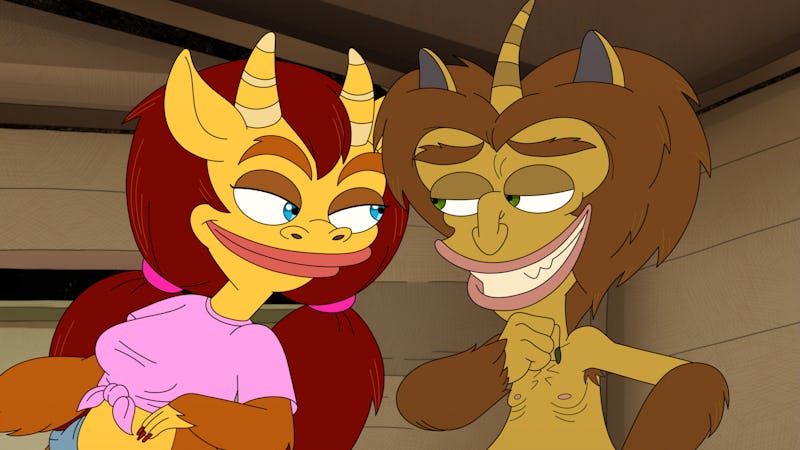 Netflix
Get ready to dive back into the world of raging teen hormones: Netflix announced that Big Mouth Season 5 will premiere on Nov. 5. According to a press release, the season will span from "No Nut November" through New Year's Eve and will take the theme of "love and hate," introducing amorphous creatures called lovebugs and hate worms that can shift between the two forms (like caterpillars and butterflies).
Nick's lovebug, Walter (Brandon Kyle Goodman), will push him to pursue his feelings for Jessi until she publicly rejects him, turning Walter into a hate worm and forcing Nick down a dark path. Meanwhile, Jessi will get closer to Ali and begin to wonder if there's more than friendship between them under the guidance of her lovebug Sonya (Pamela Adlon). This, along with Jessi and Ali's co-opting of her affinity group, will push Missy into a jealous rage fueled by her hate worm Rochelle (Keke Palmer). Here's what else we know about Season 5 of the hit animated series.
The Big Mouth Season 5 Trailer
The trailer introduces the new love bugs as the teens continue old crushes and develop new ones. Former couple Lola and Jay are on the outs, with her at one point loudly screaming "f*ck you Jay" and him yelling back that he hates her. We also meet the hate worms, who are described as "creatures that infect your soul." And there appears to be a live-action segment: at the end of the trailer, a puppet version of the Hormone Monster welcomes viewers to a "very Big Mouth Christmas" special.
The Big Mouth Season 5 Cast
All of the main stars will reprise their characters, including John Mulaney as Andrew, Jessi Klein as Jessi, Jason Mantzoukas as Jay, Maya Rudolph as Connie the Hormone Monstress, Fred Armisen as Nick's dad Elliot, and Nick Kroll as Nick, Maurice the Hormone Monster, and Coach Steve, among other roles. Following a change from Season 4, comedy writer Ayo Edebiri will return to voice Missy. Though Jenny Slate originated the role, she stepped down in June 2020, stating that "Black characters on an animated show should be played by Black people."
Several guest stars will also join the cast for Season 5, including Adam Scott as "Mr. Keating," Jemaine Clement as "Simon Sex," Kristen Schaal as "Bernie," Chloe Fineman as "Leah," and Kumail Nanjiani as himself. Goodman, Adlon, and Palmer's characters will appear in the upcoming Big Mouth spinoff Human Resources. Which brings us to...
The Big Mouth Spinoff
During a 2019 New York Comic Con panel, Kroll announced that the Big Mouth team is working on Human Resources: We Manage People, a more "adult series" set in the workplace of the hormone monsters. "We're excited to tell a lot of different stories, not just about puberty," Kroll said on the panel, adding that the groundwork for the show will be laid in Season 5.
In addition to Goodman, Adlon, and Palmer's roles, Rudolph and Kroll will reprise their Big Mouth hormone monsters for the new series. Randall Park (Fresh Off The Boat) is set to play a "Logic Rock" named Pete, and David Thewlis (Fargo) will also appear, likely as his Big Mouth character the Shame Wizard. A premiere date for Human Resources has not yet been announced.
This article was originally published on