Bindi Irwin's Social Media Break Follows A Heartbreaking Father's Day Post
"Mental health deserves more understanding and support instead of being dismissed or patronized," she tweeted.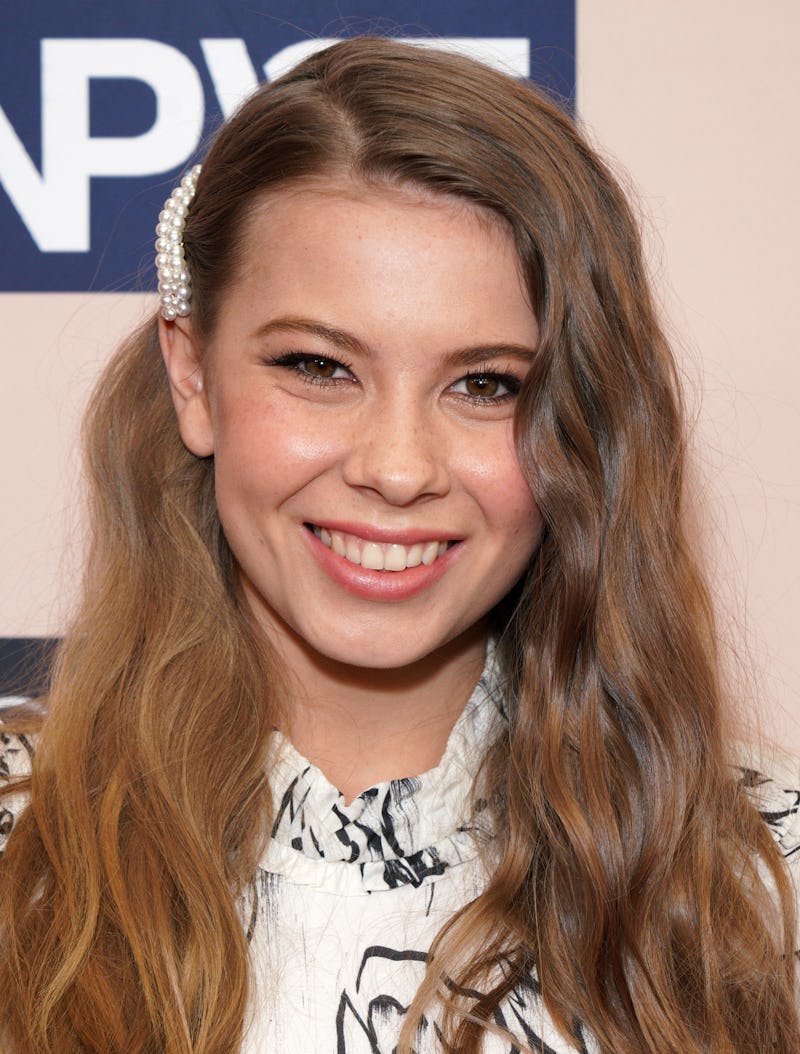 JC Olivera/WireImage/Getty Images
On Monday, June 21, conversationist Bindi Irwin took to Twitter to announce a month-long hiatus from social media and her public work to be with her "wonderful family" and Grace Warrior, her months-old "beautiful daughter," born on March 25. She wrote, "I feel tremendously grateful to share our life and conservation work with you but I need some time to focus on the happiness that is my family (both human and animal)."
The Dancing With the Stars winner posted her message alongside a sweet mother-daughter photo and continued to write about prioritizing mental health. "Recently, I've had many people reaching out to share their own stories of working hard to protect their mental health. Thank you for sharing and speaking your truth," she added.
In her announcement, she also addressed her loved ones experiencing mental health struggles, saying, "To my friends who are dealing with depression, anxiety and other battles every day — I see you. These issues are very real and deserve to be discussed and addressed. Surround yourself with the light of people who genuinely care about you and will support you during the good times and the hard times. Remember there are helplines available."
She ended the note with a call to take mental health seriously, saying, "Mental health deserves more understanding and support instead of being dismissed or patronised. You are absolutely worthy of love and kindness."
The 22-year-old, who typically posts about her Australia Zoo stories, reposted a quote on mental health hours before her statement, perhaps a prelude to her state of mind. Reposted from author Steve Maraboli, it says, "I don't think people realize how much strength it takes to pull yourself out of a dark place mentally. So if you've done that today, or any day, I'm proud of you."
Her tweet was met with an outpouring of support from her fans and her husband, Chandler Powell, who reposted her statement and wrote, "You inspire me with your unwavering kindness and your ability to stand up for what is right. You are the strongest and most beautiful person inside and out. Grace has an amazing mama to look up to."
Though the announcement came as a shock to many, some fans already noticed Irwin's decreased frequency in posting, saying "it was only a matter of time" and assuring her that they'll "still be here" when she gets back. Other fans sending well wishes also voiced concerns over the possibility of post-partum depression, advising her to "make sure" it's not "a contributing factor."
What spurred the hiatus is unclear, although the Crikey! It's the Irwins star alluded to prioritizing her mental health after a Father's Day post. On June 20, Irwin posted an emotional tribute to her late father, the Crocodile Hunter Steve Irwin, as well as her husband and father-in-law. Fans were quick to notice that her grandfather Bob was absent from the list.
Irwin replied to a comment thread on Facebook, sharing that her grandfather "has shown no interest" in spending time with her and hasn't yet met her daughter. She wrote, "I have struggled with this relationship my entire life and it brings me enormous pain. I have to choose to care for my own mental health now." The reply is now deleted, according to The West Australian. To borrow the words of fan @pixieesaurus, "Go off @BindiIrwin! It's 2021 we won't tolerate toxic relationships."
If you or someone you know is seeking help for mental health concerns, visit the National Alliance on Mental Illness (NAMI) website, or call 1-800-950-NAMI(6264). For confidential treatment referrals, visit the Substance Abuse and Mental Health Services Administration (SAMHSA) website, or call the National Helpline at 1-800-662-HELP(4357). In an emergency, contact the National Suicide Prevention Lifeline at 1-800-273-TALK(8255) or call 911.