This Bachelorette Contestant Is Giving People Luke P. Vibes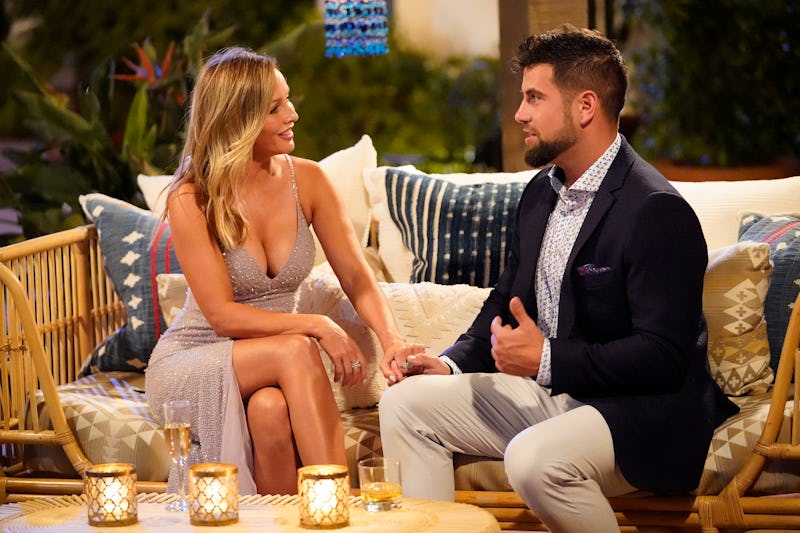 ABC/Craig Sjodin
Crashing a group date is always a risky move on The Bachelorette, and unfortunately, Blake Moynes' decision to do so earned him comparisons to one of the show's most reviled contestants: Luke P. Despite his team losing Clare's strip dodgeball game, Blake was determined to spend more time with Clare, so he showed up at the group date meant for the other guys in order to try and strengthen his bond with her.
"I'm just kind of going off what we talked about [on] night one, with breaking the rules and doing what you need to do," Blake said, referencing the fact that he "broke the rules" by DMing Clare on Instagram before filming. "I'm here for you, and I'm going to these uncomfortable places internally to show you that."
Blake's decision — and the awkward confrontation with the other guys on the date that followed — gave fans flashbacks to Luke P., who crashed Hannah Brown's final rose ceremony after she broke up with him during the fantasy suites dates in an attempt to win her back.
While Clare did eventually ask Blake to leave the date, his bold move worked out for him in the end. "I truthfully didn't expect you to show up last night," the Bachelorette explained before giving him a surprise rose during the cocktail party. "It was definitely a risk, and I hope it's not an everyday thing, but it was something that I thought was amazing for you to do. I don't want you to worry, and I don't want you to question anything. ... Everything you are doing is so right."
The rest of the contestants were understandably upset that Blake got a rose for crashing the group date, but it seems like he's not going to stop breaking the rules. "We've made another big jump [in our relationship]," he told cameras. "And I'm just not letting it fade, I'm not letting it go away. I'm just chasing these feelings the whole rest of the way."
Things obviously didn't work out nearly as well for Luke P., who defended his decision to crash the rose ceremony in order to prove that he was serious about Hannah. "I had to go back and fight for her," he wrote on Instagram in July 2019. "I believed in my heart she was making the biggest mistake of her life based on what she was telling me, I wanted her to know that we could get through this and I was here for her. Of course all of these conversations were left out and I'm an 'evil pathological liar' so believe what you want."
Luke P. was swiftly sent home and became one of the Bachelorette's biggest villains, but no matter how many rules Blake breaks in the upcoming episodes, it seems like he won't get the chance to establish himself as the season's bad guy. Clare reportedly left the season early in order to be with frontrunner Dale Moss, so it looks like all of the rules will be thrown out the window on this season of The Bachelorette.