Bolu Babalola's New Novel Is Set To Be The Rom-Com Of The Summer
And the recently unveiled cover has given us the first look at some of the characters.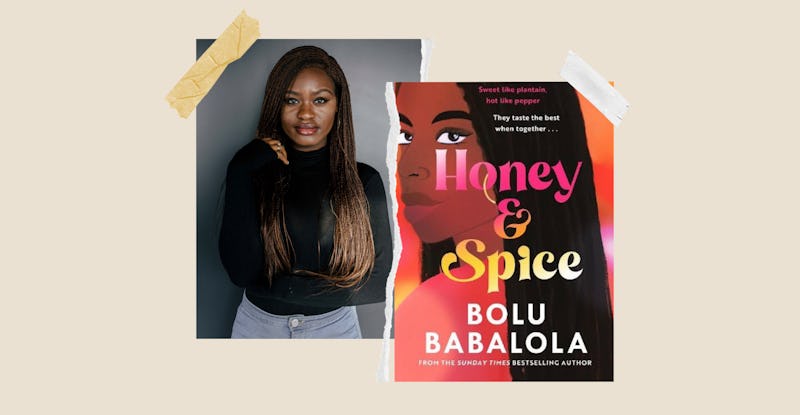 Courtesy of Bolu Babalola
To suggest Bolu Babalola's soon-to-be-released novel Honey & Spice is "highly anticipated" could be the understatement of the year. It's a book that's been "four years" in the making, and is the follow up to the British Nigerian author's Sunday Times bestselling collection of mythical romance essays, Love In Colour, a glorious literary debut that channelled all things love through West African folklore, Greek mythology, and South Asian tales, as well as Babalola's known brand of humour.
Honey & Spice Plot
As to be expected from the acclaimed "romconnoiseur", love and all its complexities is the central theme of Honey & Spice. It follows Whitehall University student Kiki Banjo, who, as the host of the popular student radio show, Brown Sugar, aims to ensure the women of the Afro-Caribbean society "avoid the mess of situationships, players, and heartbreak."
Per the synopsis, Kiki is described as an "expert in relationship evasion", that's until she meets charming Malakai Korede, a man she denounces as "The Wasteman of Whitewell". Naturally, she finds herself embroiled in a fake relationship that starts to feel very real.
Upon Honey & Spice's cover reveal on Feb. 7, Babalola tweeted that she was "over the moon" with the artwork. "I wanted something that encapsulated Kiki's love story, not just with Malakai but with herself. Kiki standing in her power, with Malakai having her back," she tweeted.
Honey & Spice follows a momentous few years for the London-based writer who announced last year that she has two books planned with publishers Headline in 2022, and also masterminded "vivacious" comedy pilot Big Age for Channel 4 in September 2021.
On her latest literary venture, Babalola said in a statement: "This story was years in the making and so much love was poured into it. The universe of Honey & Spice is so special to me; it's one of friendship and inner growth, romance and the strength in allowing yourself to open yourself up to love and community; to be truly understood and to be seen. It is my hope that many feel understood and seen by it."
Honey & Spice Release Date
Heading to a bookstore near you on Jul. 21, 2022, Honey & Spice is set to tell a more modern and "messy" story of "situationships" through a new "sharp-tongued (and secretly soft-hearted)" protagonist, Kiki Banjo. While there's still some time to wait before the book's release, the vibrant cover for Babalola's Honey & Spice has now been unveiled and promises an "irresistible" romance that's "sweet like plantain" and "hot like pepper."
This article was originally published on