Twitter Is Obsessed With *This* Awkward Moment From Brayden's Bachelorette Exit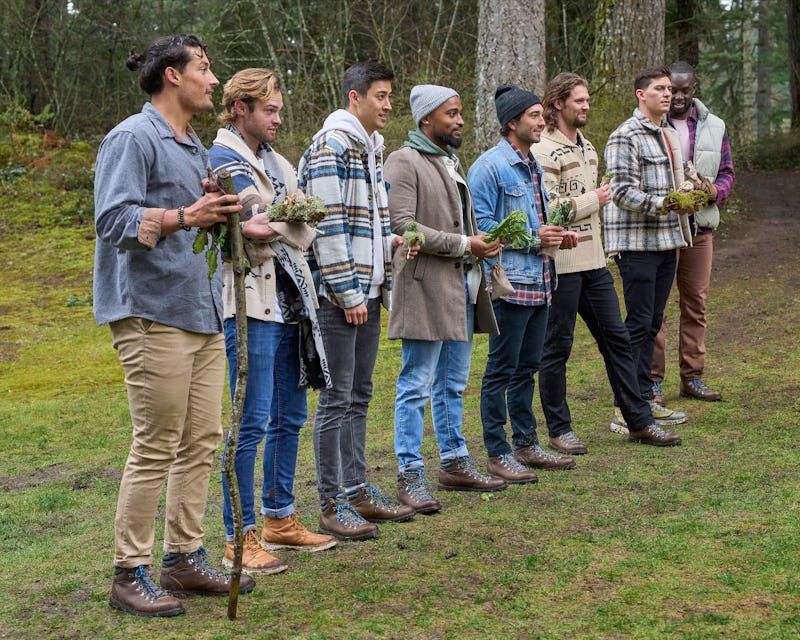 ABC/Craig Sjodin
"We've had villains before," teased the dramatic, horror movie-esque Bachelorette trailer for Brayden Bowers' exit episode. "But not like this." All things considered, Brayden's run on the show wasn't actually that villainous — but the dramatics of his exit did make for a very memorable two hours.
The July 17 episode began with host Jesse Palmer warning Charity Lawson's remaining suitors that their home for the week, the Columbia River Gorge, is known for its abundance of Bigfoot sightings. And as it turns out, a mysterious figure did make his way through the woods later in the episode: Brayden. After telling Charity that he wanted to excuse himself from the show ("I feel like I like you, but I don't want to be here right now"), he self-eliminated. However, he said in the car ride home that the "door wasn't fully shut" on his connection with Charity, suggesting he would return later.
Indeed, on the evening of the week's rose ceremony, Brayden walked back up to Skamania Lodge to get a final word with Charity — and the shadowy cinematography and creepy music made for an Emmy-worthy sequence that will go down in Bachelorette history. Once Brayden arrived (and spent an uncomfortable amount of time waiting for Charity and John Buresh to finish kissing), he apologized for leaving on such an "emotionally charged" note, and shared why the season had been so difficult for him. "I wish I could have opened up," he explained. "I just haven't been able to trust myself at all through this process."
Despite the scary intro, Brayden didn't try to back in the game. But for the rest of Charity's men (and for many viewers, too), the surprise return still had unwanted ripple effects — like several men going home after not getting time with Charity.
But viewers did have fun watching Brayden's nighttime hike through the forest.
Then there was the moment where the men first realized Brayden was back. "Is that Brayden?" Aaron Bryant gasped. "Don't say that," replied Joey Graziadei — as if his friend had just summoned Voldemort.
Sean McLaughlin, for his part, criticized Brayden for strolling back into the lodge "wearing flip-flops and a f*cking scarf." A producer had to point out that Sean, too, was wearing a scarf himself. "This is cashmere," he said.
It was an especially hilarious moment considering Brayden's comments about Sean earlier in the episode — where he compared his fellow suitor to Prince Charming from Shrek.
Brayden didn't stick around to chat, of course — he was on a mission to find Charity. Once he did, he realized she was in the middle of a makeout session and stood on the side for quite a while.
Charity did a double take when she realized it wasn't just another suitor trying to pull her away, but Brayden himself.
Some viewers wondered why the men spent even more time on the Brayden drama by following him out of the lodge and confronting him.
Of course, one viewer had a question about Brayden's getaway car — which didn't look like the usual Bachelorette exit vehicle, but a spacious van lit like a party bus.
Charity herself reacted to the chaotic turn of events in an interview with Entertainment Weekly. "Nothing at that moment was going to change anything," she said of Brayden's surprise return. "Luckily he didn't ask for another chance, but I was so curious to see what on earth he could possibly have to say. I didn't care, because the choice and decision was made."