Bryan Cranston Just Shared His Opinion About Harvey Weinstein & Fans Are Wishing He Hadn't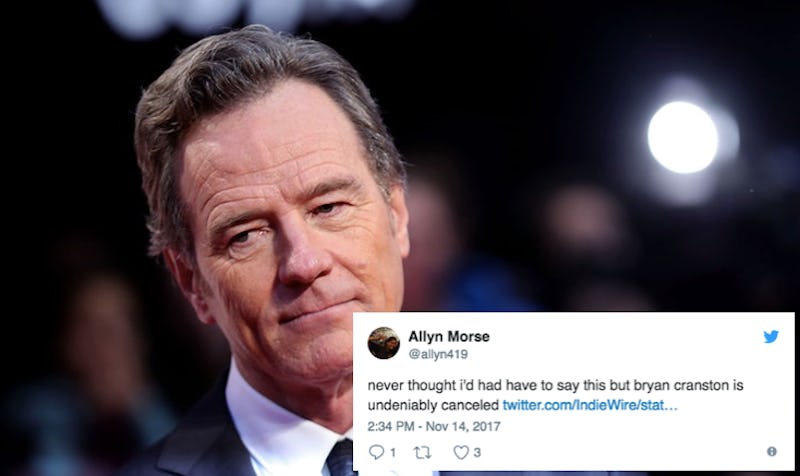 Getty Images/Bustle
This former Breaking Bad star just stepped in it — majorly. In a BBC interview that was published Monday, Bryan Cranston discussed Kevin Spacey and Harvey Weinstein, and said that they could end up getting a second chance and that they shouldn't be shut out completely. Well, Cranston's comments are angering people on social media — and understandably so.
After being asked if there is "a way back for them," the actor who is currently promoting Last Flag Flying, said, "It would take time, it would take a society to forgive them, and it would take tremendous contrition on their part."
It's unclear if Cranston was referring to a second chance in their career in Hollywood, as some seem to be taking the quote, or a second chance in society since he doesn't say Hollywood specifically. Bustle has reached out to a rep for the actor for clarification and for comment on the backlash his statements have received.
Cranston continued,
"And a knowingness that they have a deeply rooted psychological and emotional problem and it takes years to mend that. If they were to show us that they put the work in and were truly sorry and making amends and not defending their actions but asking for forgiveness then maybe down the road there is room for that. Maybe so. Then it would be up to us to determine, case by case, whether or not this person deserves a second chance."
The five-time Emmy winner doesn't think Spacey or Weinstein, who have been accused of sexual assault and harassment of multiple individuals, should be closed off or be told, "To hell with him, rot, and go away from us for the rest of your life." Rather, he believes, as he said, "Let's be bigger than that. Let's leave it open for the few who can make it through that gauntlet of trouble and who have reclaimed their life and their dignity and their respect for others."
According to Indie Wire, he added, "Maybe it's possible. It would be egotistical for anyone to say, 'I hope he fails.' To that person, I would say, 'F*ck you. Why would you want that? So you can be right?'"
Yes, there are people who deserve second chances. However, not in this case. Spacey and Weinstein are two men who have multiple allegations of sexual assault and harassment against them. For decades, they have both allegedly acted as predators and after all these years, they are only now facing repercussions for their alleged actions. When it comes to this type of alleged pattern of abuse, they need to face the consequences and if that is by never working a day in Hollywood ever again, then so be it.
Cranston should be more focused on the alleged victims, rather then these alleged violators. Their accusers who have come forward have to live with the trauma allegedly caused by these men for their entire lives, so Spacey and Weinstein should be held accountable. If people, like Cranston, are willing to forgive them and welcome them back into the world where they have allegedly caused an immense amount of pain and violation, then what's the point of punishing them? An example needs to be made out of them (and everyone else who has been accused). Anyone who violates a man or a woman needs to know they will not get away with these types of alleged actions.
This is how many are feeling on social media. Here are a few tweets reacting to Cranston's controversial comments.
He Is "Canceled"
He's Too Willing To Forgive
People Can't See Him The Same Way
This Twitter User Was Already Over Him
Kathy Griffin Doesn't Understand
He Should Worry About The Alleged Victims
No One Is Holding Back
Cranston's words are being taken very seriously, as they should be. Now more than ever, this is a time for people to ban together in support of the accusers, not those who have been accused.
Regarding the allegations against Weinstein, his spokesperson told The New Yorker, "Any allegations of non-consensual sex are unequivocally denied by Mr. Weinstein." He also released a written statement to the Times after the exposé, where he didn't confirm or deny any of the specific allegations against him, but said, "I appreciate the way I've behaved with colleagues in the past has caused a lot of pain, and I sincerely apologize for it." On Oct. 5, Weinstein's lawyer, Charles Harder, told The Hollywood Reporter that his client would be suing the Times.
As for Spacey, he responded to actor Anthony Rapp's allegations in a tweet on Oct. 30 reading:
I have a lot of respect and administration for Anthony Rapp as an actor. I am beyond horrified to hear his story. I honestly do not remember the encounter, it would have been over 30 years ago. But if I did behave then as he describes, I owe him the sincerest apology for what would have been deeply inappropriate drunken behavior. I am sorry for the feelings he has described carrying with him all these years.
Spacey's former publicist, Staci Wolfe (she has since dropped him as a client) also released a statement to Variety on Nov. 1 that read: "Kevin Spacey is taking the time necessary to seek evaluation and treatment. No other information is available at this time."