Whoopi Goldberg, Demi Lovato & More Celebs Celebrate 420
"Don't forget to leave out weed and cookies tonight!"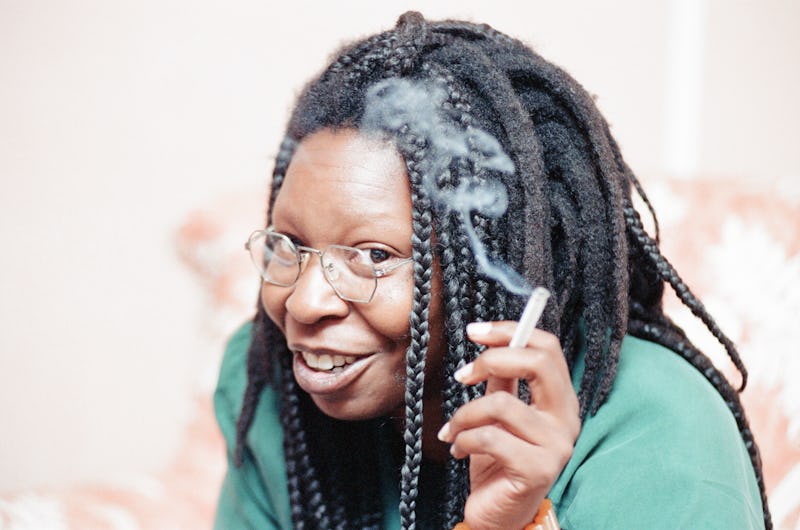 Mirrorpix/Mirrorpix/Getty Images
According to National Geographic, people have been smoking marijuana to enjoy its psychoactive effects for over 2,500 years. But it wasn't until the 1970s that anyone began to associate the herb with April 20, the unofficial holiday for smoking weed. Rumored to be inspired by the three-digit police code for marijuana-related offenses, the link between the herb and 420 actually stems from five Californian high-schoolers. Per Huffington Post, the teens would plan to smoke marijuana together after school at 4:20 p.m. and would inconspicuously cement their plans during the day by simply saying "420" to each other. Of course, they had no idea the phrase would morph into a holiday celebrated worldwide by everyday smokers and celebrities alike.
From Bob Marley to Jimi Hendrix to Grateful Dead's Jerry Garcia, celebrities — especially creative types — have been known to partake in casual marijuana use for decades. But now that it has been recreationally legalized in 17 states and Washington D.C., notable figures aren't just smoking weed, they're releasing their own brands of it. Over the last half-decade, celebrities including Snoop Dogg, Willie Nelson, Wiz Khalifa, Melissa Etheridge, Jay-Z, and Seth Rogen have launched marijuana brands complete with unique strands of flower, pre-rolled joints, edibles, and accessories from pipes to herb grinders. To celebrate 420 this year, EGOT holder Whoopi Goldberg announced via Black Cannabis Magazine that she's launching her own cannabis line called Emma & Clyde, named after her mother and brother.
Snoop Dogg, one of marijuana's most well-known advocates, started his 420 celebration early. On April 19, the rapper tweeted, "Don't forget to leave out weed and cookies tonight!" And on the actual day itself, he launched the sale of a series of animated NFTs titled "Nyan Dogg," inspired by the classic YouTube meme Nyan Cat: one of Snoop himself, one of the original cat smoking a blunt, and one of a blunt exuding rainbow smoke.
After several years of attempted strict sobriety, Demi Lovato recently revealed in her Dancing With the Devil docuseries on YouTube that she identifies as "California Sober" and feels comfortable consuming marijuana and alcohol in moderation. To celebrate 420, the singer shared an Instagram Story video of her lighting up an extravagant ramen-themed pipe with the caption, "Happy 420."
On April 19, comedian Chelsea Handler penned an op-ed for Time magazine about how marijuana legalization should come with a focus on expunging the records of individuals who have been incarcerated for possessing, distributing, or growing it. On April 20, she posted a video of herself smoking a joint on a swing with her dog in her lap along with the caption, "Hello Cannabis, it's me Chelsea. Legalize don't criticize."
Actress Alicia Silverstone paid tribute to the holiday by tweeting a throwback clip from Clueless in which her character Cher Horowitz is smoking a joint at a party. (She shared it in GIF form, so you'll have to imagine Brittany Murphy singing Coolio's "Rollin' With My Homies" on your own.) "I had to share this one," wrote the actress. "I mean it IS 4/20 after all..."
At the end of a series of 420 tweets, Wiz Khalifa, another known weed connoisseur, shared some helpful advice for those celebrating. "If you don't bring weed at least roll it," the rapper urged. "If you can't roll, cone an unimaginable amount for tha homies."
Below, celebrities from Kerry Washington to Wu-Tang Clan's GZA celebrate 420 on social media.