Clare Crawley & Dale Moss' Latest IG Posts Are Proof That They've Reconciled
Their messy breakup is water under the bridge at this point.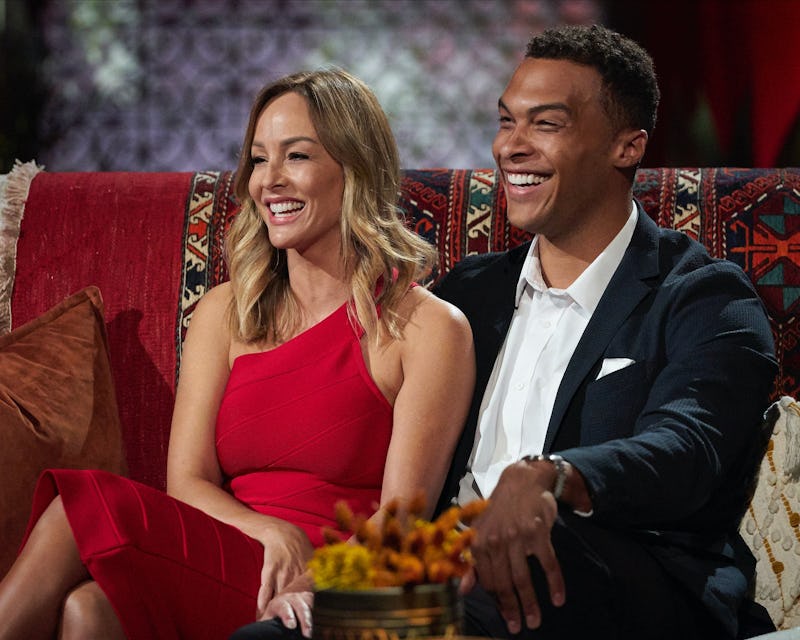 ABC/Craig Sjodin
It seems that Clare Crawley and Dale Moss' January breakup may not have been permanent after all. The former Bachelorette couple was photographed holding hands in New York City on Wednesday, April 7, just a few weeks after they were spotted kissing. But as we all know, nothing is official until it shows up on Instagram, and finally, the former (current?) couple shared some proof that they reconciled after what appeared to be a very messy split.
The evidence of their reconciliation was first posted on Moss' Instagram Stories. In the photo he shared, which was a mirror selfie, the two appeared to be on a coffee run. It's worth noting that the Season 16 Bachelorette's head was leaning on the former football pro's shoulder, which has to mean something... right? "Selfie skills on [100]," Moss captioned the image. Clare, for her part, did not post a picture with Moss. She did, however, provide some additional insight about what the two had planned for the day.
On Clare's Instagram Stories, she shared a series of videos from their outing, which included a quaint restaurant, a boat ride to see the Statue of Liberty, and possibly some apartment hunting. In one clip that the 40-year-old hairstylist posted, she panned her camera around a luxury apartment and marveled at the view, which overlooked the Empire State Building. In some of the other videos she shared, Moss helped her take out her hair extensions.
These new Instagram posts are a far cry from what they shared on social media when the news of their split first broke. On Jan. 19, Moss addressed the breakup himself after rumors surfaced that the then-engaged couple hit a rough patch in their relationship. "I wanted to share with you all that Clare and I have decided to go our separate ways," he wrote at the time. "We appreciate the love and support we've received from so many people, but this is the healthiest decision for both of us at this time."
Clare and Dale got engaged in the middle of their season after only two weeks of knowing each other. Some viewers found their instant connection to be romantic while others doubted if they would be able to make it work in the long run. Dale's statement proved that their concerns were valid. "We strongly believe in leading with love and always remaining true to oneself — something our families have taught and instilled in us throughout our lives," he continued. "We only hope the best things for one another."
Unfortunately, it soon became clear that the decision to call it quits wasn't exactly mutual. "I was made aware of a 'mutual' statement at the same time you all were, so I've needed some time to really digest this," Clare wrote in an emotional note to fans on Jan. 21. "Speaking for myself, my intentions with this relationship have always been very clear, so the truth is I am crushed. This is not what I expected or hoped for and am still trying to process this."
The drama continued a few days later when Moss shared a video on Instagram that suggested that Clare was fully aware of their split. "Like every relationship, we've had our ups and downs and have gone through our things but ... this didn't come out of nowhere," the 32-year-old said. Regardless of what happened back then, we can pretty much all agree Clare and Dale ultimately made one very mutual decision: putting the past in the past and moving forward together.